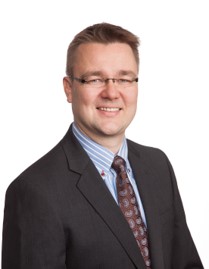 Ville Nikkanen is responsible for sales and business development in Europe. He has over 20 years of professional experience in the paper and board industry from both the supplier and producer perspectives, 15 of these have been in product sales in Europe (primarily in German-speaking countries) as well as Asia (primarily China and Japan). Formerly, Ville provided business intelligence consulting services to Fisher's global client base.
Ville has a demonstrated record of accomplishment, having worked most of his career in various international positions in Metso Paper (today Valmet) and Bellmer GmbH. He brings to his position at Fisher comprehensive industry knowledge in different areas of paper and board making, with experience in production, machinery, process and product development, project management and especially international sales and marketing. His wealth of expertise in paper and board coating technologies complements and strengthens the breadth of consultancy and practical industry knowledge applied in service to Fisher's customers.
Ville earned a Master's degree in Paper Technology from the Helsinki University of Technology in Finland.