In March of this year, Bay Plenty's Whakātane mill announced that it was expecting to shut down after nearly 80 years of operation due to the mill's poor viability ranking. However, it has just been revealed that the New Zealand mill will remain open after a consortium of investors, including Irish paper and packaging tycoon Dermot Smurfit and New Zealand private equity chief Ross George, decided to purchase the mill.
Built in 1939 and originally part of International Paper, the mill was sold in 2010 to Reynolds Group before they divested their SIG Combibloc business to Onex, a Canadian private-equity firm, in which the mill was included in the sale.
Over the last decade, the Whakātane mill became less competitive as a result of energy and pulp shortages combined with high personnel costs. The mill's bleached LPB product cost was in the 4th quartile when compared to other mills delivering to China and Indonesia — forcing management to seriously consider shutting down the mill for good.
The mill's unbleached FBB/"CUK-like" was also relatively high in cost when it came to delivering to its natural market (APAC). Klabin, Stora Enso, and International Paper were all able to deliver at lower costs to main APAC destinations compared to Whakātane.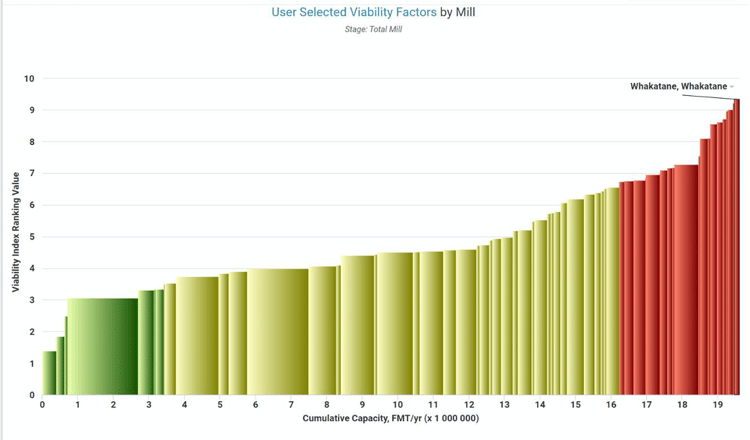 However, the consortium, led by Smurfit, is planning to revive the mill and establish a more competitive operation. Initial plans for the mill moving forward will be to stop producing liquid packaging board and focus mainly on high-quality folding box board, carrier board and food service board as demand for cardboard has increased globally due to the COVID-19 pandemic and the growing e-commerce trend.
Ian Halliday, a spokesman for the Smurfit Consortium and future chairman of the Whakatane Mill, commented, "We believe that the Whakātane Mill has a very bright future as the only folding boxboard mill in Oceania, and we intend to invest heavily in the mill to support both our customers and New Zealand's forest products industry."
This new purchase will provide a fresh start for the mill and will preserve 170 jobs. It will be interesting to see the direction the revived Whakātane mill will take under new management. Stay tuned.