Under the influence of supply side reforms and trade friction, China's paper industry is undergoing a period of intensified competition that is putting additional pressure on profits. On September 13, Shanying Paper, one of the largest containerboard producers in China, issued a fundraising plan with a goal to raise just over 5 billion yuan, which will mainly be used to increase production capacity at its Zhejiang facility and its new facility in Jilin.
What's driving such aggressive investment?
As China's economy has grown over the past 20 years, the country's paper industry has experienced unparalleled growth in production capacity. With plans of high-quality economic development proposed by the central government of China, the transformation of the country's paper industry has already begun. A series of policy-oriented driving forces such as the ban on imported RCP, ban on plastics, and coal to gas transition all point to a new dawn for China's paper industry, which is transitioning from being a large energy consumer at a low efficiency rate to energy-saving and highly efficient.
In the developed economies in Europe and the United States, the paper industry—with a higher degree of both horizontal and vertical integration—generally operates with higher profit margins, which helps ensure the long-term development of the industry. As the industry further consolidates, less efficient production capacity is eliminated by the market, and industry leaders further improve their market share by means of mergers and acquisitions.
When trying to understand the current industry consolidation, capacity acquisition has become a relatively easy way to measure its impact. However, industrial M&A activity needs the integration of both mature finance and the industry itself. Currently, most of China's domestic paper manufacturers are not in in ideal conditions to undergo massive capital spending initiatives. While some leading enterprises take advantage of their size to increase production capacity (as shown in the figure below), the new production additions are generally low-cost and highly efficient. Once they are in full operation, these additions will put the manufacturers in a more competitive position (toward the left side of the cost curve below). With constant market demand, new capacity additions are bound to squeeze non-competitive enterprises out of the market.
New Investment Will Drive Low-Efficiency Capacity Out of the Market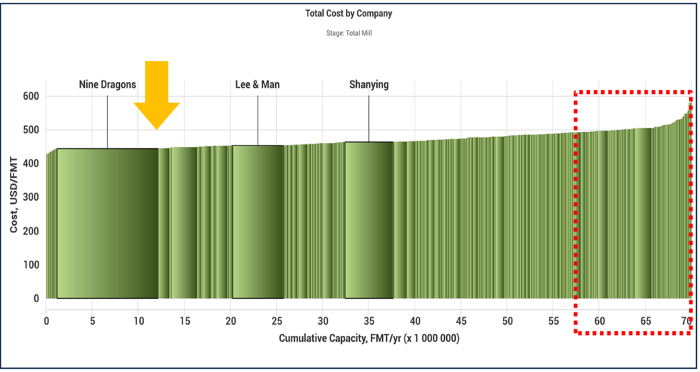 As seen in the figure above, if 10 million tons of new capacity is added to the left side of the cost curve, nearly 10 million tons produced by less efficient, small and medium-sized enterprises will be eliminated from the market on the right side. With the advantage of scale, the large, efficient enterprises will further increase their market share and increase stable profit margins.
Through Fisher International's Risk Assessment Model, containerboard companies can synthesize the position of each mill based on certain risk factors such as production cost, scale, technical age, possible renovation cost of fixed assets, etc., to position themselves in the most advantageous spot in the market. For example, the figure below shows the risk curve of China's containerboard companies through Fisher's Risk Assessment Model.
Viability Curve of China's Containerboard Production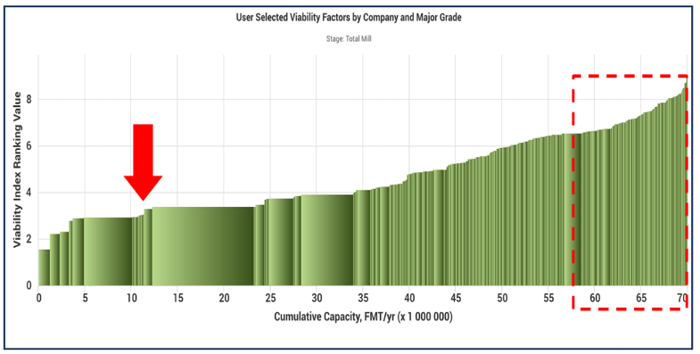 Based on the same concept as the cost curve, if 14 million tons of new and efficient capacity were added in the Chinese market viability curve (according to the new capacity data in Fisher's database 2020-2025), about 10 million tons of inefficient and small capacity on the right side of the risk curve would be removed from the market.
The recent industry downturn in some sectors (printing and writing) has provided larger manufacturers with an opportunity to seize more market share and expand into viable categories, and Shanying's expansion is in full swing. While there are some promising prospects for the paper industry on the horizon, manufacturers must pay close attention to new production trends and any potential risk factors that could impact the market.
Fisher is uniquely positioned to help global pulp and paper companies navigate these changes and new opportunities. We invite you to talk with us about the insights you need, and how to unlock the full potential of your assets and investments.