Klabin, Brazil's largest producer and exporter of paper and paper packaging, is challenging convention when it comes to the notion that softwood pulp is exclusively required to produce high-quality kraftliner. In 2019, Klabin announced a massive investment in its Puma II project, which was designed with the intent to produce 920,000 tons of high-quality kraftliner board annually.
Now, Klabin's Puma II project is taking another step by producing Eukaliner — the world's first kraftliner using 100% eucalyptus fiber. It will be produced on Klabin's PM27 machine located in Ortigueira, Paraná and has numerous purported advantages, including:
Reduced weight

Superior print quality and performance

Steam savings in corrugators

Better structure and strength during corrugated packaging production
Traditionally, kraft linerboard has been produced using long-fiber softwood pulp. While attempts to produce kraftliner with alternative fibers have largely fallen flat, Klabin's innovation to use 100% eucalyptus is a possible game-changer for this segment of the P&P industry. The products included within Klabin's Eukaliner portfolio include:
Eukaliner

Eukaliner white

Eukaflute

Can Eukaliner Replace Traditional Kraftliner?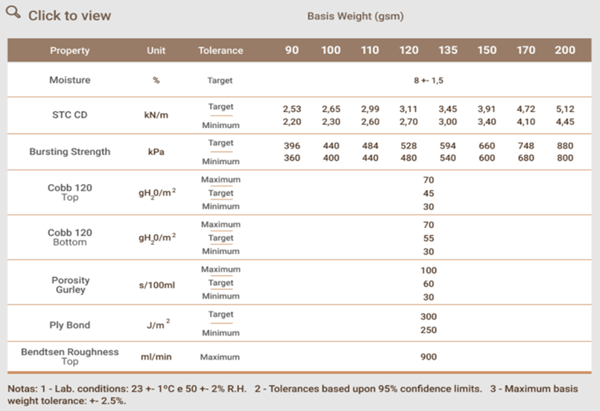 The table of released quality data above suggests that Eukaliner's properties are quite promising quality-wise and according to Klabin, Eukaliner can achieve more than 10% of basis weight reduction without sacrificing performance. In addition to these qualities, this product may also enhance Klabin's cost competitiveness.
Klabin already has the lowest average fiber cost among global kraftliner producers. Coupled with the price gap between eucalyptus and softwood and the depreciation of the Brazilian real against the US dollar, the addition of Eukaliner will also advance Klabin's cost competitiveness within the market. While Eukaliner will focus primarily on the domestic Brazilian market, Klabin is well positioned to also participate in the export market — promoting its global use and popularity.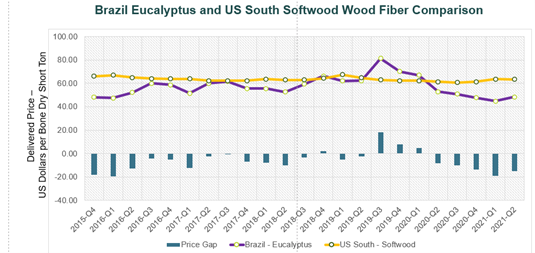 Eucalyptus pulp transformed the global pulp market over the span of the last 30 years, but market penetration of Eukaliner could take significantly less time, given:
Eucalyptus fiber is well accepted now, unlike in the early 90s

Klabin is well-recognized as a global PPI producer

Other producers are trialing eucalyptus based kraftliner

Corrugator buyers are more performance-driven than furnish-driven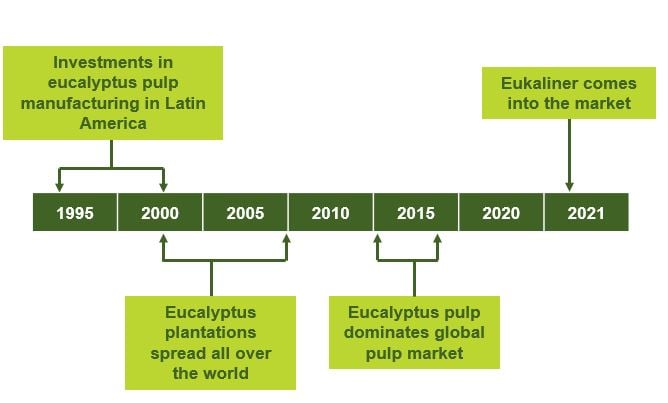 Eukaliner could be a revolutionary product within the P&P industry, but just how disruptive will it be in the future? Will others copy Klabin's innovations, i.e., more companies are now incorporating eucalyptus pulp lines? Will pulp/paper mill integration be necessary for kraftliner? Are recycle liner producers at risk now? What will happen to the value of paper/box plant integration?
For further insight and a better understanding of what Klabin's bold business move will mean for the P&P industry, talk with an expert at Fisher International. Our unique business intelligence system, FisherSolve™ Next, provides participants in the global pulp & paper industry with unique market insights, business perspectives and developing trends through its ability to deliver highly detailed data on every pulp and paper mill in the world.