The local Chinese containerboard industry continues to remain very strong as it has significant paperboard capacities and a very wide and complex range of product categories. However, due to the limited supply of local wood, the containerboard products in China are all recycled-based, made up of several layers of different grades of recycled pulp or wood pulp — typically about three different layers.
Testliner has been the predominant grade in linerboard, including kraft-top testliner (a wood pulp used on the top layer to improve linerboard's physical performance) and 100% recycled-based testliner. Since there is virtually no kraftliner production in China, the supply of kraftliner has been met through imports for years, though its volume is niche compared with locally produced testliner.
It can be said that kraftliner is a globally-traded paper grade for the Chinese market, which is quite unique as its market movement would be a function of both local demand and overseas suppliers' inventories.
As seen in Figure 1, the United States, Russia and Australia are major overseas suppliers of kraftliner to China, and the US is the single largest supplier accounting for over 50% of the total imports into China. For years, the demand growth for kraftliner in China was moderate and steady since it is such a niche product that is mainly used for high-end end functions. However, after China implemented a ban on imported RCP, the demand for kraftliner skyrocketed as consumers have been using it as a substitution for domestic linerboard. Barring any additional market disturbances, it would be safe to assume that the growth of kraftliner imports will continue into the next few years as China continues to struggle to find a sustainable fiber balance for its containerboard industry.
Key Supplying Countries of Kraftliner to China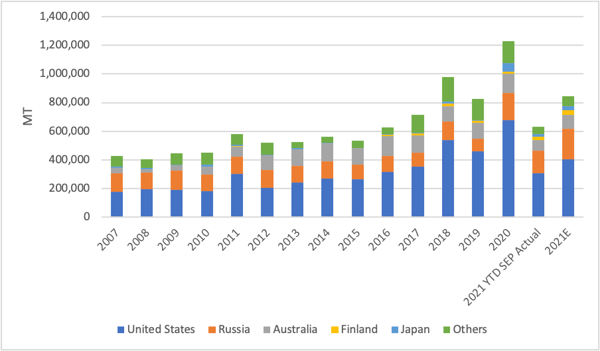 Source: FisherSolve Next
However, since the onset of the COVID-19 pandemic, linerboard demand has increased more than expected in major supplying countries who have existing e-commerce infrastructures and growing online shopping habits. In the US, for example, e-commerce drove a boost in containerboard demand like the segment hasn't seen in the last 20 years. As of August 2021, the national average price for OCC was up about $20 month-over-month, a $90 difference from the prior year's average. As a result, paper producers have had to respond to this shift in demand by significantly increasing their capacity, as seen in the image below.

Source: FisherSolve Next
This rise in domestic demand forced mills in the US to cut the allocation of exports, which resulted in a price increase of kraftliner in 2021 in the Chinese market. In addition, the global disturbance of the ocean freight system that occurred this year pushed logistic costs even higher, adding to the expense of importing kraftliner to China. As a result, Chinese kraftliner imports have been significantly lower for 2021.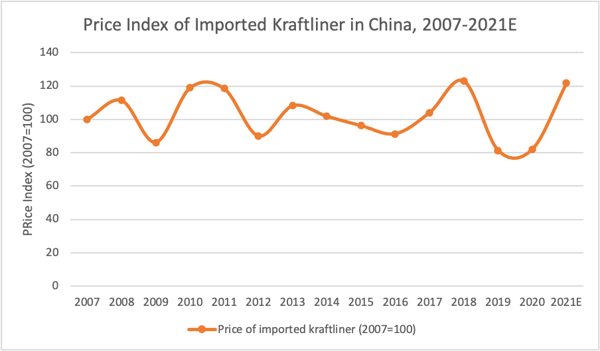 Source: FisherSolve Next
High-pricing and short supply of imported kraftliner has left some room for domestic Chinese producers with pulping capacity to produce kraftliner using imported woodchips. However, whether or not local supply can support a continuing business is really dependent upon the capacity movements in other supplying countries as well as improving shipping conditions. However, the new Omicron variant has posed new threats which have created more uncertainty surrounding the global economic recovery, as well as the recovery of the shipping supply chain.
New kraftliner capacity will likely be built in the US and other advantaged areas, but will this drive supply surplus that might impact overseas kraftliner demand?