Sustainability initiatives in the Pulp & Paper industry have taken off and we're beginning to see new developments occur as companies make huge strides with innovative products, campaigns, and pledges. In this month's roundup, we wanted to share some of the most exciting advances making news across the industry.
Tetra Pak to Celebrate 40 Years in Thailand with 'Go Nature. Go Carton.' Campaign
Tetra Pak, the world-leading Swedish-Swiss processing and packaging solutions company, celebrates this year the 40-year anniversary of operations in Thailand. Since 1981 Tetra Pak has been supporting the development of the dairy industry in Thailand, as well as extending its scope to other food & beverage sectors with hundreds of customers in both processing and packaging solutions segments. The anniversary is marked with the local launch of the 'Go Nature. Go Carton.' campaign which highlights the need to find a better packaging solution for the planet.
Tetra Pak has ambitious plans for the future — to develop the world's most sustainable food package by maximizing the use of paper-based content while reducing the use of aluminum and plastic. To demonstrate commitment to this goal, the company started a campaign called 'Go Nature. Go Carton.' It is aimed at developing the package which will be made solely from responsibly sourced renewable or recycled materials. It will also be fully recyclable and carbon-neutral, allowing ambient distribution and meeting food safety requirements.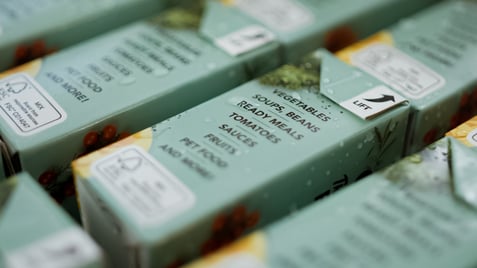 UPM has today joined The Climate Pledge, a cross-sector community of world-class companies working together to crack the climate crisis and to decarbonize our economy. Signatory companies are committed to reach the targets of the Paris Agreement well in advance. The Climate Pledge was co-founded by Amazon and the Global Optimism.
"UPM creates value by providing solutions for a future beyond fossils. We are proud to be the first forest industry company who has been invited to join The Climate Pledge and the network of global sustainability leaders," says Jussi Pesonen, President and CEO at UPM.
Flexible packaging company ProAmpac has introduced a new recyclable film for premium frozen food products packaging. Named ProActive Recyclable R-2000F, the film is part of the ProActive Sustainability product family and has been prequalified for store drop-off recycling through polyethylene recycling streams.
ProActive Recyclable R-2000F is a polyethylene-based laminated structure designed to maintain machine efficiencies on high-speed form/fill/seal lines and is specially designed for cold temperature conditions, enhancing stiffness and scuff-resistance. "ProAmpac is committed to providing our customers with sustainable alternatives to their current products that do not sacrifice manufacturing or end-use performance. Our material scientists have designed a product that is unique to frozen food packaging, that runs at-rate and is recyclable," stated ProAmpac Chief Commercial Officer Adam Grose.
Ahlstrom-Munksjö works to create innovative products that provide high performance as well as sustainability benefits for customers and consumers. As part of the company's continuous commitment to sustainability, CelluStraw™ papers are now BPI® certified, in addition to carrying OK compost HOME and OK compost INDUSTRIAL certifications, qualifying compostability in a home environment and in industrial facilities.
These certifications facilitate the possibility for Ahlstrom- Munksjö customers, whether converters or brand owners, to achieve their own sustainability goals. By using a scientific process, BPI officially certifies compostable products that meet ASTM D6400 and ASTM D6868 standards for compostability. BPI Certification proves that a material will compost in a composting facility, leaving behind no toxic residue or microplastics.
Syntegon follows two approaches when it comes to sustainable packaging: "Depending on the product protection requirements, we enable the use of conventional multi-layer laminates through recyclable mono-materials or paper – both on existing Syntegon technology owned by our customers and on new technology," said Christoph Langohr, project manager sustainability horizontal at Syntegon.
While Syntegon typically operates independently of packaging material and Sappi independently of packaging machines, their combined expertise now comes to the fore. According to Sappi, branded companies in the confectionery industry in particular can now benefit from sustainable paper solutions, which it said will enable them to stand out from the crowd at the point of sale by providing the perfect blend of product protection and sustainability performance for their products.
Domtar Named a Winner in the Beyond the Bag Challenge
Domtar has been honored as one of the winners of the Beyond the Bag Challenge, led by the Consortium to Reinvent the Retail Bag — a collaboration convened by Closed Loop Partners with leading retailers, environmental partners, global design firm IDEO and others. The challenge attracted more than 450 global participants, and nine winners were announced on Feb. 16.
Though the single-use plastic bag remains ubiquitous in retail operations today, rising concerns about plastic waste have spurred efforts to identify viable alternatives. The consortium assembled leading retailers to find innovative solutions that serve the function of today's single-use plastic retail bag, offering ease and convenience for consumers while reducing the product's negative environmental impacts.
Domtar's winning submission is a 100 percent paper-based material that is sourced from a renewable natural resource, robust enough for limited reuse in a bag application and curbside recyclable.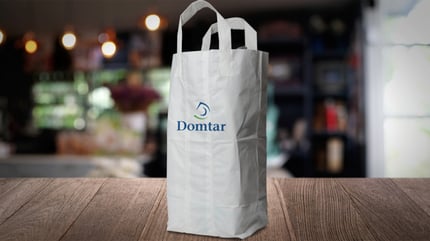 Dunkin' Donuts is testing the use of a new biodegradable straw, joining the growing number of companies seeking to leverage sustainable business practices to address concerns about the environment.
According to WWF, the world's oceans contain nearly 300 million tons of plastic litter right now, with another eight million expected to be added this year alone. It's helped amplify calls for environmentally-sound solutions from consumers, which has boosted the rising use of biodegradable paper products.
Wincup, a manufacturing company behind green-friendly lids, straws and cups, aims to provide the "most economical way to take care of the environment" with its new biodegradable Phade Straw. According to the company's CEO, the innovation caught Dunkin's attention, and the coffee giant will pilot the product at a few hundred of its stores.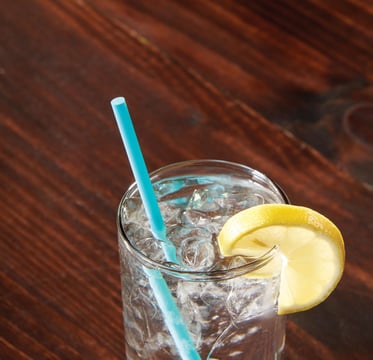 Pernod Ricard has unveiled a set of packaging innovations from Absolut Vodka to Perrier-Jouët and Beefeater, as part of its 2030 "Good Times from Good Place" Sustainability & Responsibility roadmap. As defined in its circular making pillar, Pernod Ricard has committed to 100% of its packaging being recyclable, reusable, compostable or bio-based by 2025.
Beefeater Gin: The world's most awarded gin just unveiled a new 100% recyclable bottle with a premium embossed aluminum cap replacing the existing plastic cap. The label moved from plastic to paper for a crafted, elegant feel, saving over 400 tons of plastic each year.
Perrier-Jouët: The Group's prestige champagne brand, has launched, after two years of research and development, a new eco-designed gift box, entirely made of natural fibers sourced from FSC-certified forests. Combining elegance and sustainability, these new boxes are 30% lighter and mineral oil free. They are fully and easily recyclable.
Coca-Cola Launches Paper Bottle Trial in Hungary
The paper bottle prototype design was unveiled last year; and will move into a market trial with the dairy-free smoothie brand this summer to see how the packaging performs and how consumers react. The technology aims to create 100% recyclable bottles made of sustainably-sourced wood with a bio-based material barrier suitable for liquid goods, such as carbonated and still drinks.
The current prototype consists of a paper shell with an rPET recyclable lining and cap. Ultimately, the goal is to develop a bottle without the plastic liner that can be recycled in the same way as paper. The trial of the paper bottle protype is scheduled to take place in Hungary in the second quarter of 2021. A total of 2,000 bottles of 250ml AdeZ will be offered to consumers by one of Hungary's fastest growing online grocery retailers, kifi.hu.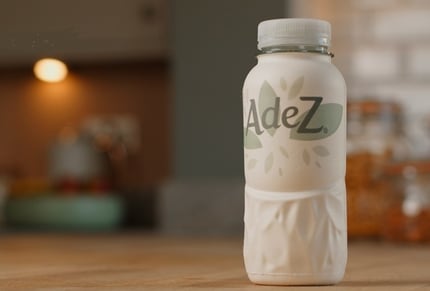 Amcor has been included within the S&P SAM Sustainability Yearbook, highlighting that it is making real progress on its ambitious sustainability goals.
Amcor's inclusion reflects the progress it has made, which includes reducing the intensity of its greenhouse gas emissions by 36% since 2006. The Company has also been leading the packaging industry by creating innovative designs that are made in a more efficient way and use more recycled material. The Company is committed to making 100% of its packaging reusable or recyclable by 2025.
Along with its inclusion in the SAM Sustainability Yearbook, Amcor's efforts have seen it be recognized by a range of organizations over the last year, with the CDP scoring it an "A-" grade for Climate Change in its annual ratings.