Eight months have now passed since China's total ban on recycled paper imports was implemented at the beginning of 2021. This ban has had an impact on the volume of total imports of different paper grades as China has gradually decreased its imports of RCP and increased the import volume of other grades.
How is the containerboard industry in China responding eight months after the ban? And how has the industry been addressing the fiber gap caused by the ban? As we can see in the figure below, China has experienced a significant and abrupt reduction in the amount of imported recycled paper over the recent years.
Imported Recycled Paper in Recent Years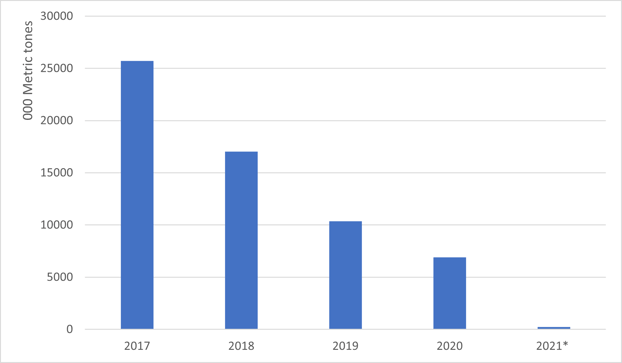 Source: FisherSolve™ Next
As the leading producer of containerboard, Nine Dragons is a prime company to analyze when trying to answer these questions. According to the pre-disclosure of its 2021 financial report in August, Nine Dragons' net profit increased more than 50% compared to the previous year due to strong sales and an increase in gross profit. The operating rate of Nine Dragons hasn't been disclosed, but based on Fisher's analysis and the company's financial results, Nine Dragons' mills should be running at a relatively high level (above 90%).
Based on this data, we can intuit that the total ban on imported recycled paper has had minimal negative impacts on fiber availability for the leading producer in China. Besides its well-known strategy of overseas investments in the recycled pulp/containerboard segment in North America and Southeast Asia, what other strategies has Nine Dragons implemented to secure its fiber supply for recycled-based paperboard production?
According to news released last year, Nine Dragons has been investing in the construction (or modification) of what they call "wood fiber production lines" in its mills in Dongguan and Chongqing. Involving a thermal grinding process, the lines will be fed mainly with agricultural and timber/panel residuals, forest wastes (e.g., branches, tops, etc.), bamboo and low-quality wood chips. This wood fiber is inferior to chemical pulp in quality but is sufficient to be used in recycled-based products such as corrugating medium. Nine Dragons currently has around 700,000 metric tons of wood fiber thermal grinding capacity and is planning to increase it to 1.1 million metric tons by the end of 2023.
Investing in wood pulp mills is another way to fill the fiber gap, and Nine Dragons has announced its new pulp mill investment target, which is around 3 million metric tons by the end of 2023. Though the details have not yet been disclosed, based on its previously released plan to the public, of the 3 million tons of capacity, there would be 300,000 tons of semi-mechanical pulp and 300,000 tons of chemical pulp at its Hubei site. Based on Fisher's understanding, semi-mechanical pulp could be used for corrugating medium production.
Leading producers in China, such as Nine Dragons, have implemented creative strategies to solve the fiber gap caused by an abrupt policy change. Investing in overseas market pulp and containerboard mills, domestic wood fiber production lines and traditional wood pulp lines is the company's main investment focus in the near term. As the quality of domestic recyclable fiber is becoming inferior (compared to when imports of higher quality overseas recycled paper were allowed) to maintain a similar physical performance, more wood fiber or stronger chemicals are forecasted to be in higher demand. As a result, we might see more investment in wood fiber production lines or semi-mechanical pulp lines in China in the future.