Since 4Q2020, shipping costs have skyrocketed amid fierce competition for ocean freight containers. Figure 1 below illustrates minimal year-on-year (YoY) price volatility in global freight rates from January 2018 to October 2020. However, data via the World Baltic Dry Index shows a major price spike that took place from January 2021 to April 2021 resulted in a 400% increase. Per a recent study, ING stated that, "With new capacity only slowly coming onstream, freight rates are expected to continue to reach new highs this year and will remain above their pre-pandemic levels in the longer term."
Global Freight Rate Indices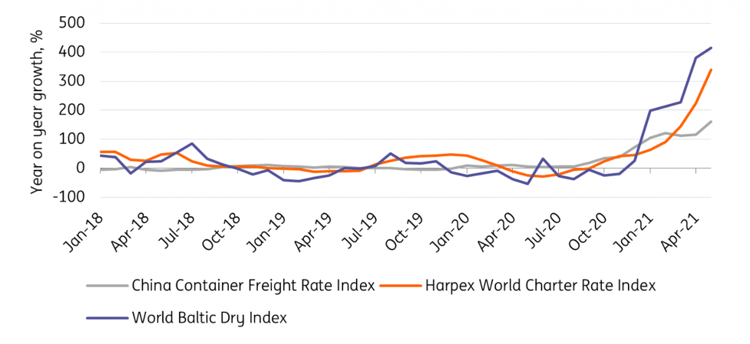 Figure 1
Source: China Ministry of Transport, Harper Petersen & Co. and Baltic Exchange via Macrobond, ING
Year on year growth in freight rate indices, 2018 - May 2021
One of the main factors contributing to the significant increase in freight rates is the imbalance that has developed as different countries have experienced disparate demand recovery patterns in the wake of 2020's pandemic. In addition, China's total ban on recovered paper imports exacerbated the imbalance as hundreds of thousands of return containers per month were no longer needed. The huge export needs unmet by supply in China ultimately pushed freight costs to some of the highest levels in history.
How will this ongoing challenge impact imports and exports for China's paper industry, specifically the containerboard sector, and how long is this situation likely to continue?
China is the largest global producer of paper and paperboard and is mostly self-sufficient in all paper and paperboard grades except containerboard. Last year, China imported around 7 million tons of containerboard, as seen in Figure 2. With the total ban of recycled paper imports, China needs these imports as an alternative option to continue fueling growing domestic demand, which creates an opportunity for containerboard producers in western countries. However, with record high freight costs that are now the norm, is this opportunity really profitable?
Import and Exports of Paper and Paperboard in China, 2020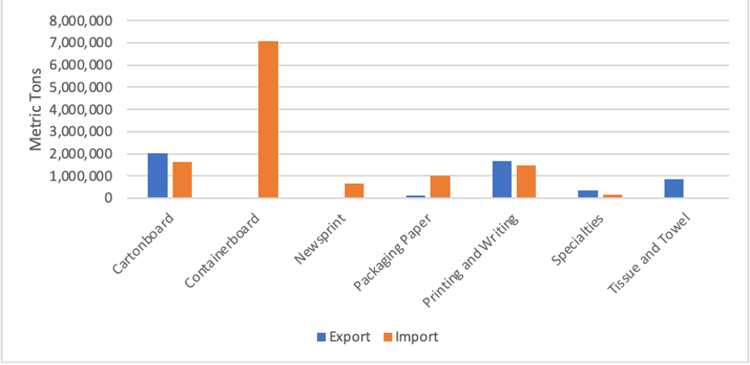 Figure 2
Source: FisherSolve™ Next
Compared to its peers in Asia in 4Q2020 (as shown Figure 3), the US is the cost leader regarding delivery costs to Shanghai, with a cost advantage of around 100-150 USD/MT. However, given the recent freight price increases between the US and China, which could represent as much as a 200% increase, the cost advantage is largely eroded.
Delivered Cost of Linerboard to Shanghai, China for Key Overseas Supplying Countries

Figure 3
Source: FisherSolve™ Next
As we dig into details for containerboard exports to China, we can see that the US lost its number two supplier position to other countries in 2Q2021, and its exports to China have decreased since 2020 (Figure 4 and Figure 5). However, we can safely assume that if freight costs continue to remain elevated long-term, as ING mentioned, profitable opportunities for US producers to ship containerboard to China will be diminished.
Top Containerboard Exporting Countries to China, 2Q2020 vs. 2Q2021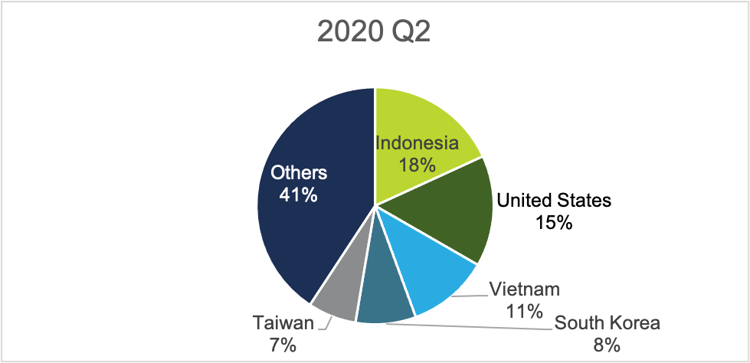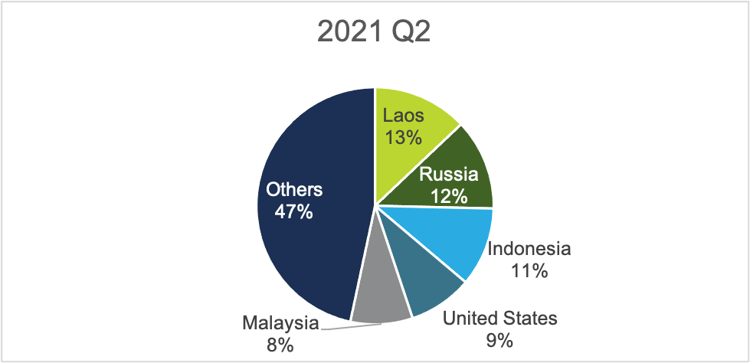 Figure 4
Source: FisherSolve™ Next
US Quarterly Containerboard Exports to China, 2020-2021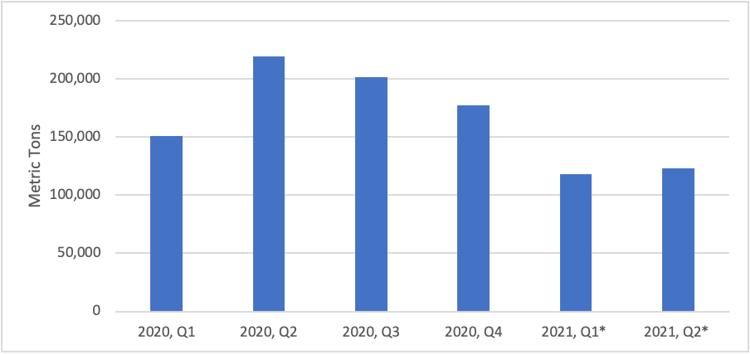 Figure 5
Source: FisherSolve™ Next
For Chinese producers who have facilities in the US in the containerboard sector, more sales efforts within the US market might be needed since the delivered cost to China is not as profitable as it once was. High freight costs, which are expected to continue in the near term, will necessitate alternative sales strategies that do not involve exporting material to China. It is also worth noting that: continued high freight costs could limit potential overseas investments in the US containerboard segment if the final product is targeted towards export markets.