Over the course of the last year, we have seen the emergence of a number of unexpected developments occur within segments across the Pulp & Paper industry as a result of the COVID-19 pandemic, including the corrugated segment. While it's not surprising that demand for corrugated boxes jumped with the onset of the lockdowns that followed the pandemic's spread, we're now beginning to see this trend intensify.
E-commerce saw a huge surge last year as lockdowns went into effect during April 2020, forcing stores to close and instilling a new sense of public fear, which drove the rapid increase in online shopping. Forest2Market has covered the impacts to the lumber market over the last year due to unforeseen demand from the restoration/remodel sector, and the trend has carried over to the corrugated supply chain as well. Strong remodeling has driven significant demand for corrugated board used to package the large appliances and other home improvement products that have been purchased.
With recently issued stimulus checks now in circulation throughout the US, this trend is increasing as consumers are using these new finances to help fund new projects and home improvement purchases.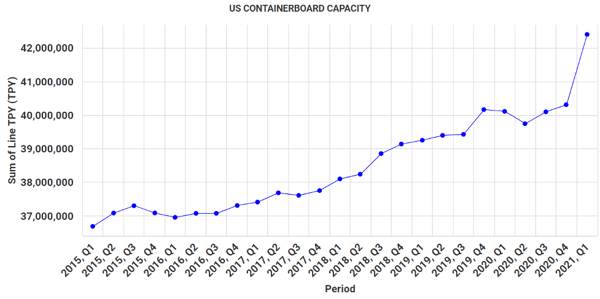 Source: FisherSolveTM Next 2021 Fisher International, Inc.
Figure 1- US Containerboard Capacity
As we can see in the image above, containerboard (corrugated medium andlinerboard – the papers used in producing boxes) capacity has generally increased at a slow and steady rate from 1Q2015 to 1Q2020. However, the most recent data point illustrates that paper manufacturers are responding to the spike in demand for corrugated boxes by ramping up their capacity at an unprecedented rate, and these papers will subsequently be converted into corrugated board. The current breakdown in capacity for corrugated board by wall type and flute type can be seen in Figure 2 below.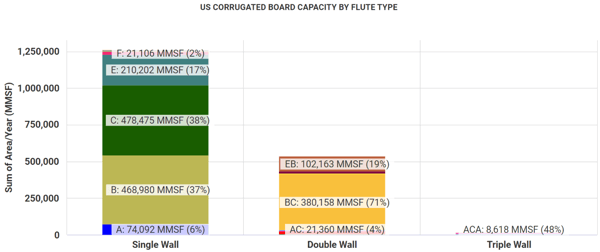 Source: FisherSolveTM Next 2021 Fisher International, Inc.
Figure 2 - US Corrugated Capacity by Wall Type, Flute Type
Corrugated Market Reaction
The increased demand for corrugated product has resulted in price increases to new all-time highs – eclipsing those previous highs that were reached in the fall of 2020. These price increases are occurring alongside record high fiber prices coupled with scarce shipping containers and high demand for ocean freight.
The increase in prices for raw materials, along with the increase in demand is what is ultimately driving the increase in containerboard prices. Last fall, producers initiated a $50-a-ton increase for containerboard, which raised the benchmark grade to an average of about $765/ton. Additional price pressure has come from transportation, which increased by roughly 15% between 1Q2019 and 4Q2020.
A look at the raw materials used in the production of containerboard (the paper that is fed to box plants) shows the impact of price increases for recycled fiber in particular. This is affected primarily by the fact that collection rates of recycled materials (OCC, etc.) dropped during the pandemic; big box stores were not seeing the in-store traffic volume they did pre-pandemic, and collection from homeowners is more expensive and doesn't produce the same volume.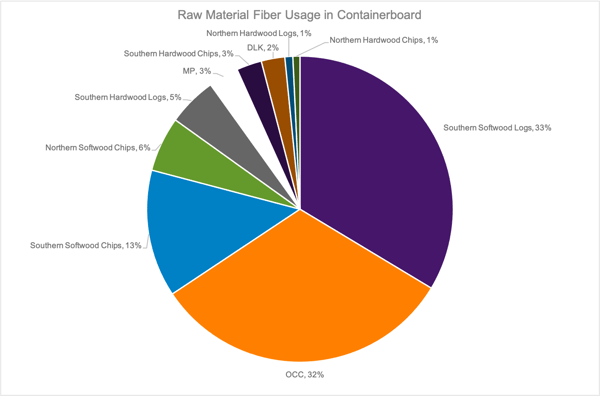 Source: FisherSolveTM Next 2021 Fisher International, Inc.
Figure 3- Raw Material Fiber Usage in Containerboard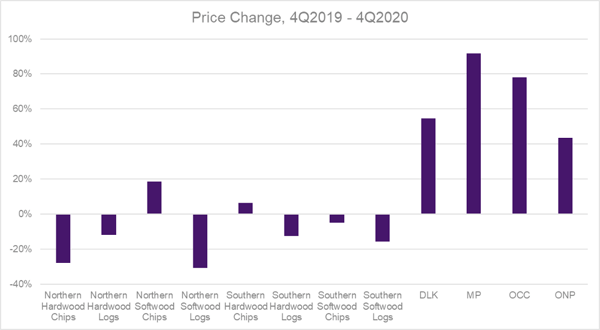 Source: FisherSolveTM Next 2021 Fisher International, Inc.
Figure 4- Price Change
Moving forward, corrugators can expect demand to grow as they add millions of tons of manufacturing capacity. However, growth will come at a much slower rate than in 2020. As we've seen throughout the past year, demand and capacity within this segment and others in the Paper & Pulp industry have the capability to drastically change at any given point in time.
In order to stay on top of these trends, talk with an expert at Fisher International who can help your business formulate an actionable plan with a high degree of accuracy. Fisher customers also have access to Fisher International's business intelligence system, FisherSolve Next, which provides detailed information on every paper and pulp mill in the world. Because this is the only database with integration and true data transparency for every mill, line and machine, subscribers can drill down to the details that differentiate each mill and roll the details up for strategic analysis and improved decision making.