Over the last month, the global forest products industry continued its goal to help drive a more sustainable approach to resource management and manufacturing.
Major global Pulp & Paper producers have signed on as founding members of #GreenSource, an initiative to promote the role of wood fiber industries in the effort to achieve the EU's climate neutrality target by 2050. #GreenSource brings together members of the European Pulp Industry Sector Association (EPIS) and the Confederation of European Paper Industries (Cepi).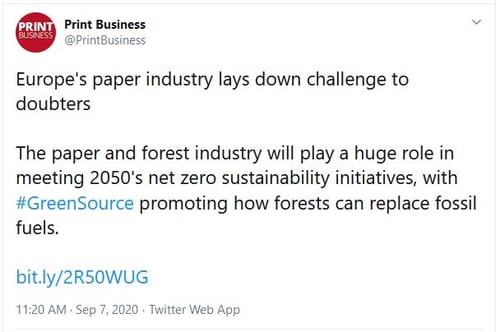 Below is a collection of additional headlines from recent weeks that highlight the efforts of the forest products industry to promote sustainability initiatives:
As part of Sappi's global long term commitment to sustainability and the focus it has on climate action, a decision has been reached to invest in a complete modernization of boiler 11 at its Gratkorn pulp and paper mill in Austria.
The move will cut CO2 emissions by 30% and is scheduled for completion in late 2021. According to Sappi, the investment in state-of-the-art technology will see the mill shift from a coal boiler to a multi-fuel boiler in two phases with the goal to finally use only sustainable and renewable fuels.
Seaman Paper Company (Seaman Paper), a leading global manufacturer of environmentally sustainable specialty paper and packaging solutions, and Plastic Pollution Coalition (PPC), an NGO and global alliance working toward a world free of plastic pollution, are pleased to announce a partnership focused on reducing the amount of single-use plastic used in packaging applications across retail, eCommerce, and other supply chains.
The PPC is a global alliance comprising more than 1,200 organizations, businesses, citizens, and policymakers from 75 countries. Its mission is to work toward a world free of the toxic impact plastic pollution has on humans, animals, waterways, the ocean, and the environment.
Klabin, Brazil's largest packaging paper producer and exporter, was one of the biggest winners at the 27th Ecology Expression Awards. The company, which won three awards in this year's edition, for two cases in Santa Catarina and one in Paraná, is now one of the most prolific winners of the award.
In the "Conservation of Mineral Resources" category, the company won for its case about the inauguration of the "Nature Interpretations Center (CINAT) – Serra da Farofa Complex State Natural Heritage Private Reserve (RPPN), which was established to provide the infrastructure for research and preservation activities at the RPPN, which has over 590 officially identified species of flora and 198 of fauna, many of which are endangered. The "Forest Management Certification for Wood Suppliers Program" was the winner in the "Sustainable Forest Management – Private Sector" category. Lastly, Klabin won in the "Solid Waste – Pulp & Paper Sector" category for its Solid Waste Program implemented in Paraná.
In both the Pulp & Paper and Personal Care divisions, Domtar made progress on the sustainability goals outlined in 2019. Domtar sustainability efforts targeted three focus areas: responsibility across our supply chain, including sustainable forestry principles to ensure the health of forestlands; efficiency in our manufacturing to minimize the negative environmental effects of our operations; and engagement with a variety of stakeholders.
Domtar sustainability highlights from its Pulp & Paper division include the following:
Met 34 percent of our fiber needs with certified wood in 2019, including 18 percent from Forest Stewardship Council®-certified sources.
beneficially reused 67 percent of our pulp and paper manufacturing byproducts, compared to an industry average of 46 percent.
We self-generated 67 percent of the electricity used in our pulp and paper mills, compared with an industry average of 55 percent.
We used 10 percent less water at our mills (from 2015 baseline).
Stora Enso's Skoghall Mill in Sweden is part of a research project that investigates if residual products from the forest industry could be used as a recycled fertilizer for the forest. The project is a way of contributing to circular bioeconomy, where waste and side streams are recycled and reused, and to sustainable forestry, which both are important topics for Stora Enso.
"Stora Enso wants to do good things both for the environment and the economy," says Margareta Sandström, Environmental Manager at Skoghall Mill. "A sustainability focus is a must for a modern company with environmentally conscious customers."
JYBE, the first-ever web app to aggregate restaurant ratings of their use of eco-friendly takeout and delivery packaging, launched today in Los Angeles and the San Francisco Bay area with a mission to help solve the single-use plastic crisis in the restaurant industry. Available at app.gojybe.com via mobile device, JYBE offers user reviews and recommendations on sustainable restaurants actively making Earth-friendly packaging choices while also supporting restaurants and food industry professionals to integrate more sustainable packaging practices into their businesses.
As part of efforts to shift from fossil fuels to renewable energy, the Japanese government is considering securing "energy forests" for the specific purpose of growing sources for woody biomass power generation, officials have said.
Greater dependence on woody biomass is believed to help mitigate climate change as the growing of forests absorbs carbon dioxide through photosynthesis and the use of renewable wood raw materials, as a replacement for fossil fuel products, reduces the volume of new CO2 that would otherwise be released into the atmosphere.