Suzano, a Brazilian pulp and paper company that specifically deals with eucalyptus sampling, has recently announced plans to build a new pulp mill in the municipality of Ribas do Rio Pardo in the state of Mato Grosso do Sul. When finished, this new project (referred to as the Cerrado Project) will be the world's largest pulp mill and will have the capacity to produce 2.3 million tons of eucalyptus pulp annually. With Suzano already being the largest pulp producer in the world with a presence in over 80 countries, this new project is expected to open a number of doors for the pulp industry—and for Brazil as a whole.
What Kind of Opportunities Will This Create?
More jobs - Throughout the construction process, the Cerrado Project is expected to create around 10,000 direct jobs and about 3,000 new jobs once the project has been completed — which will help support the region's economy.
Sustainability advancements – The construction of the plant will expand the supply of renewable energy in Brazil and will have the capacity to sell 180 MW of surplus energy to Brazil's power grid, making it the country's first fossil-fuel free pulp and paper plant.
Partnership with Spinnova – Spinnova, a specialized fiber company based in Finland, recently released an announcement revealing that the company is building a new facility that will manufacture fibers for textiles. The facility is expected to be online in 2022 and is the result of a Joint Venture with Suzano. It's expected that this new textile product will have less chemicals than current textile manufacture (dissolving pulps).
Why is This Important to the Industry?
Suzano has expanded steadily through organic growth as well as acquisitions over the past 14 years — the largest growth resulting from the acquisition of Fibria, which was completed in 2019. Adding new products to their portfolio, such as Tissue and Towel in 2017, has also helped the company maintain steady growth and establish itself as a major global player.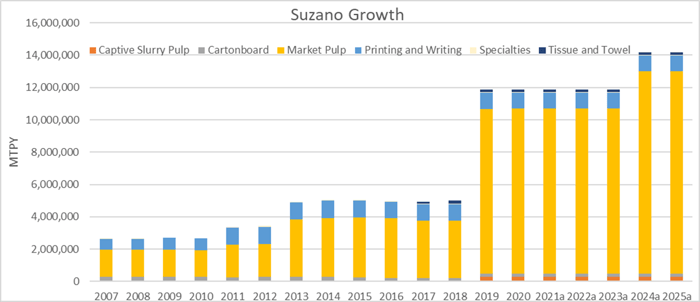 However, market pulp still remains the primary focus of Suzano's product portfolio, more specifically Bleached Eucalyptus Market Pulp (BEK). In 2014, Suzano had a roughly 17% share of global capacity in BEK. So, it was no surprise that when the acquisition of Fibria was complete, the company leapfrogged to the number one position and clearly became a global market leader with 39% share.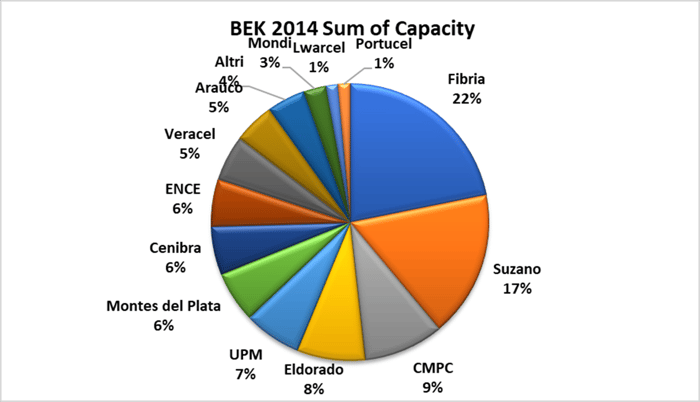 Bleached Hardwood Kraft Pulp has been in steady decline since 2007, while eucalyptus has seen continued growth at a rate of roughly 5.5% CAGR. Hardwood species in North America take decades to mature before harvest, while Brazilian plantation eucalyptus takes on average 7 years – making eucalyptus a competitive and cost-effective alternative.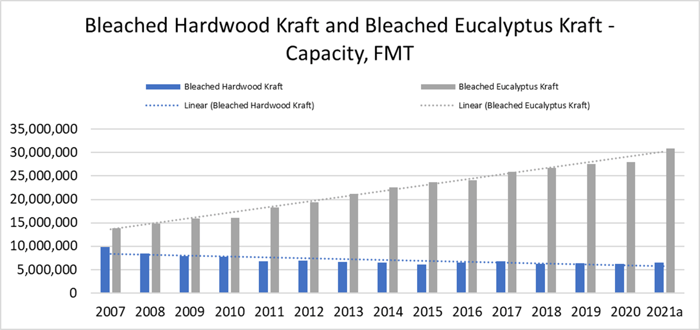 Currently, the primary use of hardwood market pulp is in the Tissue and Towel segment, which has seen steady growth (roughly 5% CAGR), while the second largest consuming segment is Printing & Writing, which has been in decline for some time.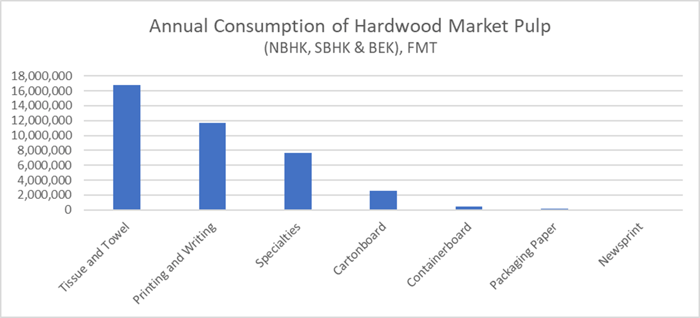 Important questions industry participants need to keep in mind regarding this new Cerrado project include:
If eucalyptus capacity is outpacing consumption—with the gap expected to widen as new capacity is added—where will the additional tonnes be consumed?
Does the Spinnova/Suzano joint venture provide some forward-looking insight into this?
What will this mean for the dissolving pulp market? As the market leader, Suzano has the ability to influence pricing, and they have proven it by doing so already.