If we have learned one lesson over the course of the last year, it's to expect the unexpected. Massive societal shifts, which began as a reaction to the COVID-19 pandemic, have cascaded and impacted nearly every facet of the global economy. Supply chains remained stressed, prices appear stuck at historically high levels in many cases, and there doesn't seem to be a "silver bullet" solution anywhere on the horizon.
In the wood products industry, changes are afoot at a quickening pace:
Record high lumber prices remain front-page news across the country.
The pulp & paper industry continues to transition away from many traditional formats (printing/writing, newsprint, etc.) towards containerboard and packaging solutions.
Market pulp prices remain at record high levels.
Consolidations/M&A activity is ramping up across the globe.
While there are a number of unique supply/demand dynamics at work in each of these cases, there simply is no foolproof method to peer around the next corner to see what's ahead. As demand trends continue to evolve and new competition enters the market, manufacturers across the forest products industry are asking similar questions to help answer critical business questions about their wood raw materials supply chains:
Will I have long-term access to the resources I need, and is the ownership structure stable?
What will the cost of my raw materials be in the near and long-terms?
Will demand from other new or expanded facilities affect my price?
What is the long-term outlook of my preferred resource, and is the supply sustainable?
We don't have the superhuman power to see into the future but answering these questions with forecasts built on highly precise, reliable datasets is the next best option. Building reliable forecasts with is a complex procedure involving a number of variables, some of them global and some of them local. A forecasting model must include both global and local data, account for local market nuances (ground conditions, resource competition, etc.), and the interplay between the data must be taken into consideration.
To build the most effective forecasting models, Forest2Market uncovers statistically significant correlations between the transaction-level historical timber price data that we have been collecting since 2000, the economic indicators that affect demand (GDP, housing starts, IP, etc.) and local events like rainfall and competition that affect supply. We then incorporate the future supply/demand scenarios and other applicable macroeconomic factors in order to develop the most likely outcome.
Building Better Forecasts
The quality of a forecast is highly dependent on the starting point. To produce an accurate forecast, the starting price should be based on the highest-quality transactional data in the forest products industry. By starting the process with a precise starting price based on the actual market, our forecasts deliver a greater level of accuracy that result in less variability over the forecast time period.
If you have a better understanding of what you will pay for raw materials over the forecast timeframe, you can:
Better optimize wood procurement systems – both volume and price
Manage inventory (standing or yard) more effectively
Align mill feedstock and output with raw material price trends
Maintain margins during periods of uncertainty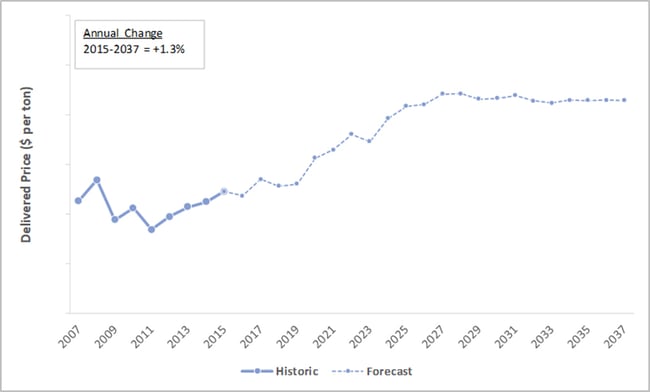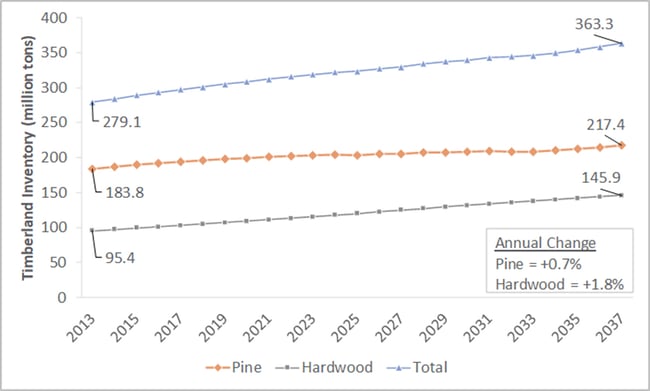 A business forecast built on Forest2Market's transaction-based datasets and business intelligence allows for greater accuracy because it is designed from a reliable, precise starting price. Forest2Market's proprietary data allows for an unrivaled, comprehensive look at fiber and log markets, providing a real-world starting point for a tailored forecast built for your unique criteria and needs.
Forecasts can be customized by:
Time period
Geography
Species
Product


Forest2Market forecasts enable participants in the global forest products supply chain to respond confidently to market changes while assuming a comfortable level of risk. Using a forecast model that can maximize return and minimize risk is simply smart business, especially in times of increased uncertainty.