US forest industry performance in May and June was recently reported by both the US government and the Institute for Supply Management.
After annual revisions, total industrial production (IP) moved up less than 0.1% in May (+4.8% YoY); output has increased in every month of the year so far, with an average monthly gain of nearly 0.6%.
Less encouragingly, manufacturing output (which accounts for 78% of total IP) slipped by -0.5% in May after three months during which growth averaged +0.9%. Wood products (‑3.1%) led the May drop among durable industries, while paper (‑0.2%) was among nondurables experiencing losses less than 1%.
New factory orders increased by 1.6%. Durable goods orders rose by 0.8%, led by transportation equipment; nondurable goods: +2.3%. Business investment spending rose by 0.6%. All of the aforementioned changes are reported on a nominal-dollar basis; using May's headline producer price index to create inflation-adjusted estimates cuts those MoM values in half.
The Institute for Supply Management's (ISM) monthly sentiment survey for June 2022 reflected further erosion in the proportion of US manufacturers reporting expansion. The PMI registered 53.0%, a decrease of 3.1PP. (50% is the breakpoint between contraction and expansion.) Supply-chain bottlenecks may be subsiding, as the subindexes for slow deliveries (-8.4PP), new orders (-5.9PP), and order backlogs (‑5.5PP) exhibited the largest changes. Input price increases decelerated slightly (-3.7PP) but remained significantly elevated. Also, the employment subindex contracted further (-2.3PP, to 47.3).
The services sector also grew more slowly in June (-0.6PP, to 55.3%). Order backlogs (+8.5PP), imports (-6.5PP), and inventories (-3.5PP) saw the largest changes. Service input-price increases also decelerated (-2.0PP). The services employment subindex slid into contraction (-2.8PP, to 47.4).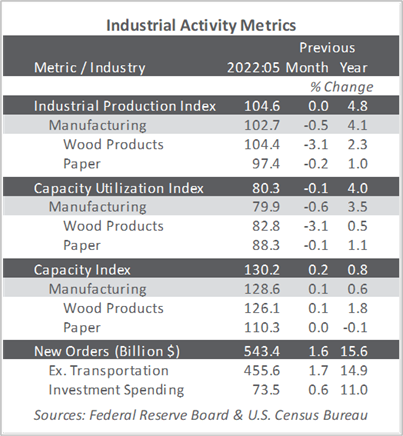 The consumer price index (CPI) increased 1.0% in May (+8.6% YoY, the largest annual increase since December 1981) after rising 0.3% in April. The MoM jump was broad-based, with the indexes for shelter, gasoline, and food being the largest contributors. After declining in April, the energy index rose 3.9% (+34.6% YoY) with the gasoline index rising 4.1% (+48.7% YoY) and the other major component indexes also increasing. The food index rose 1.2% (+10.1% YoY, the first increase of 10% or more since March 1981).
Meanwhile, the producer price index (PPI) increased 0.8% (+10.8% YoY); this rise followed MoM advances of 0.4% in April and 1.6% in March. Nearly two-thirds of the acceleration in the final-demand index was due to a 1.4% advance in prices for final demand goods, led by gasoline (+8.4%; +66.3% YoY). The index for final demand services increased 0.4%, led by truck transportation of freight (+2.9%; +25.8% YoY)).
Price index performance in the forest products sector specifically included:
Pulp, paper & allied products: +1.2% (+16.2% YoY)
Lumber & wood products: +0.6% (+0.3% YoY)
Softwood lumber: +2.7% (-21.7% YoY)
Wood fiber: +1.2% (+7.2% YoY)