US forest industry performance in April and May was recently reported by both the US government and the Institute for Supply Management.
Total industrial production (IP) increased 1.1% (+6.4% YoY) in April—the fourth consecutive MoM gain of at least 0.8%. Manufacturing output rose 0.8% (+0.5% if excluding the 3.9% climb in motor vehicles and parts). The index for utilities moved up 2.4%, the result of respective increases of 2.1% (electric) and 4.4% (natural gas). Mining output rose more than 1.5% for a second consecutive month; that index was +8.6% YoY but still 3.8% below its pre-pandemic (February 2020) level.
The Institute for Supply Management's (ISM) monthly sentiment survey for May 2022 showed a slightly larger proportion of US manufacturers reporting expansion. The PMI registered 56.1%, an increase of 0.7PP (50% is the breakpoint between contraction and expansion). The subindexes for customer inventories (-4.4PP), inventories (+4.3PP), and order backlogs (+2.7PP) exhibited the largest changes. Input price increases decelerated slightly (-2.4PP).
The services sector expanded more slowly in May (-1.2PP to 55.9%). Order backlogs (-7.4PP), business activity (-4.6PP) and slow deliveries (-3.8PP) saw the largest changes. Service input-price increases also decelerated (-2.5PP). Of the industries we track, Wood Products and Ag & Forestry did not expand. Respondent comments included the following:
Construction: "Demand seems to be very high for all of the high-voltage electric products we purchase. Lead times are quadruple what they normally are."


Paper Products: "We've continued to transition to North American sales to avoid ocean vessels, and we are apprehensive about the West Coast ports' labor contract negotiations. A challenge of doing more business by rail is the backlog of rail cars and embargos."
"A solid expansion of manufacturing output in May should help drive an increase in GDP during 2Q, with production growth running well above the average seen over the past decade," wrote Markit's Chris Williamson. "However, the rate of growth has slowed as producers report ongoing issues with supply chain delays and labor shortages, as well as slower demand growth."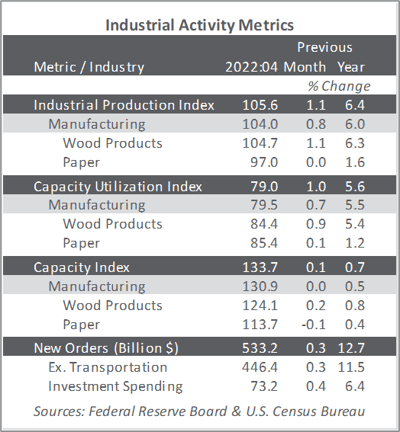 The consumer price index (CPI) increased 0.3% in April (+8.3% YoY) after rising 1.2% in March. Major contributors included shelter (+0.5 MoM; +5.1% YoY), food (+0.9%; +9.4%, the largest YoY increase since April 1981), airline fares (+18.6%; +21.9%), and new vehicles (+1.1%; +13.2%). The energy index retreated in April (-2.7%; +30.3%) thanks to what is proving to be a temporary MoM drop in gasoline (‑6.1%; +43.6%) that offset increases in natural gas (+3.1%; +22.7%) and electricity (+0.7%; +11.0%).
Meanwhile, the producer price index (PPI) increased 0.5% (+11.0% YoY); this rise followed advances of 1.6% in March and 1.1% in February. April's rise is primarily attributable to a 1.3% advance in prices for final-demand goods (especially a +0.8% climb in the index for motor vehicles and equipment). Prices for services were unchanged despite the construction index jumping 4.0% (+19.6% YoY).
Price index performance in the forest products sector specifically included: