US forest industry performance in August and September was recently reported by both the US government and the Institute for Supply Management.
Although notching a fourth monthly increase in August, the rebound in total industrial production (IP) slowed to +0.4 percent MoM (-7.7 percent YoY and 7.3 percent below February's pre-pandemic level), a substantial deceleration from July's +3.5 percent MoM rate. Manufacturing followed suit with a 1.0 percent rise; as the Federal Reserve observed, however, "the gains for most manufacturing industries have gradually slowed since June."
Particularly in light of record profits from sky-high prices for building products like lumber, plywood and OSB, we find it noteworthy that solid wood capacity utilization has regained only about two-thirds of the ground lost from February through April. Failure to fully return to or even surpass January's level despite prodigious demand that has fed a "staggering rally" in lumber prices suggests mills continue to experience virus-related staffing challenges, are skeptical the rally will last long enough to justify adding shifts, were affected by Hurricane Laura or wildfire-induced supply issues (or some combination of the above).
The Institute for Supply Management's (ISM) monthly sentiment survey showed U.S. manufacturing expanding more slowly during September. The PMI registered 55.4 percent, down 0.6PP from the August reading. (50 percent is the breakpoint between contraction and expansion.) The sub-indexes reflected slower growth, except for order backlogs (+0.6PP) and exports (+1.0PP).
The services sector expanded at a somewhat faster rate (+0.9PP, to 57.8 percent). The most noteworthy changes in the sub-indexes included order backlogs (-6.5PP), imports (-4.2PP), and new orders (+4.7PP).
All of the industries we track expanded. Comments from respondents included:
Paper Products: "We are seeing a marked increase in international demand in Q4 compared to Q2 and Q3. Still not at historical levels; however, a positive outlook."
Wood Products: "Raw material shortages, especially of hardwood logs, are starting to impact overall supply. Domestic market demand is fragmented but remains sound. Export demand, especially to China, is robust."
Construction: "Work orders are improving rapidly. Lack of available labor is having a significant impact on our ability to fulfill orders."
Findings of IHS Markit's September surveys generally agreed with their ISM counterparts. "U.S. manufacturers rounded off a solid quarter which should see the sector rebound strongly from the steep 2Q downturn," wrote Markit's Chris Williamson. "Encouragingly, companies reported a marked upturn in demand for plant and machinery, which suggests firms are increasing their investment spending again after expansion plans were put on hold during the spring. Similarly, fuller order books helped drive further job creation as firms continued to expand capacity."
However, after citing worsening supply shortages and waning growth of new orders for consumer goods, Williamson concluded with: "The outlook also darkened, as companies grew more concerned about the sustained economic disruption from the pandemic alongside uncertainty caused by the upcoming presidential election. The sector therefore looks to be entering 4Q on a slower growth trajectory, adding to signs that 4Q GDP growth will wane considerably from the 3Q rebound."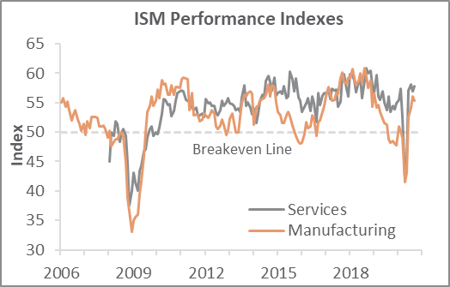 The consumer price index (CPI) increased 0.4 percent in August (+1.3 percent YoY); a spike in the used cars and trucks index (+5.4 percent, the biggest percentage change in over 50 years) was the largest factor, but the indexes for gasoline (+2.0 percent), shelter (+0.1 percent), recreation (+0.7 percent), and household furnishings and operations (+0.9 percent) also contributed.
Meanwhile, the producer price index (PPI) rose by 0.3 percent (but -0.2 percent YoY), led by a 0.5 percent increase in the index for final demand services (especially a 1.1 percent increase in margins for machinery, equipment, parts, and supplies wholesaling). Prices for final demand goods inched up 0.1 percent, led by a 4.0 percent jump in the index for plastic resins and materials. "The moderate advance in August producer prices confirms that underlying price dynamics continue to gradually normalize," said Oxford Economics' Lydia Boussour.
In the forest products sector, index performance included:
Pulp, Paper & Allied Products: +0.0 (+0.3 percent YoY)
Lumber & Wood Products: +5.1 percent (+11.0 percent YoY)
Softwood Lumber: +16.0 percent (+45.0 percent YoY)
Wood Fiber: +1.8 percent (-1.5 percent YoY)