2020 has been an unprecedented year filled with unpredictable times due to the COVID-19 pandemic. The pulp and paper industry has had to seriously adjust to the many unforeseeable impacts as a response to the virus.
While there have been some adverse consequences within the industry due to COVID-19, including the accelerated decline of the printing and writing papers segment, some specialty paper grades have actually experienced favorable growth. The global reaction to the virus has helped boost already existing trends in e-commerce, sustainability, and products that embody the circular economy.
In recent years, most specialty grades (with the exception of cigarette paper) have been growing and are expected to continue growing as seen in the figure below, especially now with the onset of COVID-19.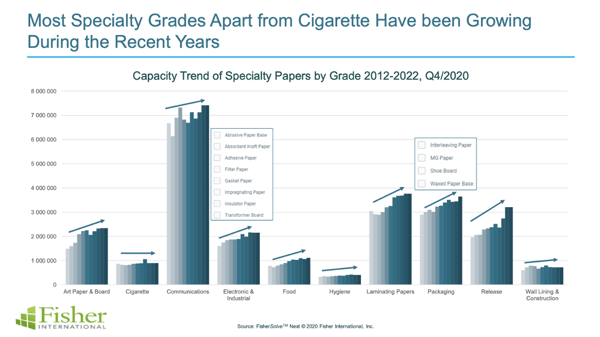 As noted above, COVID-19 has accelerated the growth of some specialty papers while impacting production of printing and writing paper. In the United States, at-home workers use just 25 percent of the volume of copy paper compared to office workers. Additionally, with the transition to at-home work, many copy paper users have moved to solely electronic materials. For example, in Finland, schools have gone fully online with new home-schooling orders; city councils, associations, NGO's, government and state institutions have all switched to an electronic mode of working, which includes utilizing electronic materials for things such as voting and meetings. It's expected that these will be structural changes in both education and business. But could this step-change in printing and writing paper bring conversion candidates to specialty papers segments?
Trends Affecting Specialty Papers
With the quarantine demands that took effect in late March, there has been an 80 percent increase in total purchases online as society has shifted from in-person interactions to virtual. However, these changes in shopping habits are expected to last even as restrictions ease — creating an increase in demand of packaging specialty papers.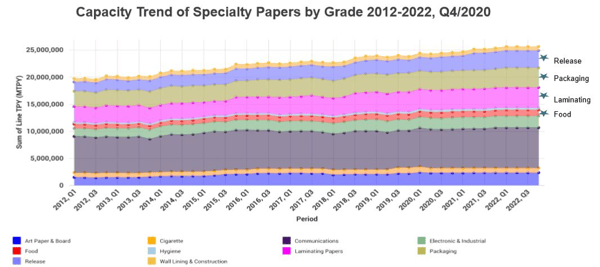 Along with an increased demand in e-commerce, there has also been a rising need for specialty paper products to accommodate the at-home lifestyle. Specialty papers needed for activities such as food and baking, art projects, electronics, and at-home renovations have seen a shift in demand as people are forced to spend more and more time at home. Especially as more locations are requiring masks be worn inside public spaces, demand for the specialty paper used to produce disposable masks have skyrocketed.
The European Green Deal — which outlines the plan to make the European economy sustainable — has also helped to promote specialty paper products. As more policy is drafted to institute plastic bans around the world, this presents an opportunity for completely new applications for fiber-based products to serve as a substitution.
Specialty Papers' Answer to Global Challenges
As these trends promote the use of more specialty papers, they also present the opportunity to focus on solutions for other important global issues — such as sustainability. E-commerce channels, for instance, offer specialty paper manufacturers the ability to create smart, light sustainable packaging that not only promotes the brand but also protects the product during transportation.
The global economic slowdown has also created the opportunity to focus on sustainable products in the pulp and paper segment that fortify the circular economy. This confluence of events has created a perfect time to concentrate on sustainable, green, and hygienic solutions for home life, office renovations and safe public spaces amid changing public sentiment influencing environmental, social, and corporate governance (ESG) initiatives.
While many manufacturing industries have experienced a decline due to the various adjustments COVID-19 has forced consumers to make, specialty grades seem to be a bright spot for P&P. It's important that manufacturers take advantage of this opportunity and focus on the sustainable benefits that specialty papers provide during the wide-ranging lifestyle changes that have occurred – and will continue to develop - in the wake of the pandemic.