The global pulp & paper industry continues to evolve and adapt to meet changing consumer preferences that reflect an increased awareness of environmental impacts and sustainability concerns. Forward-looking pulp and paper manufacturers are constantly evaluating raw material options and process improvements that might provide a market edge in a rapidly-changing economy. As a result, a number of companies have expanded their raw material portfolio to include non-wood pulps rather than exclusively relying on traditional wood-based pulps, as we can see in the image below. Non-wood pulp products can be made out of several raw materials such as bamboo, sugarcane bagasse, sorghum, switchgrass and wheat straw, among others.
Companies Producing Non-Wood Pulp by Region (2Q2021)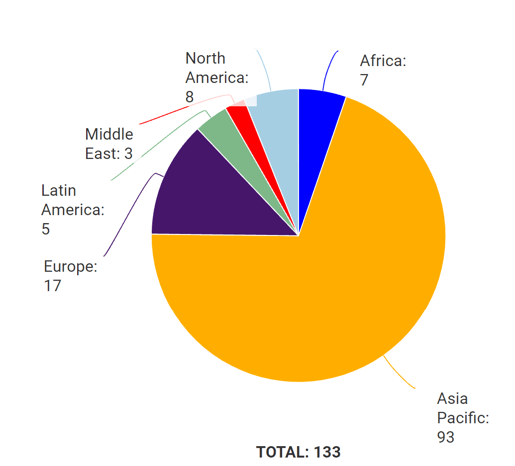 Source: FisherSolve™ Next
Essity, for example, is currently developing tissue products using pulp made from straw, which is processed to create a bleached pulp finished product. The development of products using pulp made from non-wood is purported to have properties comparable to virgin pulp made from wood in brightness, strength and softness.
Essity's new pulping process, which was developed by Sustainable Fiber Technologies (SFT), is called the "Phoenix Process™," and Essity will have an exclusive worldwide license for tissue paper production. The Phoenix Process is designed to generate a lignin Coproduct apart from the straw pulp, which can be used as agricultural fertilizer, animal feed, asphalt additives, etc. Essity's goals for this new method of producing pulp include:
Improving the sustainability of finished products, specifically reducing carbon footprint, water and energy consumption

Increasing the flexibility of fiber furnish

Reducing the dependency of externally purchased pulps

Differentiating themselves from the competition by the use of a new furnish
To better understand how this technology might impact the industry and other pulp producers in the market, it's crucial to recognize both the benefits and complications that are inherent when utilizing non-wood pulps.
Non-Wood Pulp Benefits
If the natural resources are farmed correctly, non-wood pulps are environmentally friendly and sustainable raw materials for manufacturers, which benefit end-users and broaden industry capabilities and product offerings. This provides a significant market advantage because sustainability trends and concerns about pollution and climate change are increasingly influencing consumers and their buying habits. Millennials and Gen Z represent the largest cohorts who are actively seeking out products developed by companies that are making business decisions driven by environmental and sustainability concerns.
Sustainable benefits of raw materials used to make non-wood pulps include a reduction in deforestation, increased carbon dioxide capture, and lower maintenance during growth cycles, which helps reduce or eliminate waste and crop burning. Along with its sustainable properties, these raw materials grow faster and oftentimes have a higher yield rate than wood, which can create opportunities for potential cost savings.
Non-Wood Pulp Challenges
Like most innovative products, there are challenges in developing new technologies at scale and many non-wood pulp products are no exception. Wheat straw and bamboo pulps typically contain higher levels of contamination than pulp obtained from wood sources, as well as higher fines content. As a result, shrives can be embedded in the machine clothing and the fines can create deposition, leading to drainage and retention problems, and increasing chemical consumption.
According to Solenis, wheat straw and bamboo pulps can ultimately make the Yankee coating layer harder, dustier, and more abrasive. Subsequently, this will lower the machine's runnability, increase wear on the doctor blade and reduce its life, reducing the softness of the final product. These issues can be addressed, however, through the use of appropriate chemical treatments, but this solution unfortunately can increase the chemical consumption and costs.
Consumer demands are driving manufacturers to make raw material decisions and process improvements that better align with sustainability initiatives and global efforts to combat climate change. While innovative non-wood pulps have room to grow, these products are not currently being deployed at a scale that would threaten the traditional pulp market. However, some of the bourgeoning non-wood pulp markets are very young, and we expect to see these technologies improve, become more widely available and expand market share in the coming decade.