The "work-from-home" trend that has spawned a ubiquitous acronym (WFH) and come to represent life in 2020 has been both a blessing and a curse. To be sure, the seamless technology that allowed many employees to work effectively in the safety of their own homes during the early stage "lockdown" of the COVID-19 pandemic was invaluable, as it helped to prevent the entire economy from grinding to a halt.
However, as we noted during the early weeks of the pandemic, evolving workplace habits have been reshaping demand trends that have impacted the pulp and paper industry. Widespread access to the internet in the mid-1990s ushered in a new digital age—a profound shift in accessibility, information gathering and knowledge sharing that is still developing at an ever-quickening pace.
Demand for printing and writing papers and newsprint continues to decline rapidly as the digital age matures. And the pandemic has only quickened demand destruction of these segments as remote work, schooling and shopping have become the norm in 2020. In 1Q2020, McKinsey & Company noted that US e-commerce penetration has experienced 10 years' worth of growth in just three months.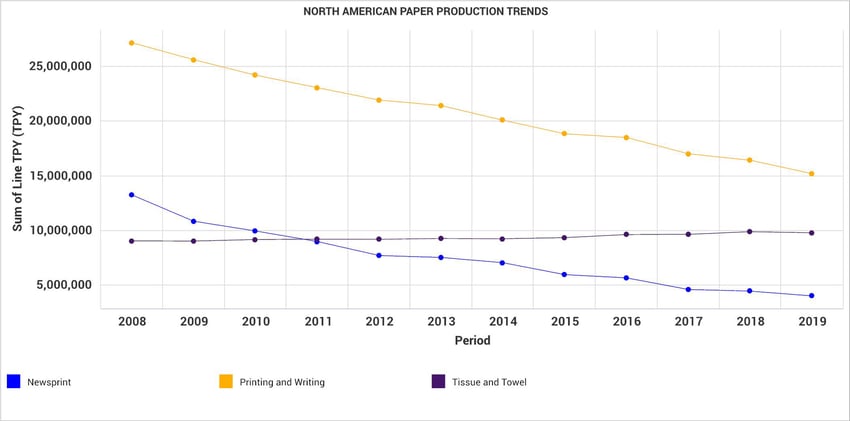 Just how pervasive is the new "remote" economy and lifestyle?
A PwC survey in June showed that 77% of executives and office workers were working at home and while that number has come down some in recent weeks, remote work is still the model for millions of office staff. And with school and university systems across the country now employing "distance learning" for the foreseeable future, tens of millions of K-12 and college students have been doing their work online. All of this adds up to a situation where an existing structural market change—tumbling demand for printing and writing papers—is accelerating under the weight of the COVID-19 pandemic.
Unsurprisingly, with the arrival of the lockdowns that took effect in late 1Q2020, we began to see announcements from major pulp and paper around the world detailing closures, curtailments and consolidations. At least 16 mills in North America in the Printing & Writing and Newsprint markets took "lack of order" downtime by the late spring and summer—all of which lasted for multiple weeks or even months—and a few permanent closures or conversions have resulted. Curtailments and closures have also occurred in Europe, although to a lesser extent.
Is the Trend Reversing?
Recent data suggests that the worldwide experiment in WFH has had some unforeseen consequences for both employees and employers:
Many WFH employees have found themselves unable to unplug from work since they are essentially confined to their home offices 24/7. They are working longer hours—data showed a 2-hour increase in the average workday—and reaching increased rates of "burnout," which can lead to long-term health and career regression.


Productivity declines among remote US workers (as detailed in a study by Aternity) in mid-summer were concerning: 85% were still away from the office and their overall productivity had dropped by 14%. With many months of data and observations now available, employers are noticing pitfalls in WFH productivity: Projects take longer, training is more difficult, hiring and onboarding new employees is increasingly challenging, and some employers say their workers appear less connected.
Per a recent story in the Wall Street Journal, the trend in corporate America is now beginning to shift back towards on-site work where it is feasible:
"There's sort of an emerging sense behind the scenes of executives saying, 'This is not going to be sustainable,'" said Laszlo Bock, chief executive of human-resources startup Humu and the former HR chief at Google. No CEO should be surprised that the early productivity gains companies witnessed as remote work took hold have peaked and leveled off, he adds, because workers left offices in March armed with laptops and a sense of doom. "It was people being terrified of losing their jobs, and that fear-driven productivity is not sustainable," Mr. Bock said.
As our understanding of the COVID-19 contagion continues to evolve and the economic impacts continue to unfold, there is still a high degree of uncertainty surrounding nationwide "next steps." The WFH trend isn't going away anytime soon, but "the evolving thinking among many CEOs reflects a significant shift from the early days of the pandemic," notes the WSJ.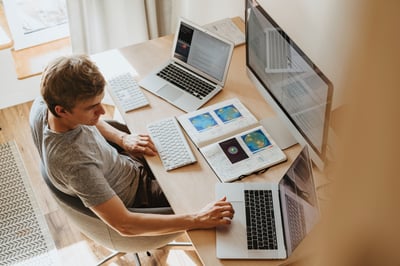 "'You can tell people are getting fatigued,'" noted Peter P. Kowalczuk, president of Canon Solutions America, a division of copier and camera giant Canon Inc., which employs about 15,000 people across the country."
JPMorgan recently announced that its traders, bankers, brokers and research analysts are now required to return to their offices after six long months of WFH, and Goldman Sachs is following suit.
What Does This Mean for Printing &Writing?
The WSJ notes that more companies now envision a hybrid form of working in the future—one that allows more time spent working remotely, yet with occasions to convene teams in-person. "I am concerned that we would somehow believe that we can basically take kids from college, put them in front of Zoom, and think that three years from now, they'll be every bit as productive as they would have had they had the personal interaction," said Chief Executive Ronald J. Kruszewski of Stifel Financial Corp.
Mr. Kruszewski's apprehension is warranted, but what this hybrid work system actually looks like in the real world isn't completely clear.

Many employers are eliminating dedicated offices and moving to a shared space "hotel" model in which employees occupy whatever open office is available for the day. While this qualifies as being on-site, this mode of work also requires reliance on electronic filing and sharing systems, which could diminish the need for printing and writing papers. Will workers operating in such arrangements return to printing/copying as much as they once did, or have they become accustomed to sharing 100% of their information via the cloud?
Likewise, a hybrid or part-time return to K-12 schooling will likely create some demand in the printing and writing papers segment. Many universities, on the other hand, are still largely operating remotely, and assignments are typically filed electronically. Will a wholesale return to school result in pre-COVID demand trends?
While the hybrid approaches may be more sustainable for all organizations moving forward, time will tell on where, exactly, the balance between work-from-home vs. at-the-office or school will land. These fundamental shifts will continue to impact the Printing and Writing segment of the industry as this balance settles. Predicting the future with certainty is always hard to do, but we certainly can envision different likely scenarios – a "hope for the best, plan for the worst" paradigm – in which we are more prepared and agile for whatever may come.