During a recent presentation, Lin Qijun, Chairman of Forest Packaging, stated that "In order to ensure the supply of recycled paper, a subsidiary was set up in Thailand this year to import RCP from the United States and other countries into the company. At present, the equipment is being installed. It is estimated that RCF pulp will be produced in June with an annual output of about 100,000 tons."
Forest Packaging is a new integrated manufacturer that was listed in 2020 and is mainly engaged in the production and sales of containerboard and downstream corrugated boxes. Currently, in relation to the ban on imported RCP, the main challenge of the industrial packaging paper industry is figuring out how to guarantee the supply of raw materials such as American RCP to maintain profits through boom and bust cycles. Therefore, the 100,000+ tons of RCF pulp capacity in Thailand is undoubtedly very important for Forest Packaging.
Currently, the company has three base paper machines with an annual capacity of about 520,000 tons / year. In 2020, the company's operating revenue was about 2.2 billion yuan, of which the operating revenue of base paper accounted for 70%. In terms of gross profit margin, base paper was 17.11% and paper packaging was 25.68%, which was slightly lower compared to 2019.
As we enter 2H2021, the rising price of raw materials has led to an increase in the price of base paper. As an integrated enterprise of base paper and paper packaging, Forest Packaging has actively developed the upstream raw materials market, which reduces its production cost.
Since early 2021, the price of domestic OCC in China has increased. Taking the Zhejiang market where Forest Packaging is located as an example, the price of Grade A OCC in the past 12 months has jumped from 1855 yuan / ton in June 2020 to 2340 yuan / ton—an increase of 26% as seen in the figure below. Although the price increase of raw materials can be passed downstream, the box plants maintain a "wait-and-see" attitude with the price of base paper continuing to rise, directing the price pressure upstream.
Price Development of China's OCC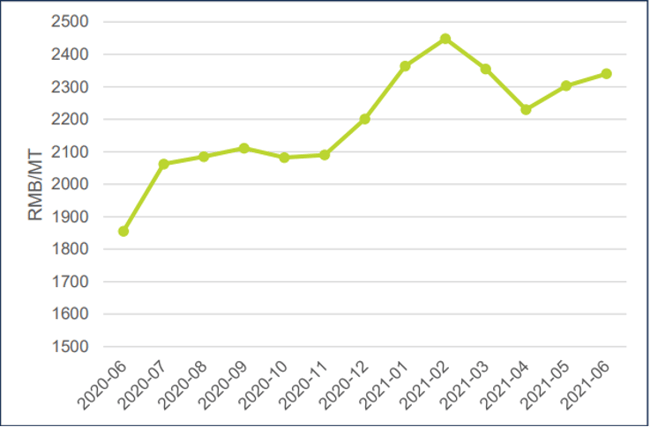 Source: OilChem
There is a relatively large production capacity gap between containerboard producers in China and among the leading enterprises, Nine Dragons has an annual capacity of 12 million tons while Shanying and Lee & Man each have an annual capacity of nearly 6 million tons. The first-tier enterprises have more resources that allow them to invest overseas to build mills, while the second-tier enterprises, with relatively small production capacity, Are not as flexible.
Forest Packaging can obtain higher quality American RCP at a lower price through its project investment in other Southeast Asian markets at this time. Although the dry pulp will impact quality in the pulping process, according to Fisher's calculation, the cost per ton of paper can be reduced by 1,000 yuan. In hindsight, it would be a wise move due to the low investment cost in dry pulp production equipment.
With the continuous growth of Chinese containerboard production capacity, the demand for RCP will increase. Although domestic production enterprises have taken different paths to make up for the current shortage of raw materials, domestic OCC will still be the main raw material for containerboard in the long run because of its short recycling period and its smaller amount of pollution in the treatment process with no additional capital investment. In the future, domestic paper enterprises and upstream RCP recycling related companies will need to work more closely, resulting in the possibility of greater inflows of capital in the upstream RCP recycling sector.