As the sustainability movement continues to gain traction, there is a clear trend to move further away from unsustainable packaging and utensils, such as plastic and Styrofoam trays, cups and plates. As a result, companies have been on the hunt for a replacement material that can be used to create a variety of products and that is still efficient yet eco-friendly – and recently, some companies have looked to revolutionize the capabilities and products made from formed fiber to do just that.
Formed fiber is a renewable, recyclable and biodegradable material that can be used to replace plastics in a wide range of applications. Historically, most products have been made from low-quality recycled pulp, but a growing amount of formed fiber products are now manufactured from various chemical pulps and chemi-thermomechanical pulp (CTMP) by pressing it into a desired shape in a molding machine. Many people are most familiar with the use of formed fiber in the production of egg cartons or to-go cup carriers found at fast food restaurants or coffee shops. However, many companies are expanding its capabilities, such as Stora Enso for example, who's formed fiber products are being used in food packaging such as bowls, trays and lids.
In fact, Stora Enso is investing €8 million to double its production capacity of formed fiber in Europe as demand increases. With new machinery in Hylte, Sweden, this investment will further strengthen Stora Enso's position as a leading provider of renewable materials that replace fossil-based ones. After the investment is completed, the Hylte site's annual formed fiber capacity will grow from 50 million units of product to approximately 115 million units of product – a 130% increase that will make Stora Enso one of Europe's leading suppliers of formed fiber.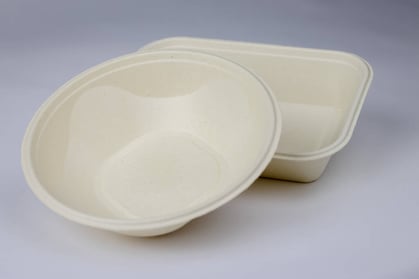 Senior VP, Head of Formed Fiber at Stora Enso Sohrab Kazemahvazi stated, "There is a high demand in the market for eco-friendly, circular packaging solutions that replace plastic and other fossil-based materials. Our formed fiber offering can help brand owners meet their sustainability targets, while responding to consumers' demands for a cleaner future."
PulPac has also joined the trend due to significant interest from the industry and created the PulPac Production Unit 300 ton (PU300), which is the world's first automatic, standardized production unit for dry molded fiber. It is engineered as a modular industrial production line, ready for food-grade production of high volume and affordable dry molded fiber products such as sustainable spoons made of pure cellulose fibers. The cost structure and cycle time/production rate are on par with plastics and can even produce 30 spoons in roughly 3.5 seconds. Single-use cutlery experiences billions of units of demand each year, especially as regions in Europe begin to implement bans on non-sustainable plastic cutlery. And PulPac is swooping in on this opportunity as its starting annual capacity is 230 million sustainably-made spoons.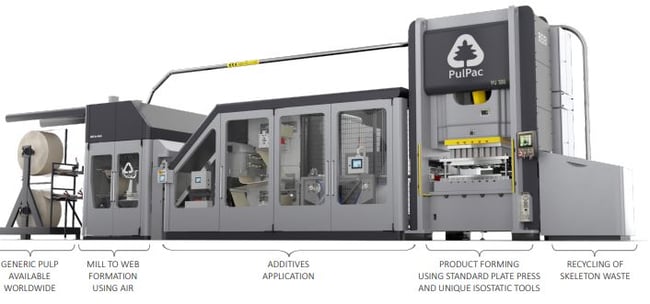 In addition to the sustainability benefit, molded pulp also has a significantly lower cost per unit compared to other types of packaging, as starting with recycled materials can lower the costs by as much as 70%. It can also reduce other sources costs since most molded pulp products ship stacked, don't take up a lot of space, and are lightweight – meaning they can be shipped in higher volume and less frequently.
Companies that are making the shift from plastic and converting to formed fiber are presenting an even more attractive substitution for brands that wish to be sustainability leaders in their segments. And as more major companies begin to look to formed fiber as a suitable alternative, it's important to consider questions such as:
How much formed fiber capacity will come onto the market within the next couple years?

How will this affect market pulp producers and the demand for recycled pulp bales?

Are there any downsides to using formed fiber over other alternatives?

Is this sector worth investing in right now or will it become overcrowded in the near term?
Fisher International provides consulting services that help answer these questions and support strategy development and implementation through the use of our proprietary data and business intelligence platform FisherSolve Next. Our consulting services help provide you with answers to important questions by explaining market movements in verifiable, fact-based and common-sense terms that industry professionals find useful. To learn more about how Fisher's consulting team can help you prepare for new opportunities, contact us today.