The COVID-19 pandemic had immediate, cascading effects across the globe during its onset in 1Q2020. While most economies seem to have skirted outright disaster utilizing a spectrum of novel policies designed to mitigate risk, the global trade situation is tenuous, and the future is uncertain. Supply chains remain incredibly stressed, food and energy costs are soaring, the global transportation sector is severely pinched and, to borrow a famous line from a popular series, "winter is coming" for those of us in the northern hemisphere.
But all is not lost. The economic calamity of the last 20 months was painful in many respects, but it was no "normal" recession. While many segments across the pulp and paper industry experienced a significant decline in demand, such as Printing and Writing, other segments thrived during the pandemic.
The Corrugated segment is one such example, as demand for shipping boxes has skyrocketed since the onset of the pandemic. Interestingly, corrugated demand behaved in a way completely different from the previous recession in 2008 as box demand during the pandemic performed better than GDP.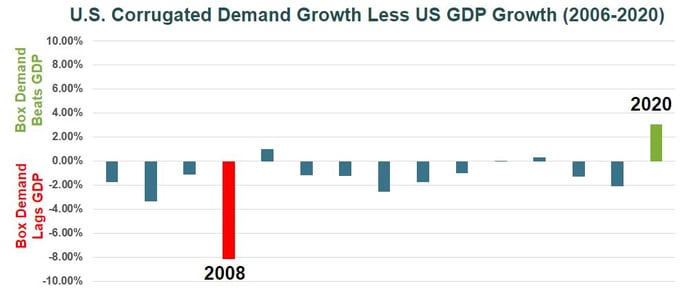 Source: FRED, FBA, Fisher
The three main drivers behind demand of corrugated boxes in the US are the manufacture of non-durable goods, durable goods, and e-commerce deliveries. As illustrated in the image below, e-commerce was the primary driver of corrugated and containerboard demand in 2020. Durable and non-durable goods (about 85% of demand) behaved as expected during the first economic shockwave. However, e-commerce accelerated, offsetting declines in other sectors.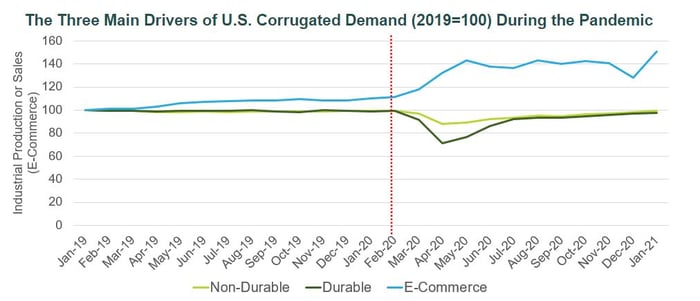 Source: FRED, Fisher-STE Systems Dynamic
It is obvious now that the surge in demand was largely due to a change in consumers' shopping habits due to the global lockdowns. 1Q2020 witnessed a huge increase in online shopping, and while that shift was largely compelled by government mandates, we have now seen a structural change take shape. Consumers have become more accustomed to, and even prefer, online shopping — increasing the demand for corrugated packaging.
In commodity industries, as demand goes, so does supply (and usually with a lag). Unsurprisingly, containerboard (the material used to make corrugated boxes) mill capacity in North America and across the globe is now expanding. The below chart illustrates this growth in North America. Paper manufacturers are responding to the spike in demand for corrugated boxes by ramping up capacity at an unprecedented rate.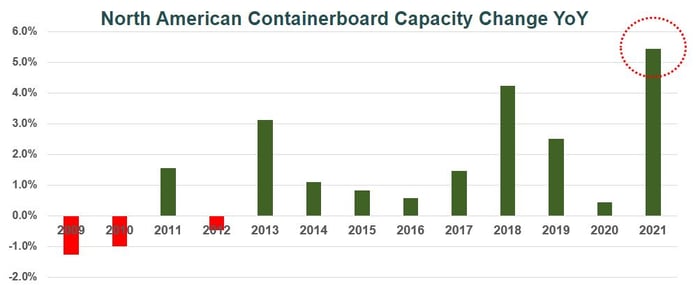 Source: Fisher International
Consequently, will new capacity usher in a new competitive landscape in North American containerboard? The image below illustrates the operated capacity evolution by company, and as we can see, there has been a 50% growth in smaller player capacity according to FisherSolve Next.
Are these current trends predictive of near- and long-term demand? What might this mean for the NA share of growth capacity in the future? Who has the most upside potential in the current market?
North American Containerboard – Operated Capacity Evolution by Company

Source: Fisher International
For further insight into questions such as the ones above, talk with an expert at Fisher International. Fisher has tools and resources available to help you assess your position in the market in order to formulate an actionable plan. Our business intelligence platform, FisherSolve™ Next, provides detailed information on every pulp and paper mill the world to give you that competitive advantage to help improve your company's profitability.