US forest industry performance in February and March was recently reported by both the US government and the Institute for Supply Management.
total industrial production (IP) rose 0.5 percent in February to a level that is 103.6 percent of its 2017 average. Manufacturing output increased 1.2 percent after having been little changed in each of the previous two months. In February, the index for utilities declined 2.7 percent, and the output of mines edged up 0.l percent. Manufacturing output was restrained yet again in February by motor vehicles and parts, which declined 3.5 percent thanks to the continued shortage of electronic components.
The Institute for Supply Management's (ISM) monthly sentiment survey for March 2022 reflected a slightly smaller proportion of U.S. manufacturers reporting expansion. The PMI registered 57.1 percent, a decrease of 1.5PP. (50 percent is the breakpoint between contraction and expansion.) The subindexes for input prices (+11.5PP), new orders (-7.9PP), and order backlogs (‑5.0PP) exhibited the largest changes.
The services sector accelerated further in March (+1.8PP, to 58.3 percent). Inventory sentiment (-15.1PP), exports (+8.0PP), and imports (-6.7PP) saw the largest changes. Input prices again pushed higher (+0.7PP). Of the industries we track, Wood Products and Ag & Forestry contracted, while the rest expanded. "Pricing pressures are stronger than ever due to the Russia-Ukraine [war]," wrote one construction respondent, "and energy costs are skyrocketing."
IHS Markit's survey headline results were more upbeat than their ISM counterparts; Markit's manufacturing index rose along with services.
"US manufacturing growth accelerated in March as strong demand and improving prospects countered the headwinds of soaring cost pressures and the Russia-Ukraine war," Markit's Chris Williamson observed. "Order book growth has picked up as customers look to the further reopening of the domestic and global economies amid signs that the disruptions from the pandemic continue to fade.
"While companies continued to report widespread production constraints due to supply chain bottlenecks, the incidence of such delays is now lower than at any time since January 2021. Jobs growth has also improved as fewer companies reported labor shortages."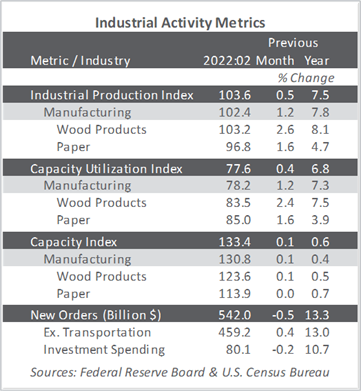 After rising 0.6 percent in January, the consumer price index (CPI) accelerated to +0.8 percent in February. Primary contributors included gasoline (+6.6 percent MoM, accounting for almost one-third of the all-items increase), food (+1.0 percent) and shelter (+0.5 percent). The CPI has been steadily rising and, at +7.9 percent YoY, now reflects the largest annual increase since January 1982. Gasoline (+38.0 percent YoY), used vehicles (+41.2 percent) and food (+7.9 percent) are among the most noteworthy changes.
Meanwhile, the producer price index increased 0.8 percent (+10.0 percent YoY). That advance was attributed to prices for final-demand goods, which rose 2.4 percent (especially, gasoline: +14.8 percent MoM). The index for final demand services was unchanged.
Price index performance in the forest products sector specifically included:
Pulp, paper & allied products: +1.0 percent (+15.9 percent YoY)
Lumber & wood products: +2.9 percent (+19.7 percent YoY)
Softwood lumber: +5.2 percent (+22.2 percent YoY)
Wood fiber: +1.4 percent (+6.2 percent YoY)