The frozen food segment saw skyrocketing demand months after the onset of the global Covid-19 pandemic as consumers had reduced access to restaurants during the various stages of lockdowns that began in March 2020. According to IRi, a Chicago-based market research firm, frozen food sales increased by 25.3% in December 2021 compared to sales in December 2019.
However, the frozen food category is experiencing another surge amid increasing inflation – outgrowing the fresh food category by 230% thus far this year. Adnan Durrani, CEO of Saffron Road (a manufacturer of clean-label frozen food products and meals), gives some insight into this trend, explaining that frozen is nature's pause button, and frozen products preserve that freshness over time and allow for a longer shelf life, especially with organic and locally sourced food items. "The sell-by dates got shortened because of the supply chain. People were also making fewer trips to the store, so items were sitting on the shelf for quite a while," Durrani said.
Because of its long shelf life, frozen foods are often considered an ESG value. According to the Natural Resources Defense Council (NRDC), up to 40% of all US food goes uneaten, with 87% of food waste coming from fresh vegetables, fruit and bread. Therefore, when consumers are looking at how much they are paying for groceries versus how much they actually consume, frozen food has become the go-to in terms of being a value-based and more sustainable option.
But why is this important to the Pulp & Paper industry?
This trend has created a great opportunity for companies that produce the paperboard used in frozen foods packaging as demand has significantly increased. Solid bleached sulfate (SBS) and coated solid unbleached kraft (SUK), which are both virgin fiber-based grades, are the preferred paperboard grades for frozen food packaging due to their wetting resistance and superior stiffness. However, coated recycled board (CRB) has also been gaining wider acceptance amongst consumers due to the growing preference for recycled-based packaging. Production capacity for SBS, coated SUK and CRB has increased as more consumers continue to purchase frozen meals.
Top 5 Producers of Coated Paperboard for Folding Cartons, Q2 2022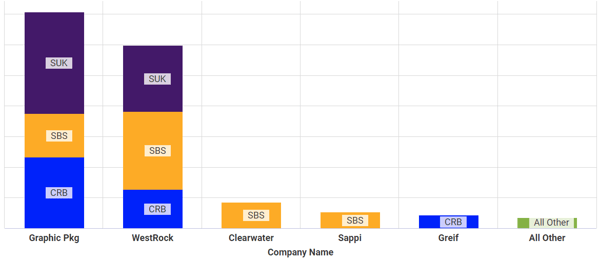 Source: FisherSolve
This increase in frozen food sales has also translated to an increased demand for shipping boxes as 42% of households that bought frozen foods from February 2020-February 2021 bought frozen foods online, up from 23% from 2018. Being able to seamlessly deliver meals that are easy and convenient right to the consumer's doorstep with little to no human interaction has been an extremely popular option.
Relative Capacities of Coated Paperboard for Folding Cartons by Grade, Q1 2021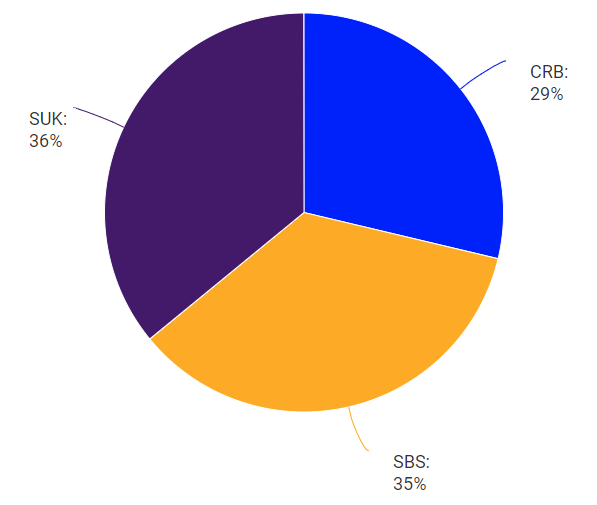 Source: FisherSolve
This also presents an opportunity for those producing more fiber-based food packaging as it helps companies improve upon its corporate sustainability initiatives. Corporate sustainability is a growing concern amongst companies of all sizes and is rooted in creating a "green" strategy aimed toward environmental stewardship. And not only are consumers and manufacturers supporting and promoting this changeover in food packaging, but many developing legislative regulations are accelerating this conversion as well. Certain regions across the globe have implemented plastic taxes on non-recyclable plastic and enforced bans on fluorochemicals and single-use plastics.
However, there are warnings that there could be "recessionary backlash" and "some kind of price elasticity disruption" in the 2H2022 as higher costs weigh on the global food system. For further insight into this trend and the opportunities it could present for your company, talk to one of our consultants today.