US forest industry performance in December and January was recently reported by both the US government and the Institute for Supply Management.
Total industrial production (IP) declined 0.1 percent in December (but +3.7 percent YoY and 0.6 percent above February 2020's pre-pandemic reading), well shy of the expected +0.3 percent MoM. Losses of 0.3 percent for manufacturing and 1.5 percent for utilities were mostly offset by a gain of 2.0 percent for mining (which includes oil and gas production). For 4Q overall, total IP rose at an annual rate of 4.0 percent.
New factory orders decreased 0.4 percent in December, led by transportation equipment. Excluding transportation, new orders inched up by 0.1 percent (+13.0 percent YoY). Nondurable goods orders decreased by 0.2 percent. Business investment spending rose by 0.3 percent (+11.5 percent YoY). "The latest surge in [COVID] cases looks to be exacerbating labor problems," said Oxford Economics' Oren Klachkin. "While we expect bottlenecks to eventually loosen, we shouldn't discount the risk... conditions could still worsen before they improve."
The Institute for Supply Management's (ISM) monthly sentiment survey began 2022 with a smaller proportion of US manufacturers reporting expansion. The PMI registered 57.6 percent, a decrease of 1.2PP from the December reading. (50 percent is the breakpoint between contraction and expansion.) The subindexes for input prices (+7.9PP), order backlogs (‑6.4PP), and new orders (-3.1PP) exhibited the largest changes.
Of the industries we track, Real Estate and Construction expanded, Paper Products and Ag & Forestry contracted, and Wood Products was unchanged. "Costs have escalated to what we believe are unsustainable levels," wrote one Construction respondent. "Available labor is nonexistent, so we have cut staffing and are taking on fewer projects temporarily in an attempt to reduce cost. Outsourcing where possible. We are not optimistic at this time." Other respondent comments generally exhibited a similar tone.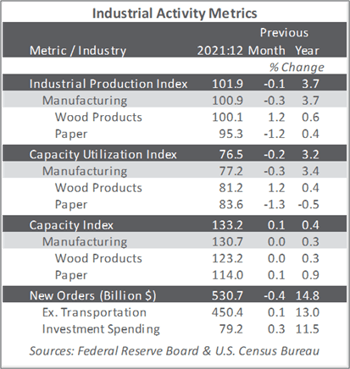 Following advances of 0.6 percent in October and 1.0 percent in November, the producer price index (PPI) decelerated to +0.2 percent in December (+9.7 percent YoY, the largest calendar-year increase since data were first calculated in 2010). December's advance in the final-demand index can be traced to a 0.5 percent increase in prices for services—especially fuel and lubricant retailing. Conversely, the index for goods decreased 0.4 percent, led by gasoline (‑6.1 percent); in light of the $11 jump in oil's price in January, we expect gasoline's decline to be short-lived.
Index performance in the forest products sector specifically included:
Pulp, paper & allied products: +0.2 percent (+16.0 percent YoY)
Lumber & wood products: +5.6 percent (+15.9 percent YoY)
Softwood lumber: +23.6 percent (+12.6 percent YoY)
Wood fiber: +0.6 percent (+7.1 percent YoY)