Exports of paper and paperboard from India skyrocketed nearly 80% in fiscal year (FY) 2021-22, reaching a record ₹13,963 crore (unit of value equal to ten million rupees), according to industry body Indian Paper Manufactures Association (IPMA). While the growth includes numerous grades across the industry, exports of coated paper and paperboard experienced a 100% increase, followed by uncoated writing and printing paper (98%) and tissue paper (75%).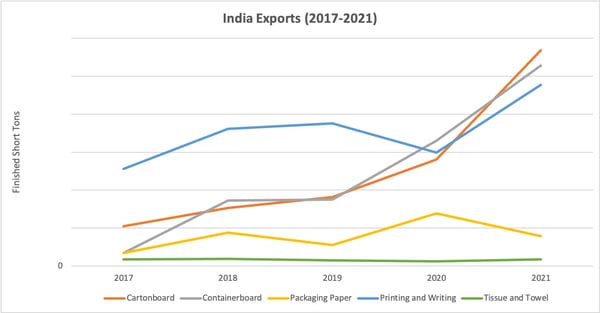 Source: FisherSolve
Although paper exports from India have been on an upward trend over the last five years, this fiscal year has seen record-breaking numbers. In terms of volume, paper exports from India have gone up four times, from 0.66 million tonnes in FY17 to 2.85 million tonnes in FY22. Some of the top export destinations include United Arab Emirates (UAE), China, Saudi Arabia, Bangladesh, Vietnam, and Sri Lanka.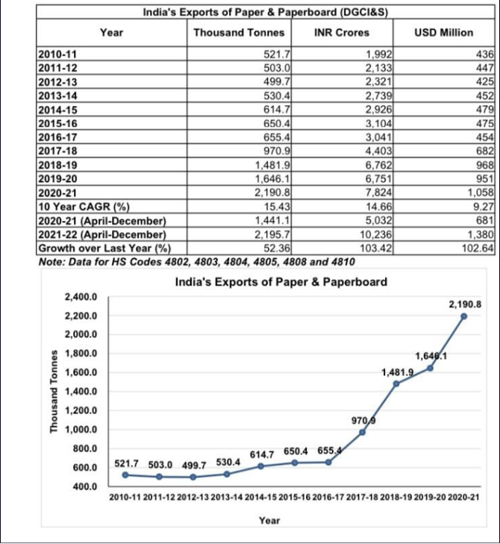 Source: IPMA
"Exports have been rising in the last few years due to capacity expansion and technological upgradation undertaken by Indian paper mills, leading to better product quality which has found wider acceptance globally," stated Rohit Pandit, Secretary General, IPMA. In addition, domestic paper companies have placed far more effort in marking tactics globally and invested in market development in foreign countries.
Some other the key factors that have played a role in India's rising export growth include:
Technological and operational advancements at Indian paper mills driving cost competitiveness.

Improvement in quality consciousness of Indian paper producers.

Encouragements by the Indian government like Production Linked Incentive (PLI) schemes, export incentive schemes, free trade agreements with foreign countries, etc.

The depreciating rupee has made Indian goods from labor-intensive sectors like textiles, clothing & paper more competitive globally.

Almost no exports from China for economic recycled paper and board grades due to its ban of imported waste paper.
Russia's attack on Ukraine has also played a role in India's advancing economy as neither China nor India took a position between Russia and the West when numerous Western countries were implementing sanctions on Russia – creating an opportunity for either country to pick up any lagging exports from Russia or Ukraine.
After taking this all into consideration and looking forward, it's important to keep in mind questions such as:
Will this export growth momentum continue long-term?

Can India grow the export of its commodity grades to other countries apart from UAE, Sri Lanka, Bangladesh, Africa and China?

When the key obstacles such as the container shortage and high freight rates normalize, what will India's exports look like?
For a deeper look into answering the questions, talk with an expert at Fisher International who can help your business formulate an actionable plan with a high degree of accuracy. You can also learn more about how Fisher International's analytics platform, FisherSolve, can provide you with detailed information on every paper and pulp mill in the world for both market and competitive analyses.