During 2017-2018, India generated 26,000 tonnes of plastic waste per day, of which only 60% was recycled while the rest ended up as litter on roads, in landfills or streams. When taking a closer look at the plastics industry, the single-use plastic segment in India is now close to Rs 80,000 crore (a crore is equal to ten million rupees) – and it's still growing. Packaging accounts for a third of India's plastic consumption, and 70% of plastic packaging is turned into waste in a short time span.
Uncollected plastic waste poses a huge threat to India's diverse ecosystems and wildlife, and single-use plastic bags and Styrofoam containers can take up to a thousand years to decompose. In fact, of the 9.1 billion tonnes of plastic that the world has produced since 1950, 6.9 billion tons has become waste, and only 9% of that has been recycled while the rest ends up in landfills and in the world's oceans.
In response, India is following the lead of many other countries, such as Canada, by banning single-use plastic items. This new ban went into effect July 1, 2022, and will be closely monitored by the Central and State Pollution Control Boards, and directives have been issued at the national, state and local government levels to withhold raw materials to industries that operate in banned items. Noncompliance with this new piece of legislation will warrant penal consequences of a fine up to INR 100,000 or jail time, or both.
Some of the banned items include earbuds, flags, candy and ice cream sticks, polystyrene (thermocol), plates, cups and glasses, eating utensils, straws, trays, wrapping or packaging films, invitation cards, cigarette packets, plastic or PVC banners of less than 100 microns, and stirrers. However, one issue that arises is that most paper companies in India do not manufacture substitutes for any of these items and may be wary to venture into producing them in the near term.
Although, some large FMCG and Agro-food companies have already begun removing integrated plastic straws from small tetra packs of fruit juices as well as dairy products and are beginning to shift to paper-based straws and other alternative sustainable solutions. Some of the leading companies in India producing these alternatives include Parle Agro, Dabur, Amul and Mother Dairy. Below is a brief overview of some of the different replacements from the P&P industry that retailers can use and producers can focus on to address India's ban.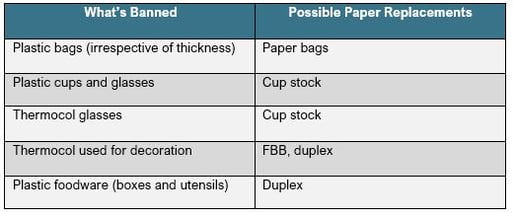 Whenever a new piece of legislation impacts large swaths of the consumer segment, it's important to look at the probable effects that may arise. Some impacts this ban will have on the P&P industry in India include:
A substantial increase in demand for paper bags.

India consumes 6 billion plastic straws every year, and these will now be replaced with paper straws.

A significant increase in virgin and recycled paperboard demand and capacity as paper food-grade containers and paper cups will replace plastic over the next five years.

An increase in capital investment in new capacity to satisfy the new demand.
Though this ban has been positive for the paper industry as another opportunity to replace single-use plastic with paper options, there are a couple of concerns - namely worries over rising raw material costs for most paper mills. Prices of key raw materials such as pulp, chemicals, coal, furnace oil and freight rates have already surged, leading to input cost pressure. Purchased pulp, recycled paper and coal prices have hit an all-time high at a level significantly above historical price – so how will this ban impact pricing in the future? Another concern is the fact that India lags the infrastructure to entirely replace single-use plastics. Will this hurt producers financially as they race to install the capacity needed to keep up with demand?
Our FisherSolve platform can help industry participants strategically identify areas of investment that can be aligned to take advantage of this opportunity. With highly detailed and complete information on every pulp and paper mill in the world, clients can benefit from and leverage the information obtained from the world's most powerful proprietary database that provides deeper insight and allows them to make cost effective decisions. For more information, contact us today.