As global consumer trends and demands continue to shift at an escalating pace – especially given the events of 2020 - markets for wood fiber residuals have undergone both structural and temporal changes. A comprehensive Forest2Market report on this topic sought to understand the relationship between the supply and demand of wood residual materials over a 10-year period from 2007-2017.
The geographic scope for the study was divided into two broad regions of the United States: the US South and the Pacific Northwest (PNW). The study found that there are four underlying market forces that most impacted the residual market.
Key Finding #1: There has been a structural decline in printing and writing papers and the production of other end products derived from hardwood fiber.
Key Finding #2: Buoyant demand for softwood fiber has been driven by strong pulp markets and bioenergy in the form of pellets.
Key Finding #3: Renewed softwood lumber demand and announced capacity in the US South present challenges, though more for landowners than producers of residuals.
Key Finding #4: Wood Fiber constraints in the PNW have hindered growth and led to stagnant, but stable markets.
Over the past several years, chip and pulpwood prices in the PNW have demonstrated significant levels of volatility when compared to the relatively flat performance in the US South. More recently, and in the wake of the COVID-19 pandemic, prices for these products have plunged in the PNW as supply has risen while demand has tapered – even though the region remains resource-constrained.
Primary & Residual Chips
Timber supplies in the PNW are stressed due to lack of management and harvesting on federal lands, and the region experienced devastating effects from seasonal wildfires in 2020. So much timber has been damaged, in fact, that crews will be cutting to salvage fire-killed timber for many months - even years. In particular, the Cascades region of Western Oregon that stretches over a vast area from California to the Columbia River suffered a great loss of resources. For example, in Lane County, Oregon, the 2018 annual harvest totaled 559 MMBF; fire losses on the county's private forests alone may amount to nearly one-year's total harvest.
Despite the devastating fires, lumber production in the PNW during 2H2020 was up roughly 5% from 1H2020; in BC, it was up about 16%. While lumber manufacturers ramped up production to take advantage of record prices for finished softwood lumber, pulp and paper production in the region has declined. This development in the market led to a decrease in chip demand while supply, particularly for residuals, has increased. This combination of factors has driven the price point down, which has also impacted the pulpwood market.
Although the PNW has a vibrant solid wood industry, the US South currently has more active mills producing larger volumes of lumber, and capacity increases and greenfield mill projects are likely in the near term. This steady supply of sawmill chips has kept prices lower in the South, where softwood sawtimber and pulpwood prices have also remained low.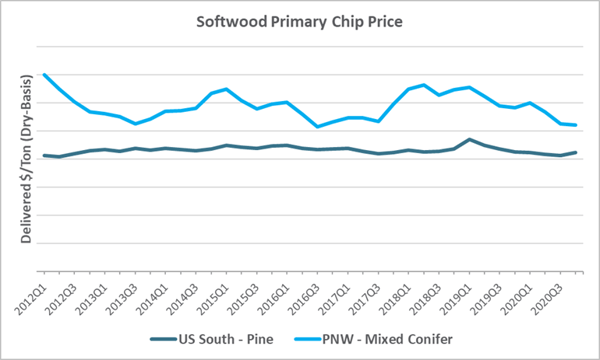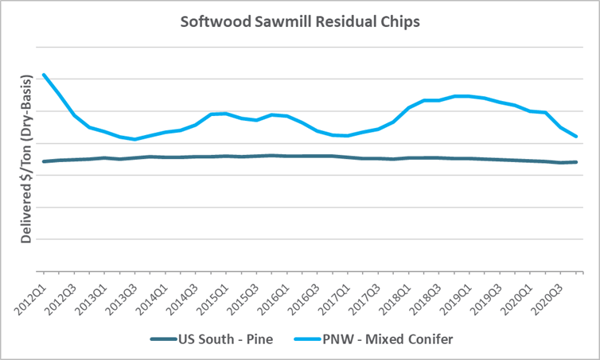 Outlook
The booming housing market and record prices for finished softwood lumber are keeping lumber production strong and increased residual chip availability is expected in both regions for the near term. However, the lack of demand in the PNW suggests that chip markets will remain stagnant. Based on its abundant sawmill activity and continued chip demand, the US South will not see much price volatility in the near term.
Softwood & Hardwood Pulpwood
The western sawlog market has softened about as much as it can in the wake of the 2020 fire season. It's been a very wet winter thus far and deliveries are slowing, which has tightened supply - even for burned logs. With improved markets, this will continue to apply upward pressure on sawlog prices in the near term. However, as more chip supply becomes readily available and demand for both residuals and pulpwood continues to taper in the west, prices for both will continue to reflect this lack of demand.
Softwood and hardwood pulpwood prices in the South have remained relatively flat over the last several years and have typically only experienced minimal seasonal effects. However, prices for both products are trending much higher in 1Q2021 – primarily caused by supply constraints driven by excessively wet weather. For instance, parts of Virginia and North Carolina have experienced an 88% increase in hardwood pulpwood price, and pine increases aren't far behind. We're seeing trends like this in various pockets throughout the South, where steady demand is driving prices ever higher due to inoperable harvesting conditions.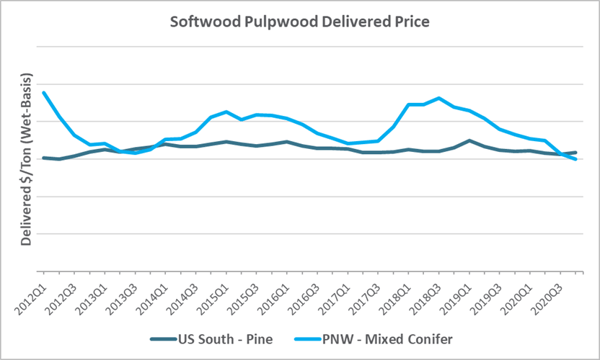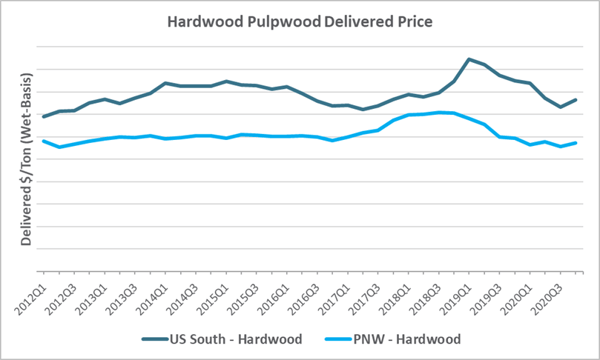 Outlook
In the PNW, conifer and hardwood pulpwood prices will be flat to slightly increasing as supply remains plentiful. However, pulpwood consumption - and the wood markets that drive it - is very strong throughout the US South. With robust demand and continued supply constraints as we head into 2Q2021, prices are likely to demonstrate more volatility in areas of high demand.
Pulpwood consuming mills in both regions would do well to closely monitor and analyze fiber and log costs through SilvaStat360 to uncover opportunities for improved planning and managing costs.