On February 24, 2022, Russian President Vladimir Putin organized and initiated an invasion into Ukraine. As of this writing, Russian forces continue war efforts to penetrate further into Ukraine and the geopolitical situation across Europe has already begun to shift in response; many trading partners have announced new sanctions and restrictions on Russian goods.
This continues to be a highly fluid situation, and dynamics on the ground are changing rapidly.
While the humanitarian implications are top of mind, the invasion is also impacting manufacturing operations and trade flows across the globe. The regional pulp & paper industry is expecting to undergo periods of extreme volatility as a result.
Eduard Litvak, Managing Director of the Ukrainian Pulp and Paper Industry Association UkrPapir, announced recently that all Ukrainian pulp and paper companies have halted production. Litvak explained that the military operations occurring throughout the country have led to a breakdown in logistics and supply chains and out of concern for the safety of employees, regional mills will be temporarily closed.
In addition to developments directly impacting the Ukrainian Pulp and Paper industry, major players within the industry have also made announcements and modifications over the last few weeks regarding the future of their operations in response to the conflict. Below is a brief timeline of some of these announcements:
As a result of these suspended operations, certain P&P trade partners may experience a shift in operations. As illustrated in the chart below, Russian pulp and paper manufacturers exported a vast majority of their 2021 production to China, which received roughly 2,000,000 more MTPY than India – the second leading importer. With market pulp, containerboard and newsprint making up the top three exported grades to China, it is likely that China's pulp and paper industry will experience considerable impacts as a result of Russia's invasion and will potentially have to source those grades elsewhere.
However, most of the other top 20 trade partners will likely experience only a slight change in imports.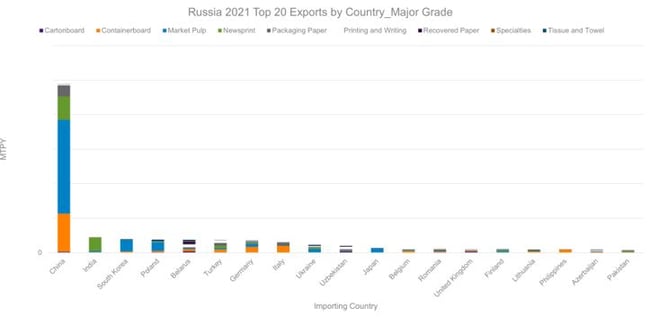 Source: FisherSolve Next
Russian paper producers are currently having issues with logistics, as many networks are partially non-operational due to the suspension of many international operators who traditionally handle Russian freight. The same problem is occurring with payment systems, as some Russian banks are now isolated from international transactions.
Russia, Belarus and Ukraine have been importing some paper products from Europe — mainly boxboard grades like FBB. Supply/demand of boxboard has been extremely tight recently and export to these countries will decrease as many European producers have pulled away from Russian and Belarus markets. Demand in Ukraine has also likely ceased due to the invasion, which will help the EU's supply/demand balance. However, this is not occurring in the uncoated woodfree papers sector, as Russia is still exporting to Europe to meet current demand, which is at an all-time historical high.
Along with direct impacts to the pulp and paper industry, this ongoing conflict has created significant trade issues in other sectors as well, especially global energy, oil and gas markets. The world is now facing an extraordinary energy crisis, and there are no simple solutions close at hand. As oilprice.com recently wrote, "Oil prices and energy stocks are trading at multi-year highs after international refiners adopted a self-imposed embargo, with many reluctant to buy Russian oil and banks refusing to finance shipments of Russian raw materials. Refiners and banks are unwilling to do business with Russia due to the risk of falling under complex restrictions in different jurisdictions. Market participants are also concerned about measures directly targeting oil exports."
As noted above, this is a highly fluid situation and dynamics across the pulp, paper and energy sectors will continue to change quickly. For additional insight into the possible impacts and disruptions this conflict could have on specific P&P segments, talk with an expert at Fisher International today.