Pulp and Paper companies are making headlines as awards are received, new products are rolled out and initiatives are launched to meet sustainability goals. Each month, the industry continuously proves its dedication to creating a greener world, and we've rounded up some of the top headlines over the last month.
Cascades' GHG Reduction Targets Have Been Approved by the Science Based Targets Initiative
Cascades is pleased to announce that the Science Based Targets initiative (SBTi) has approved its greenhouse gas (GHG) emission reduction targets. In its fourth Sustainability Action Plan launched last June, Cascades announced that it is determined to:
Reduce its mills' Scope 1 and 2 greenhouse gas emissions intensity by 38.7% (kg of CO2 eq. / metric tonne of saleable products)
Reduce Scope 1 and 2 absolute greenhouse gas emissions from other emissions sources, including its converting plants, by 27.5% (kg of CO2 eq.)
Reduce Scope 3 (supply chain) greenhouse gas emissions intensity by 22% (kg of CO2 eq. / metric tonne of saleable products)
To reach its targets, Cascades will carry out a series of in-plant projects, increase its consumption of renewable energy and engage the players in its supply chain.
Smurfit Kappa Checks Every Box with Bespoke eCommerce Packaging
Dalston's Soda Company already had an extensive range of eCommerce packaging, but the brand was after packaging that would improve their customers' e-Commerce experience. Their main goals were to use the brand's punchy branding to continue to make a visual impact, while at the same time improving the unboxing experience and give the product more protection.
Smurfit Kappa worked with an integrated model and had a full chain of custody over the box production, they were able to guarantee FSC certified materials were used. This means that not only are the boxes be made from eco-friendly material, but also fully recyclable - something made even more prominent by the lack of additional tape.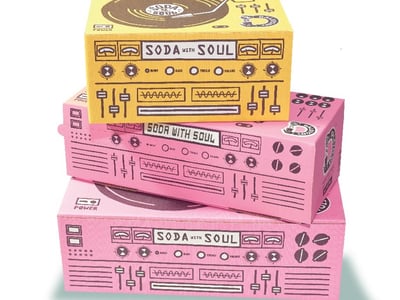 Stora Enso and Vogue Scandinavia Win the Prestigious Red Dot Design Award for Magazine Packaging Concept
Stora Enso and Vogue Scandinavia have won the Red Dot Design Award for the renewable eco-package concept created to replace plastics in magazine packaging. The packaging is fully carbon neutral, with a renewable, low-carbon raw material and energy efficient production. The first issue of Vogue Scandinavia was launched in August.
The Red Dot Award was granted for exceptional design quality and creative performance in the category of Brands & Communication design. With roughly 20 000 submissions, the Red Dot Award is one of the biggest design competitions in the world.
All materials are fiber-based and renewable, reflecting Vogue Scandinavia's commitment to sustainability. The package replaces the traditional single-use plastic wrapping used in magazines.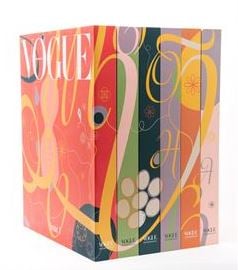 Mars Wrigley to Switch to Cardboard for New Maltesers Box
The removal of PE from all Maltesers boxes in the UK means that the box itself will be fully recyclable – the plastic film that covers the box, which is essential to protect the quality of the product within, isn't currently widely recyclable.
Adam Grant, general manager, Mars Wrigley UK, said: "At Mars, we take our responsibility for sustainable packaging seriously, and today's announcement that our iconic Maltesers box is now fully recyclable is another important step in our journey toward packaging that is 100% reusable, recyclable or compostable."
Timex Teases Eco-Friendly 'Expedition North' Watch Lineup
According to an official statement, the new Timex lineup is slated for a fall 2021 release. The brand calls it "our most sustainable and Earth-friendly collection to date."
Timex said the line will use 100% recycled paper packaging, a zero-water leather tanning process, and materials made from post-consumer plastic. It also highlighted "durability to last for generations."
Neenah, Inc. Introduces RECYCOTAPE™, a 100% Recyclable Packaging Tape Backing
Neenah, Inc. says it is adding the first of its kind, environmentally forward RECYCOTAPE™ tape backing to its sustainable product offering. Consumers can now recycle shipping or packaging boxes sealed with RECYCOTAPE, as this unique packaging tape backing will break down along with the box during the recycling process.
RECYCOTAPE is uniquely made from FSC® certified, sustainably sourced fibers that easily repulp and allow coating removal during the recycling process. As a result, these base papers can provide usable fiber to reprocess into new paper.
New CO2 Reporting Tool Helps UPM Reach Target of Reducing Emissions by 65%
UPM has launched a new tool this summer for reporting our energy consumption and CO2 emissions. The tool provides a consistent, more transparent, and simple-to-use reporting system for all our businesses and production sites.
The new tool was developed in close collaboration with UPM businesses, UPM Energy, UPM Responsibility, the UPM IT department and its Data Management Office (DMO) and external IT experts. It was also tested by different UPM businesses to ensure that it works in practice.
"Having detailed data about our CO2 emissions is becoming more and more important for us as a business but also to our customers," says Petri Hyyryläinen, Director, Energy at UPM Communication Papers. "There is more and more pressure to increase the data available for customer specific carbon footprint reporting and the same data can be utilized also for product development."
Kite Unveils Corrugated Alternative to Polystyrene with New Box Liner
Kite Packaging has recently released an innovative corrugated box liner that's a more sustainable alternative to polystyrene.
This thermal lining is 100% recyclable, low-cost and boasts the same temperature controlling qualities as polystyrene. The company conducted a series of externally verified tests to confirm this, revealing that at room temperature (23°c) the corrugated liners can keep the contents of a box below 0°c for 35 hours while being used in conjunction with our gel packs.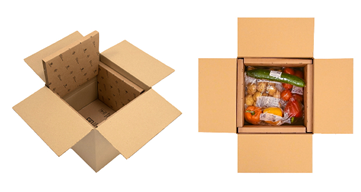 Reaching Future Decision-Makers with Vibrant Sustainability Content
Just launched mid-July, the Paper and Packaging Board's newest initiative communicates a number of important messages. It shows consumers what happens to their recycling, educates about important data, including the fact box fibers can be reused up to seven times, and showcases paper innovations that are replacing plastics. In addition, the initiative is set to correct misperceptions, so consumers feel more positive about the health of U.S. forests.
At the center of this initiative is a content-rich, animated microsite, PaperForNature.com. New imaginative videos, colorful digital banners and print ads targeting the Paper and Packaging Board's (P+PB) custom consumer audience, lead back to this site, encouraging audiences to learn more. Designed to appeal to younger 18-34-year-olds and those aging into our "Expressives" target demographic, the new creative work brings to life a world awash in color and optimism.