European Corrugated Industry Makes Progress in Emission Reduction
Recently, the European Federation of Corrugated Board Manufacturers (FEFCO) together with Cepi Container Board (CCB) released the new "European Corrugated Board Life Cycle Studies 2021" report. This report provides a high-level snapshot of the sustainability-related developments and the efforts made by the European corrugated industry and its paper suppliers to reduce their environmental footprint. FEFCO and CBB have been collecting and publishing life cycle data for more than 25 years, which follows a robust process of data collection, evaluation and validation by LCA experts.
The data within the 2021 report covers a significant portion of different sectors, representing: 84% of the total annual production for kraftliner and semi-chemical fluting; 74% of the production of testliner and recycled fluting; and 73% of the total annual corrugated board production on average. Some of the key sustainability-related data from this report include:
88% of recycled content was used for the production of new corrugated packaging

18% reduction in the consumption of wood

4% reduction in the consumption of recovered paper, indicating continuous improvements to reduce resource use

5% decrease in fossil fuels consumption

28% reduction in emissions of NOx at production sites

33% decrease in emissions of SOx at production sites
These environmental improvements are imperative because the corrugated sector has seen a significant increase in demand since the start of the pandemic, which supercharged the e-commerce industry and therefore the packaging sector. Alongside the booming corrugated industry, there has been increasing momentum behind sustainability-related initiatives and the importance placed on environmental, social, and corporate governance (ESG) issues that transcend individual companies. This has driven many online retailers to find ways to respond to the surge in e-commerce and consequently the need for more packaging while also adhering to sustainability goals.
Increased Pulp and Paper Capacity in 2H2022
The European region is the second leading global producer of pulp and paper behind the Asian Pacific region. And while capacity in Europe had been consistently increasing since 2015, the onset of the pandemic sparked a decline in 2020 and a further decrease in 2021. However, 2022 is expected to exceed not only 2020 and 2021 levels, but levels since 2007, which was around roughly 144 million MTPY.
Early 2022 saw some decline due to factors such as lingering Covid reactions, Russia's attack on Ukraine, and the strikes that occurred at UPM. Higher energy prices have also caused some disturbance and clouded the future outlook. Still, many European producers have resumed operations and have pushed forward with machine conversions and are planning to deliver additional capacity into the market before the end of 2022.
As we can see in the image below, the major grades that have been contributing to this growth include containerboard, market pulp, and tissue and towel. These grades are also expected to continue growing into 2023 as well. Containerboard has seen significant growth within the last two years as the popularity of e-commerce continues to rise, and the need for packaging is higher than ever. Containerboard also helps meet the needs of consumers seeking sustainable choices as it is one of the most-recycled materials.
The Tissue and Towel sector continues on as a rapidly evolving segment, as the pandemic and the lockdowns that ensued resulted in catapulting demand. As population increases and urbanization drive more tissue demand, combined with the fact that tissue production and supply chains tend to stay local, it's no surprise that this segment will continue to see future growth.
Correspondingly, market pulp has always been a critical global commodity within the P&P industry, which means as demand for various grades continues to increase, demand for market pulp will follow suit – requiring expansion in capacity.
European Pulp and Paper Capacity by Major Grade (Actual and Announced 2010-2023)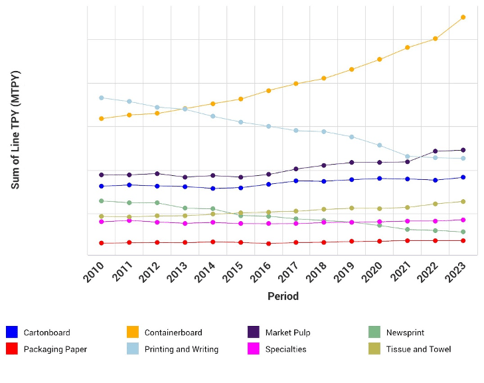 Source: FisherSolve
With this increase in capacity, it's important for global producers to ask a series of important questions:
Will these three grades remain the frontrunners for the foreseeable future?

How will this increase in capacity influence export and import trends?

Should we expect capacity to continue on an upward path and if so, for how long?
Major Moves from Major Players
With Europe being a major producer of pulp and paper products, major European producers are making some moves. Below is a high-level snapshot of some of the latest investments, acquisitions and developments.
Want to know how these developments might impact your business and influence your decision-making? Fisher International can provide you with a deeper analysis into evolving industry trends. Our consulting services help provide you with answers to important questions by explaining market movements in verifiable, fact-based and common-sense terms that industry professionals find useful. To learn more about how Fisher's consulting team can help you prepare for new opportunities, contact us today.