For many professionals in the global Pulp and Paper supply chain, there is a common sentiment that oftentimes puts us on the defensive. Inaccurate and misleading criticisms about the use of paper products - and the sustainability of forest products in general - have been unfairly leveled against the industry for decades. Sadly, many of these criticisms have also driven common misconceptions about paper products among the general public, and combatting some of the embedded narratives can be exhausting for those of us who understand just how far the P&P industry has come over the last several decades.
While it seems like a constant battle against misinformation at times, factual data helps.
As a way to advocate for the importance of the industry, the Paper and Packaging Board recently conducted a survey in 2020 to better understand consumer perceptions and attitudes towards paper and packaging. The survey targeted a custom target audience of consumers for the industry's national marketing program and equates to 50 million consumers ranging between the ages of 18-49.
Insight into the shifting attitudes among different cohorts of modern consumers is imperative for industry participants to better understand current trends and identify opportunities for the future. In terms of favorability, products manufactured by the paper and cardboard box industries are clear leaders when compared to products manufactured by the plastics industry:
Industry Favorability Among Consumers

Source: P+PB and Heart+MindStrategies. Sustainability Positioning and Messaging Research, 2020.
Consumer preferences are clear: the products manufactured by the paper industry are preferable, which means the P&P industry has every reason to be hopeful about the future. The most recent data continues to build on a clear consumer trend. In a previous survey conducted in August 2015, 56% of consumers preferred paper-based product packaging to packaging made from plastic. However, that number rose to 83% when consumers were surveyed in November 2020, with a 5-year average of 70%.1
Consumers prefer paper packaging over plastic packaging options by a 2:1 margin and avoid plastic packaging by a 4:1 margin.2 Besides sustainability concerns, another factor that explains these numbers is consumers' belief that the paper industry is more trustworthy, with 50% of consumers agreeing with this sentiment in 2015 and 81% in 2020, for a 5-year average of 71%.3
Despite these clear preferences, one of the most common misconceptions surrounding the P&P industry is that as technology continues to improve, paper's relevance will fade. While there are some obvious examples of this dynamic at work in the modern economy, i.e., digital access supplanting demand for printed materials, innovative paper products will continue to play an important role in the global economy. In fact, 69% of consumers say they suffer from digital overload, while 74% stated that they consciously make an effort to limit their family's use of cell phones and other devices.4
However, digital technology can't replace all physical products as we have clearly witnessed over the last 18 months as packaging has become more essential since the onset of the COVID-19 pandemic. As of 2020, 73% of consumers agreed that corrugated cardboard boxes were essential to the way they live their lives.5
Since the pandemic began, there has been a significant increase in e-commerce as lockdowns and stay-at-home orders forced consumers to shop online — ultimately creating a long-term impact on consumers' shopping habits. As we can see in the image below, this shift in shopping habits resulted in a significant increase of US containerboard capacity during the pandemic as producers responded to the spike in demand.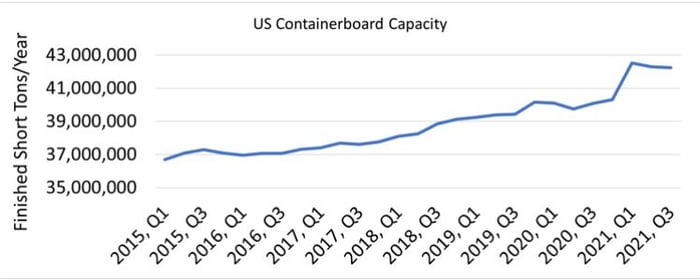 Source: FisherSolve™ Next
Global consumers are also growing more concerned about environmental matters, which provides a great opportunity for the P&P industry to take a lead role. The Paper and Packaging Board reported 84% of consumers expressed concerns regarding the environment, and that number is likely to increase with future generations. In addition, 62% agree that large companies need to bear the responsibility for driving sustainability initiatives.6 Pulp and paper companies are already leading the way in many respects, as we've seen numerous participants take steps to reduce energy consumption, create more innovative plastic substitutions and join initiatives that place sustainability concerns at the top of the priority list. As evidenced in the data above, these efforts resonate with consumers.
With fresh data from the Paper and Packaging Board, we see that consumer favorability towards the P&P industry is strong and continues to grow even stronger over time. The haggard arguments that the paper industry is a passé manufacturing sector are simply false. Consumer preferences and increasing awareness about the pulp & paper industry suggest it will play an important role in the vibrant, sustainable and circular economy of the future.
---
[1] P+PB Consumer Tracking Survey. Isobar. November 2020
[2] P+PB and Heart+MindStrategies. Sustainability Positioning and Messaging Research, 2020
[3] P+PB Consumer Tracking Survey. Isobar. November 2020
[4] Ibid
[5] Ibid
[6] P+PB and Isobar. Paper + Packaging Board 2019 Segment Deep Dive, 2019