US forest industry performance in January and February was recently reported by both the US government and the Institute for Supply Management.
Total industrial production (IP) increased 0.9 percent in January (-1.8 percent YoY), nearly double the MoM expectation of +0.5 percent. Manufacturing output rose 1.0 percent, about the same as its average gain over the previous five months. Durable and nondurable manufacturing recorded advances of 0.9 percent and 1.2 percent, respectively.
New orders increased 2.6 percent (+1.3 percent YoY); excluding transportation: +1.7 percent (+1.5 percent YoY). Business investment spending advanced by 0.4 percent (+8.3 percent YoY).
The services sector showed a pullback in respondents reporting expansion (-3.4PP, to 55.3 percent). The most noteworthy changes in the sub-indexes included exports (+10.6PP), inventories (+9.7PP), input prices (+7.6PP) and—perhaps most ominously when looking ahead—new orders (-9.9PP).
Of the industries we track, only Real Estate contracted. The vast majority of respondents mentioned paying higher prices, including:
Construction: "Sales of residential real estate continue to be strong, even outstripping supply. Cost inflation in building materials seen as shortages develop from sporadic COVID-19 closures at manufacturing facilities. Port congestion on the West Coast [and] winter weather in Canada closing mills and restricting truck shipping are contributing to product shortages nationwide."


Wood Products: "Prices are rising so rapidly that many are wondering if [the situation] is sustainable. Shortages have the industry concerned for supply going forward, at least deep into the second quarter."
Findings of IHS Markit's February survey results concurred with their ISM counterparts—especially on the issue of higher prices.
"Another month of strong production growth suggests that the U.S. manufacturing sector is close to fully recovering the output lost to the pandemic last year, and a renewed surge in optimism suggests the recovery has much further to run," wrote Markit's Chris Williamson. "Business expectations about the year ahead jumped to a level only exceeded once over the past six years, buoyed by a cocktail of stimulus and post-COVID recovery hopes as life continues to return to normal amid vaccine rollouts.
"A concern is that shortages of raw materials have become a growing problem, with record supply chain delays reported in February, contributing to the steepest rise in material costs seen over the past decade. Prices charged for a wide variety of goods coming out of factories are consequently rising, which will likely feed through to higher consumer inflation," Williamson concluded.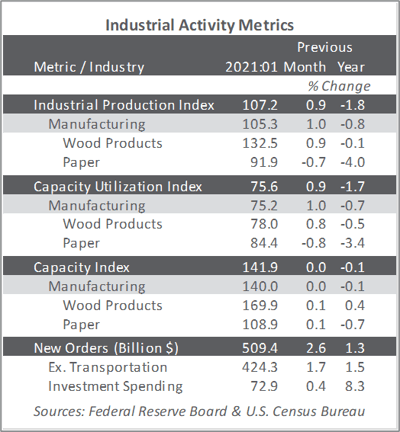 The consumer price index (CPI) increased 0.3 percent in January (+1.4 percent YoY). The gasoline index rose 7.4 percent and accounted for most of the all-items increase. Although the indexes for electricity and natural gas declined, the energy index rose 3.5 percent over the month. The food index rose slightly in January, increasing 0.1 percent as an advance in the index for food away from home more than offset a decline in the index for food at home.
Meanwhile, the producer price index (PPI) jumped by 1.3 percent (+1.7 percent YoY)—the largest MoM increase since the November 2009 starting date of the final-demand index—and well in excess of the +0.4 percent expected. Two-thirds of that increase can be traced to a 1.3 percent rise in the index for final-demand services (in particular, portfolio management). Prices for final-demand goods increased 1.4 percent, led by gasoline (+13.6 percent).
In the forest products sector, index performance included:
Pulp, Paper & Allied Products: +1.0 percent MoM (+4.0 percent YoY)
Lumber & Wood Products: +5.9 percent MoM (+22.8 percent YoY)
Wood Fiber: +4.3 percent MoM (+8.2 percent YoY)
About the Author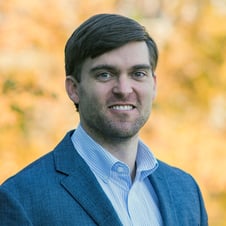 Joe Clark is Forest2Market's Global Sales Manager. He is responsible for managing stumpage and delivered product sales throughout the US South, where he helps clients uncover supply chain inefficiencies with the application of Forest2Market reports and price databases.
He previously worked as a Stumpage Forester at Forest2Market, where his responsibilities included: maintaining Forest2Market's stumpage price database, producing price reports from Forest2Market's proprietary databases, and creating custom analytical reports for clients across the industry to help them better understand market dynamics.