Environmental, Social and Corporate Governance (ESG) initiatives and investments continue to shape decision-making in nearly every industry, and as a result, sustainability-related issues have moved to the top of the list of corporate priorities. One innovative example comes from forward-looking Graphic Packaging, which has launched a new project to replace single-use plastics with renewable paper-based products.
Graphic Packaging recently announced that it is investing $600 million in the first new paperboard production line to be built in the US in decades at their Kalamazoo mill in Michigan. Once operational, this machine will begin to turn tons of recycled cardboard into paperboard that will be suitable as a greener form of packaging. Graphic Packaging's investment demonstrates its confidence in a future with less consumables in the form of foam cups and single-use plastic packaging.
Graphic Packaging already produces coated recycled board (CRB), coated unbleached kraft board and some SBS. The new machine will focus on producing coated recycled board with a capacity of 500,000 TPY. Graphic Packaging also stated that its revamped Kalamazoo mill will produce 40% of the CRB volume in the United States, implying a CRB volume of 1,250,000 TPY.
Graphic Packaging also announced that it will shutter four smaller and less-efficient machines, which will result in significant energy savings and a 20% drop in greenhouse gas emissions. This also means that with these shutdowns, their new machine will be capacity neutral. Overall, this new investment is primarily being built as a cost-saving and environmentally friendly move that also reflects changing market demands.
The announcement is in line with moves by several large consumer products companies who have already committed to reducing plastic content in their packaging. Examples include Google who announced that they will ditch plastic packaging by 2025, Starbucks who has committed to shifting away from single-use to reusable packaging (they have already phased out plastic straws from its stores and replaced it with a sipping lid that contains roughly 9% less plastic than the previous flat lid and straw combination), and Ikea who announced that they will phase out plastic from consumer packaging by 2028.
At the legislative level, the European Union (EU) has implemented a €.80/kg tax on non-recycled plastic packaging waste and 23 states in the United States have some form of plastic bag legislation enacted with several cities enforcing a ban on plastic drinking straws.
Innovative fiber-based products continue to demonstrate that a significant percentage of plastic packaging can be replaced without compromising functionality. And as we can see from the image below, there are a number of different consumer sectors that present opportunities for the P&P industry to create and market substitution products.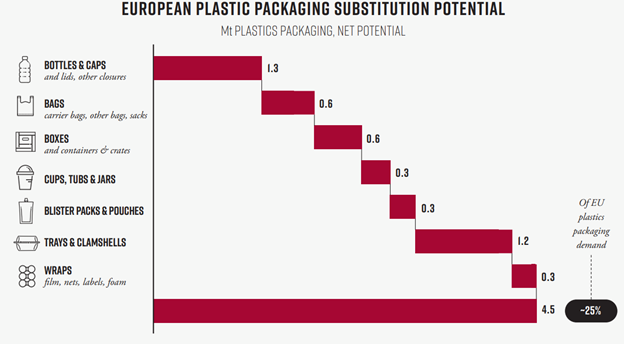 Source: Sustainable Packaging - Material Economics
With news of Graphic Packaging's new investment, some questions to consider include:
Will other major players make similar investments?

Is Graphic Packaging seeking to "own" this segment or are they expanding into it based on trends for the future?

Is this a natural expansion for the company or a riskier move?
The rise of proposed plastic taxes could provide an indirect boost to the Pulp and Paper sector as paper producers continue to innovate and provide packaging solutions that are viable alternatives to plastic-based products. To learn how sustainability trends could affect the pulp and paper industry, read Fisher International's complete study "Plastic Replacements Driving Sustainability Trends in Pulp & Paper Industry."