Import/export trends and the evolving trade interplay between economies is a factor contributing to some of the structural market changes occurring at a global scale — and China is at the center of the discussion in many respects. Over the last several decades, China's influence as a global trading partner has been unmatched. Specifically, China's ban on recycled paper imports has structurally changed global OCC flows forever, shaping new global investment "hot spots" in the containerboard sector.
In 2020, paper and paper board production in China reached 127MM MT, an increase of 0.8% compared to 2019. This capacity expansion was mainly driven by containerboard, which accounted for over 60% of new capacity in Asia. China, India and Malaysia were the top three countries for paper and paperboard capacity investments in 2020 with respective new capacity at 8 MM MT, 1.8 MM MT, and 0.5 MM MT, as we can see in the figure below.
Paper and Paperboard New Capacity Investments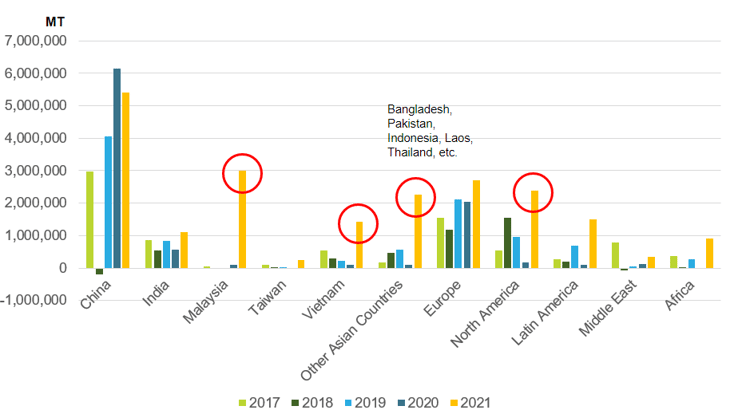 In 2017, China implemented a recovered paper (RCP) policy which banned unsorted waste paper imports — disrupting markets globally. The new change began to reshape the whole supply chain throughout Asia, the Americas and Europe, from waste collectors to paper producers. China implemented this ban as an attempt to protect both environmental resources and its citizens' health from the high contamination levels that were occurring due to the poor quality of recycled paper.
As a result, OCC (a major type of RCP used in containerboard production) was heavily impacted as the import licenses of many Chinese mills did not comply with the environmental standards and were ultimately revoked, significantly reducing imports of OCC from the US and EU. At the beginning of 2021, Chinese OCC imports were completely banned, which had an impact on the volume of total imports of different paper grades. China has gradually decreased its imports of RCP and increased the import volume of other grades.
Along with the RCP ban, China has also started taking measures to eliminate unnecessary and harmful plastic waste. The image below illustrates China's plan for phasing out certain plastics starting in 2020 through 2025, creating a massive opportunity for the paper industry to develop replacement products.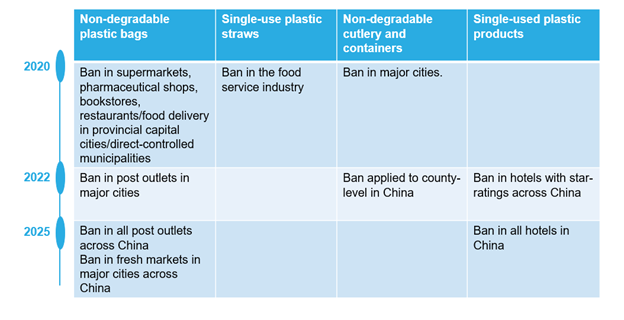 The anti-single-use-plastic policy in combination with the 2021 full ban on recycled paper imports has left producers scrambling to use alternative furnish sources, although long-term quantities and supply remain somewhat doubtful.
Nine Dragons, for example, has announced the addition of two new BCTMP lines supplied by Andritz, P-RC APMP (Pre-conditioning Refiner Chemical Alkaline Peroxide Mechanical Pulp) technology at their site in Hubei for FBB production, along with a CTMP line supplied by Valmet. Lee & Man has also announced that Andritz will supply two chemi-mechanical fiber lines for their Dongguan and Jiujiang sites with a capacity of 1,000 admt/d and 670 admt/d, and Valmet will deliver one semi-chemical pulp line to its Chongqing mill site​. Another example is Fujian Liansheng, who has ordered a BCTMP line from Valmet as well. All of these new fiber lines will serve to feed pulp for various packaging and graphic paper making lines. Eucalyptus, acacia and poplar wood chips, together with wood waste, are among the primary choices of raw materials in these projects. Sun Paper is already using wood waste in their production of corrugated medium.
OCC exports from the US have rotated away from China and toward Southeast Asia as a result of the China OCC ban and continued relocation of Chinese manufacturing, as we can see in the image below.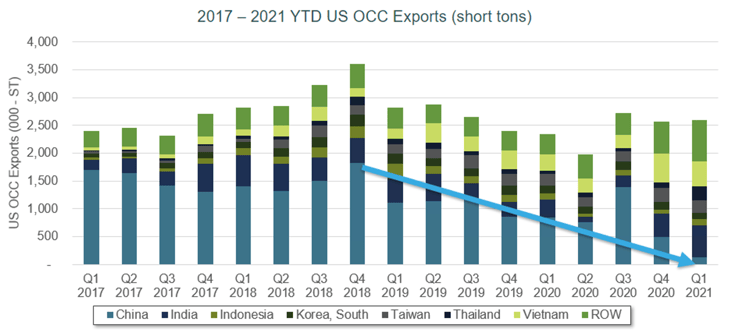 Fisher believes that after the total ban on imported Recycled Waste Paper RCP, the continuous impacts resulting from the plastics ban, and the rise in wood fiber based packaging, China's demand for market wood pulp and other paper products will create a stable growth opportunity for industry exporters in other countries in the future.