When discussing any sort of market trends, industry moves or any other pulp and paper industry related news, it seems we tend to focus on Asia, North America and Europe as they are the top three leading producers in the industry. Because of this, we have a relatively good idea of what's occurring in these areas in regard to capacity trends, pricing trends and any major investments. While it's obviously important to keep up with the major players in the industry, it's also important to analyze the state of the P&P sector in other regions as well.
For example, Africa's pulp and paper capacity experienced a CAGR of 2.90 from 2014-2021 and currently has 182 operating sites. While these numbers don't necessarily compare to those of Asia, Europe or North America, they still play an impactful role in the interconnected structure of the P&P industry – and it's important to understand the current state of Africa's P&P industry and the factors that are shaping its future.
A Quick Overview
Over the years, Africa hasn't experienced the most linear growth in capacity as we can see in the image below. With dips in capacity in 2014, 2018, and 2020, this region has demonstrated some inconsistency. However, according to our data from FisherSolve, production capacity in Africa is expected to continue experiencing consistent growth. At the end of 2021, Africa produced roughly 7,800,000 tons of pulp and paper products and is anticipated to see an 8% growth in capacity by the end of 2022.
Pulp & Paper Capacity in Africa (Actual and Announced 2012-2022)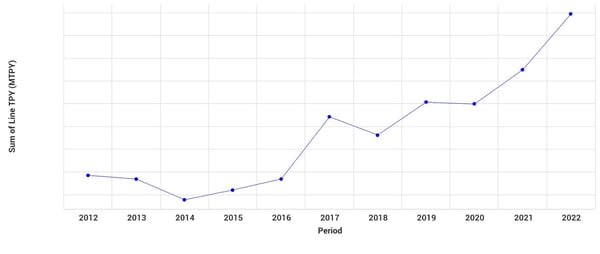 Source: FisherSolve
When we break this down by major grades, we can clearly see that containerboard will continue to take a clear-cut lead in grades produced in Africa compared to others. Compared to 2021, capacity in containerboard, market pulp, tissue & towel, and printing and writing will increase by the end of 2022. Specialty papers, newsprint, and packaging paper will see no change in capacity compared to the previous year, whereas cartonboard will be the only grade to experience a decrease in capacity at the end of this year.
Pulp & Paper Capacity in Africa by Major Grade (Actual and Announced 2016-2022)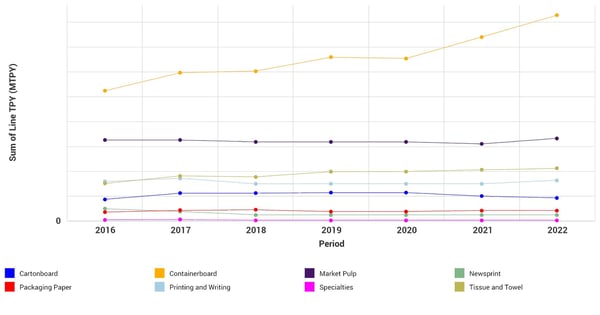 Source: FisherSolve
The graph below illustrates a cost breakdown of Africa's P&P industry, and as we can see, raw material fiber (35%), pulps (23%) and energy (18%) make up the top three largest cost components.
Cost Breakdown of Africa's P&P Industry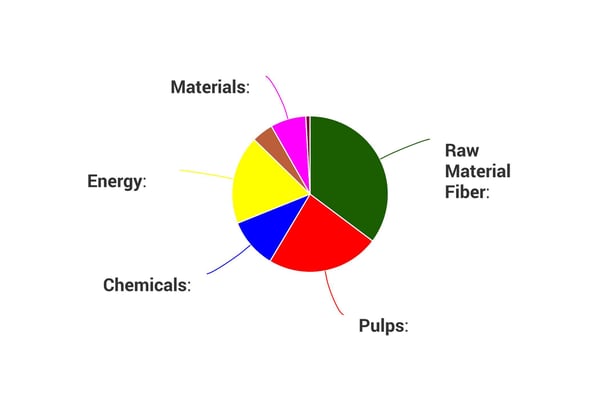 Source: FisherSolve
Factors Impacting Africa's P&P Industry
With Africa poised to become one of the most densely populated continents in the next two decades, a significant increase in demand for paper and tissue products is expected to develop. For example, South Africa has witnessed high levels of urbanization over the last few years and per a recent study, over 67% of South Africans are living in urban areas, which is expected to rise to 71% by 2030. By 2050, eight out of every 10 people in South Africa are expected to live in urban areas.
As urbanization increases and metropolitan areas continue to grow, such as in the cities of Johannesburg, Durban, and Cape Town, younger generations of consumers are relocating to these areas – and are changing their consumption habits and increasingly buying processed and packaged foods. This creates more demand for pre-made or on-the-go meals, which directly drives demand for pulp and paper-based packaging and products.
On top of this, Africa experienced a 5% GDP growth rate in 2021 and is expected to have a roughly 4% GDP growth rate per year from 2022-2026 according to Statista – which will impact consumers and their buying power and subsequently impact demand in the packaging sector.
However, there are a number of challenges occurring in Africa that could create some resistance and hesitation for those considering making new investments. Some of these include:
Energy availability and energy price equality throughout the continent that could impact a company's viability.

The scarcity of water in certain African areas as many paper mills require a significant amount of fresh water to operate.

The lack of and unavailability of the latest technology in paper production in the majority of the African market.
All things considered, even though investors are expected to make strong returns in Africa's paper manufacturing industry in the near future, picking the right paper grade in the right location at the right time is imperative to avoid associated regulatory and strategic risks, including shipping and logistics constraints and political instabilities. Although, trade liberalization and appropriate complementary policies, as well as the African Continental Free Trade Area (AfCFTA), present an opportunity for economic growth and transformation across the continent.
Overall, we believe that the African market is open to all kinds of paper grade importation and exportation, and the possibility for future growth far outweighs the risks involved. For more information on developments and opportunities in these markets, contact a Fisher professional today.