Since mid-2019, wood chip and pulpwood prices in the Pacific Northwest (PNW) have largely demonstrated a decreasing pattern, reflecting the healthy supply that has been available to the market over the last few years. However, that pattern reversed course abruptly in 4Q2021 and prices have been headed higher ever since. Regional delivered prices for these forest products are now higher than they have been in three years.
As basic economic theory commands, the equilibrium between supply and demand ultimately decides price and when one of these drivers falls out of balance, price will respond accordingly. In the case of wood chips, the PNW is generally more sensitive to supply side drivers for two primary reasons:
Consumers of wood fiber have two options: chips and/or pulpwood (small-diameter logs), and most generally utilize some combination of the two based on price and availability. The PNW is largely a chip market unlike other regions such as the US South, which has lots of demand (and capacity) for both chips and pulpwood. This lack of pulpwood availability makes the PNW fiber market overly dependent on, and particularly sensitive to, chip supply.
Timber supplies in the PNW remain stressed due to lack of harvesting on federal lands, and the region continues to experience devastating effects from seasonal wildfires. Based on the current legislative environment, there is simply no opportunity for expansion. The regional market for public timber is hobbled, and the supply of private timber is largely maxed out. Unless more public timber becomes available to the market in the near term, the forest industry—and the forest resources—in the PNW will remain limited, and fiber prices will reflect supply constraints.
Primary & Residual Chips
While lumber manufacturers ramped up production to take advantage of record prices for finished softwood lumber in 2021, pulp and paper production in the PNW remained flat. This led to unchanged chip demand for most of the year while supply increased, and prices largely reflected this softness through 3Q2021. However, prices surged in 4Q and they continue to trend higher as we approach the end of 1Q2022. Conifer primary and residual chip delivered prices are up 22% and 27% year-over-year (YoY), respectively.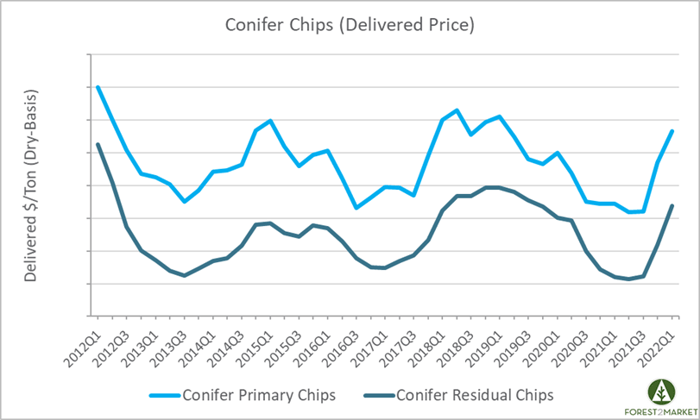 Regional chip demand is so strong that the sharp price spike is also bleeding into the pulpwood market. Prices for conifer pulpwood are now up 24%, and prices for hardwood pulpwood are up 10% YoY.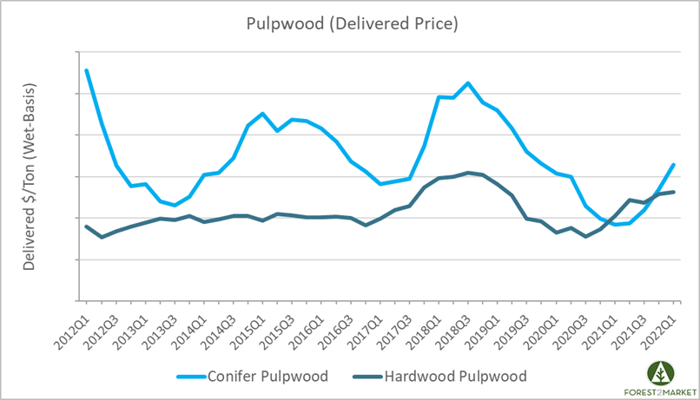 What's Driving the Price Reversal?
As noted above, western sawmills are cutting boards as fast as they can to keep pace with strong demand while taking advantage of high lumber prices. But based on pinched timber supplies, the western sawlog market has also soared in recent months. Domestic Douglas fir log prices are the highest they have been since Forest2Market began reporting market prices in 2008, and Hem/fir prices have followed a similar trend.
There are a few supply- and demand-side market developments that have coincided to cause the current price spike:
British Columbia (BC) is experiencing a severe crisis in raw material supply for both chips and logs. A mountain pine beetle infestation that began more than a decade ago has decimated the available timber supply, particularly in the Interior region. And in response—as Business Intelligence for BC reported in 3Q2021—"Since 2005, 35 sawmills in BC's Interior and nine on the coast have permanently shuttered, along with about half of the coastal shake and shingle mills, according to a new socioeconomic analysis of forestry in BC." Six mills were closed in 2019 alone.

This dwindling sawmill capacity has severely impacted the availability of chips in the province. As a result, some chips are now moving from the US side of the PNW border to BC buyers to help alleviate the severe shortage. While this move seems extreme, it's historically not out of the norm in periods of squeezed chip supply.


US pulp and paper mills in the region are also feeling the pinch. As lumber markets have improved, demand for small logs has picked up significantly. If mills are willing to accept small logs (down to 3-1/2" top diameter), it leaves little for topwood pulp availability. Anxious mills are also now accepting oversize culls, which had been rejected for quite some time.


Like other regions, freight and trucking are a major issue. The shortage of trucks and drivers inhibits log movement to both the mill and the chipper, and the rapid rise in fuel costs is causing lots of concern across all logistics markets. Log sellers are now focused on shipping logs that will gross $3,000 per load or more and if anything gets left behind, it will be pulpwood-sized logs.
Outlook
All of these factors have combined to create a shortage of chip availability for PNW consumers. To stress matters even further, the limited log supply and extremely tight labor market have left sawmills in a difficult spot; they simply don't have the capacity to increase production even if they wanted to.
Even though it's still ongoing, fire salvage is on the decline and there isn't much timber left to profitably harvest at this point. The transition back to harvesting green logs will improve prospects for small log availability, however, the limitations of the trucking shortage and competition for these logs will remain.
This combination of events will keep upward price pressure on wood chips and pulpwood in the PNW for the foreseeable future.