As you may have already heard, in 2022 ResourceWise acquired Wood Resources International (WRI), expanding its wood fiber pricing globally. Their publication Wood Resource Quarterly serves as the industry standard in tracking prices for wood chips, logs, lumber, market pulp, and pellets from a global perspective.
Taking this publication to the next level, ResourceWise has just launched WoodMarket Prices (WMP), the digitized successor to Wood Resource Quarterly. The platform provides customers with a straightforward, accessible way to quickly assess and understand the state of the forest products supply chain.
Rather than await quarterly reports, WMP allows you to access, visualize, and analyze information whenever you need it, 24/7/365. More importantly, you can designate the exact parameters (dates, products, region and currency) to your specific needs for even better accuracy. This feature offers a greater level of precision for even more efficient planning and forecasting in the industry.
This post is a brief overview of what WoodMarket Prices has to offer, with a closer look at some of its most exciting services.
Pricing Data and Comparisons
Users of WMP receive access to all historical pricing data compiled over the past several decades for all major commodities. For some products, this data goes back 30 years, providing a much broader picture of how the industry trends have shifted.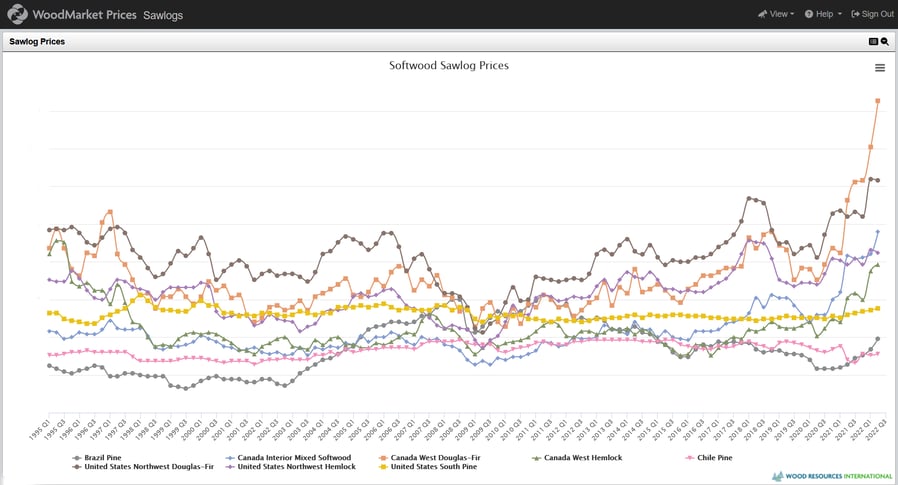 [Historical pricing data has been collected since 1993.]
You can view this data from multiple countries at once. Depending on your focus, you can customize your dashboard by region or country so you are only seeing what's important to you, so that you can make business decisions that will pave the way for sustainable, profitable growth.
Global Market Insights
Understanding the heartbeat of the market is another important factor when doing business in the global forestry industry. Global market commentary has been built into the WoodMarket Prices platform as well, including insight into:
Global Lumber Markets
Global Sawlog Markets
Global Pulp Markets
Global Wood Fiber (Pulpwood/Chips) Markets
Global Pulp Markets
As the image shows below, you can filter critical information based on a region and country, so you see only the specifics that are important for your own strategizing and planning.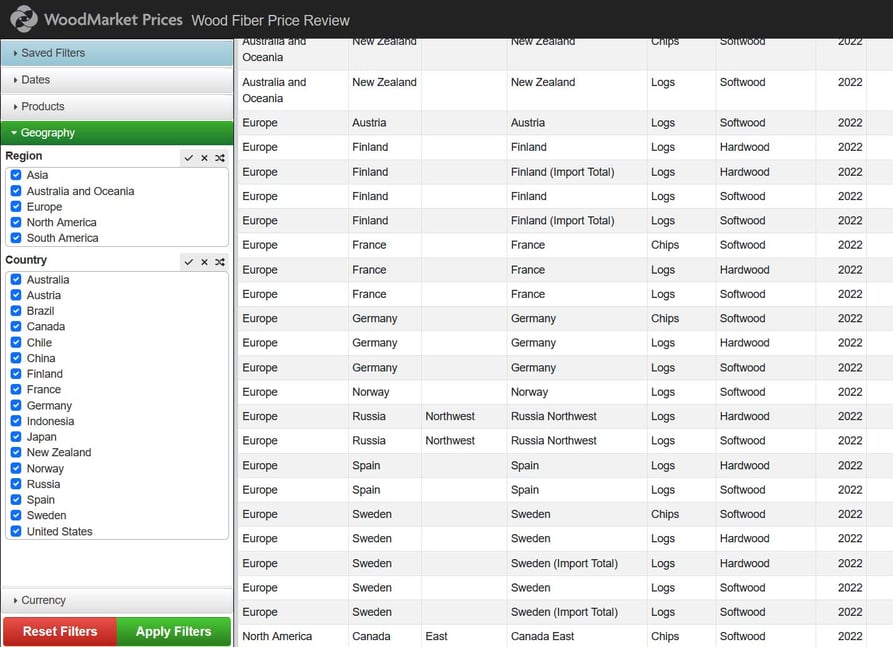 [Pricing data can be custom-displayed from multiple regions and countries.]
Sawlog and Pulpwood Price Indices
WoodMarket Prices utilizes two price sawlog indices representing the European and global markets (ESPI and GSPI). Together, these two price indices capture a global picture of the state of the world's sawmilling industry.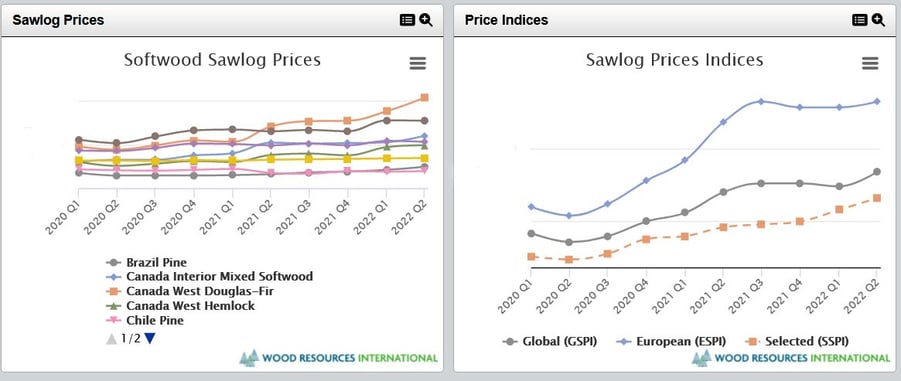 [Sawlog price indices and pricing data can be viewed and scaled based on your needs.]
For pulpwood pricing, WoodMarket Prices calculates quarterly and estimated amounts using both the Global Softwood and Hardwood Wood Fiber Indices (SFPI and HFPI).
Using these indices, you can filter results by your country, region, and continent across the world. That way, you can identify opportunities and remain competitive in your respective market.
Visualized Trade Flows
One of the coolest features of WoodMarket prices is a glance at how and where trades occur internationally. The interactive trade flow wheel shows trade data that provides insight to how and where imports and exports occur from country-to-country.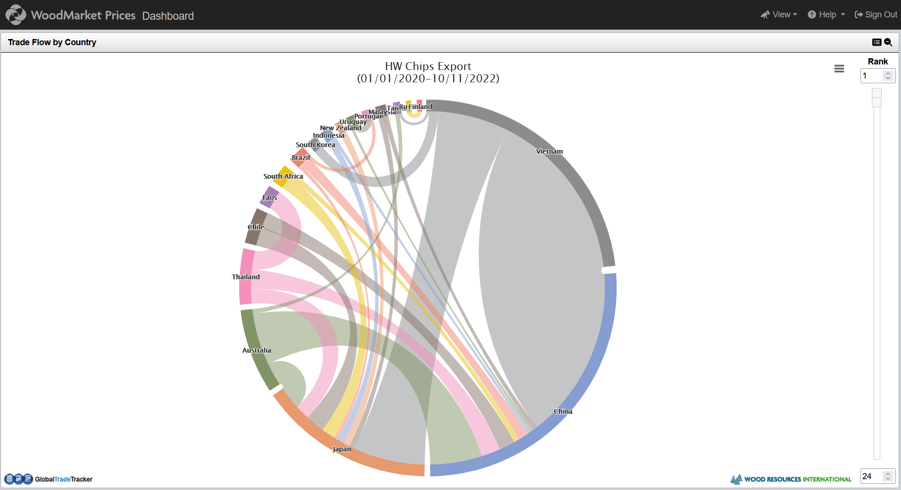 [The Trade Flow Wheel allows you to easily visualize imports and exports for all covered countries.]
You can filter this data by date, types of wood products, geographic scope, and more – providing you a clear and direct way to understand how the market is flowing between countries on an international scale. You can also broaden your knowledge on trade imports by clicking around to see all the import/export information from many different countries.
Data-backed Decision-making
Anyone who works in the global forest products industry already knows the power and importance of strategic decision-making. Even one small misstep or uninformed decision could lead to serious consequences down the road.
Because of the challenges, one conclusion has become increasingly clear: you need the right data, delivered in the right way, to guide you forward. This is exactly where WoodMarket Prices can help.
WoodMarket Prices offers subscribers a range of benefits including the abilities to:
Evaluate sawmill and pulp mill competitiveness on an international scale
Access and assess 30 years of quarterly wood raw-material pricing trends
Keep up to date with news and developments in the international forestry industry
Enjoy reliable pricing figures in USD, Euro, and other local currencies
WoodMarket Prices gives you a powerful tool that you can customize to show and report exactly what you need. That way, you won't have to continue flying blind in such a competitive marketplace.
Interested in learning how it works? Schedule a WoodMarket Prices demo today.