This post originally appeared on Forest2Market's Market Watch blog.
Hardwood chip deliveries to China fell to their lowest quarterly total in two years in the 4Q2019. At 2.771 million bone dried metric tons (bdmt), deliveries were still substantial, albeit almost 13 percent lower than the previous quarter.
The major supplier, Vietnam, saw its contribution continue on trend at 1.600 million bdmt, meaning it was other significant suppliers whose volumes reduced.
Australian supplies, perennially the second-largest volume into China, were hit hardest, falling to 0.685 million bdmt for the quarter—down 27.6 percent from the prior quarter and the lowest since 3Q2015.
In a trade that really is Vietnam first, Australia second, and anyone else third, the two major suppliers delivered a little more than 82 percent of total supply in 4Q. Other contributors including Chile, Thailand, and Brazil also saw their supply reduced, though their declines were not as large as Australia's.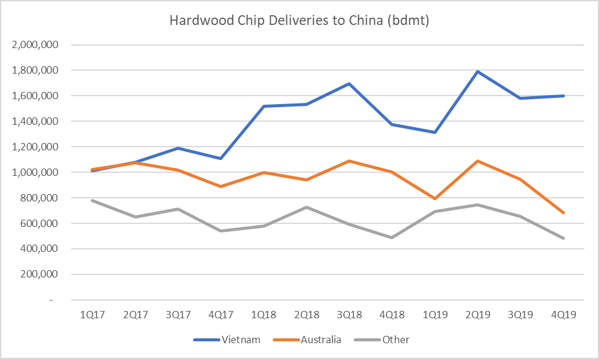 Source: China Customs
The drivers for lower total shipments to China include slowing demand for printing and communication grade papers, as well as a general economic slowdown in China. Most significant though, has been the differential between hardwood woodchip prices on the one hand and hardwood pulp prices on the other.
Over the course of 2019, Bleached Eucalyptus Kraft (BEK) pulp prices fell hard from their historic highs of USD$823/ton in 3Q2018 to plunge to a quarterly average of around USDCif480/t in 4Q2019, down 37 percent from 4Q a year earlier. Over the same period, as we can see below, the price of hardwood chips delivered to China to manufacture that pulp rose 6.7 percent for shipments from Vietnam, and 4.6 percent for shipments from Australia.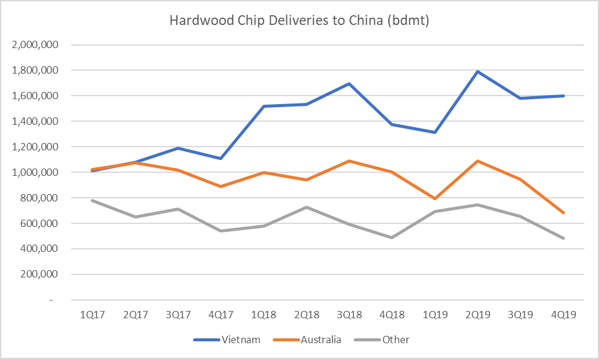 Source: China Customs, Hawkins Wright and IndustryEdge
At first glance, this seems like an abnormal situation—raw material prices growing as finished product prices crash. But the full chart tells a story that demonstrates a relatively sustained period of growth in the BEK pulp price, while input prices experienced more subdued growth.
Sustaining those higher hardwood chip prices as the pulp price tapered was strategically important for both hardwood chip sellers and buyers. For sellers, the delay in sharing in the cyclical price rises understandably provided incentive to sustain higher prices when they were achieved.
The position of buyers was even more strategic. Having agreed over recent years to longer-term supply arrangements as a means of ensuring they have access to supply into the future, Chinese pulp mills appear to have absorbed the higher cost of woodchips to maintain access to that supply into the future.
For buyers, the risk of being unable to secure stable resource could reduce their capacity to manufacture the maximum possible volume of pulp when the market next hits a peak. New sources of viable fiber are difficult to find and are quickly snapped up in a global market that continues to grow.
So, why did the Australian supply fall so steeply while the Vietnamese supply remained stable?