As the pulp and paper sector market continues to grow each year, so does the consumption of caustic soda in the industry. Over the past seven years, the average annual growth rate of caustic soda consumption in the paper industry has been around 1.5%. Although there was a slight slowdown in 2020, the growth rate has rebounded significantly since 2021. Based on our projections, we anticipate that the consumption of caustic soda will be 9% higher by the end of 2023 compared to 2019.
Figure 1: Caustic Soda Consumption in the Paper Industry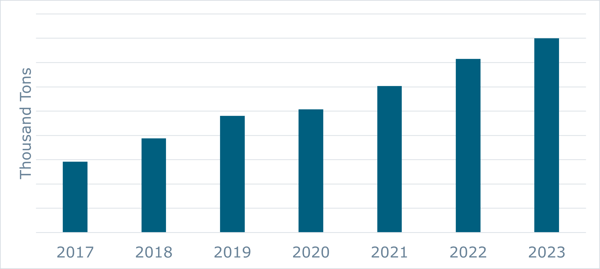 Which Processes Can We Find Caustic Soda in?
Caustic soda is primarily consumed by fiber lines and paper machines during pulp production. Caustic soda is first consumed in the fiber line, then feeds the paper machine.
The three major pulp grades that feed the paper machine are chemical pulp, mechanical pulp, and recycled pulp. Among these grades, caustic soda is predominantly used in chemical pulp, accounting for 80% of the total consumption.
Figure 2: Caustic Soda Consumption by Major Pulp Grade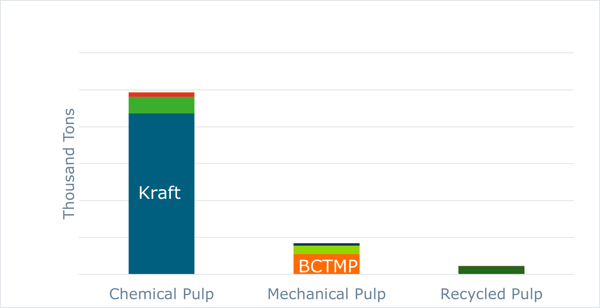 Within chemical pulp, kraft pulp is the primary consumer grade, using over 90% of the caustic soda consumed by chemical pulps.
In mechanical pulps, the primary user of caustic soda is bleached chemi-thermomechanical pulp (BCTMP), while recycled fiber consumes limited amounts of caustic soda.
How Caustic Soda Makes up the Industry
When examining paper production, the unit consumption of caustic soda has remained relatively stable in recent years. Figure 3 illustrates the industry's consumption since 2018, with market pulp being the largest consumer of caustic soda, as mentioned earlier. Approximately 35kg of caustic soda is required to produce one ton of market pulp.
Figure 3: Caustic Soda Consumption by Major Paper Grade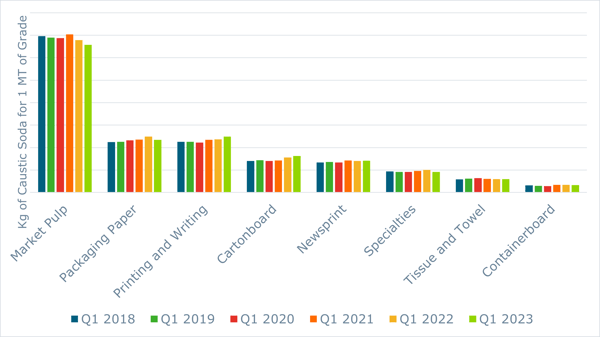 Packaging paper and printing and writing paper, the second and third largest consumers, require significantly less caustic soda compared to market pulp. Caustic soda consumption in paper grades is driven by the type of pulp grade used and whether the mill is integrated.
For example, most pulp consumed in the tissue sector is market pulp, which means most tissue mills do not have a fiber line, resulting in limited caustic soda requirements.
Conversely, containerboard consumes minimal caustic soda due to the majority of the fiber used being recycled pulp, which, as shown in previous figures, consumes less caustic soda during the pulping process.
Regional Variations in Caustic Soda Consumption
Similar to other commodities, caustic soda consumption varies across different regions. As expected, countries with higher paper production rates also have higher caustic soda consumption rates. China and the US are the two largest consumers of caustic soda in the pulp and paper industry. However, Brazil, Canada, and Indonesia also have significant consumption due to their substantial production of market pulp and integrated pulp. These top five countries account for 65% of the caustic soda consumed in the industry.
When reviewing consumption history in different regions, we observe a significant increase in APAC (Asia-Pacific) and Latin America in recent years. In APAC, most of the growth is attributed to integrated pulp, while in Latin America, it is driven by market pulp. Looking ahead, we anticipate a continuous increase in consumption in these regions.
Figure 4:

Valuable Resources for Understanding Caustic Soda
ResourceWise provides a comprehensive toolbox that offers high-level insights into the current and future position of the caustic soda market and its potential impact on the pulp and paper industry. Leveraging our powerful business intelligence system, FisherSolve, along with our extensive industry experience, ResorceWise's Fisher International offers advanced expertise and solutions to support better business decision-making within the capital-intensive pulp and paper industry.
Additionally, ResourceWise's Tecnon Orbichem offers detailed and comprehensive coverage of markets, prices, developments, and trends in the caustic soda market. You can access informative tables and charts that highlight key trade statistics, regional price comparisons, and production/consumption trends.
Our primary focus is to empower companies in commodity markets by providing valuable information that promotes profitable growth. Our services encompass a wide range of analysis, price data, and price forecasts for the caustic soda market and other important feedstock markets. Furthermore, our consultants provide unmatched advice to guide you in making the most strategic business decisions, giving you a competitive advantage.