Fisher International has spent considerable time over the last 35 years tracking trends coming over the horizon and predicting where they will take the pulp and paper industry.
We have published some such thoughts over the years, and I thought it would be interesting to make a few new predictions as we begin a new decade, with the idea of looking back on them in a few years to see how they turned out.
1. Pulp mill investment will focus on Brazil, Russia, Chile, Uruguay.
Several years ago, we noticed that a large majority of big pulp mills were built during periods when the host country's currency was relatively weak. We wondered if it was a reliable pattern.
Well, it was.
So, to predict where the next pulp mill investments will be, one could ask which countries today have plentiful wood and weaker currencies. The list includes Brazil, Russia, Chile and Uruguay, all of which have announced major new pulp lines for construction in the next five years.
2. North America will see a spike in rebuilds.
Using data and knowledge dating back to the 1960s, FisherSolve Next™ suggests rebuild volumes mirror new machine construction.
Knowing the most recent boom in new capacity happened in the late 1990s, and by extending the cycle of new machine construction to the present age, we concluded in 2012 that rebuilds might be slower around 2015 and the few years after, followed by a boom of rebuilding in the next five years.
Rebuilds were indeed slow in the mid-decade and spiked significantly starting in 2018. Barring a recession, one could expect an increase in rebuild activity in North America.
3. Pulp and paper will further globalize.
Today, there is a glut of shipping capacity that makes transportation so inexpensive that the cost of shipping from coastal mills to trans-oceanic destinations can be lower than shipping to domestic customers by inland freight. This allows world-class producers to compete everywhere.
What effect will globalization have on the industry's future?
One implication is that exporting producers increasingly develop direct customer relationships globally rather than relying on opportunistic spot export sales as in the past. The trend may be more pronounced in North America than Europe, as the latter has a tradition of exporting for longer than most North American segments.
4. China's box industry will consolidate rapidly.
Most of the world's paper industry is still fragmented. The only truly consolidated large markets are in North America so far.
The example below uses linerboard but just as well could have shown North American uncoated woodfree, coated papers, other packaging grades, newsprint and even tissue.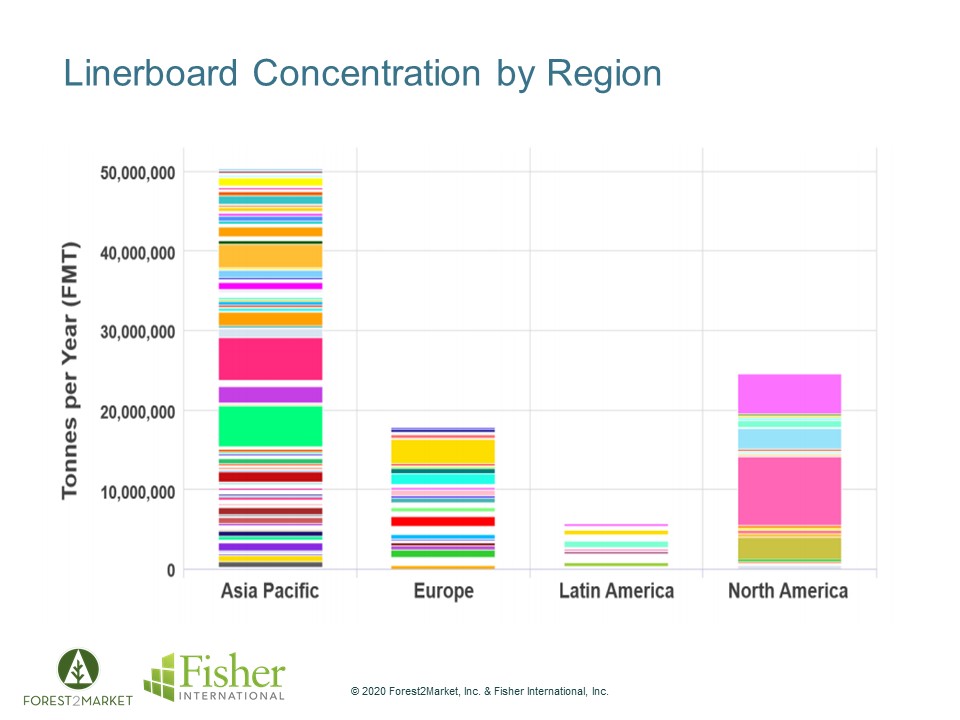 However, we believe China's box industry, including both containerboard and converting, will consolidate rapidly in the 2020s, resulting in a much smaller number of large producers.
Implications will reverberate globally.
Large Chinese producers will have to expand internationally to keep growing. The Chinese government will support their growth with policy and low-cost capital, and they will become formidable local and global competitors.
5. Western companies will respond to China's consolidation.
As China looks to expand operations internationally, western containerboard companies will seek to grow through downstream integration and the use of technology, making it harder for foreign competitors to compete on a commoditized basis.
The pulp and paper industry's suppliers of capital equipment, consumables, and services will continue to consolidate in response to the growth of their customers, although many segments already have.