The pulp & paper industry is a very capital-intensive segment — from the mill gate to converting facility and everything in between. For example, a paper machine can cost $400 million dollars installed, a modern corrugated box plant $80 million dollars, and a virgin kraft pulp mill can easily cost $2 billion dollars.
When manufacturing a corrugated sheet, paper makes up the largest cost component compared to the chemicals, energy, labor or other materials involved in the process. And of the two main containerboard grades, linerboard is the largest volume commodity in global interregional trade. The maps below are a representation of the trans-ocean volumes of linerboard between various regions based on 2020 statistics.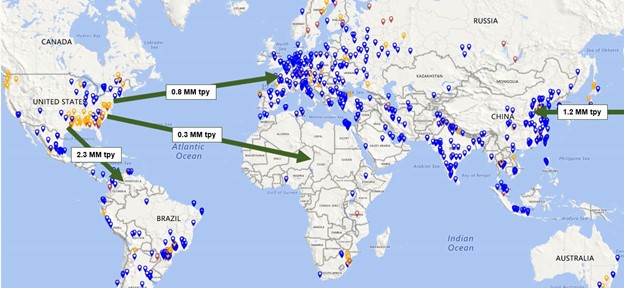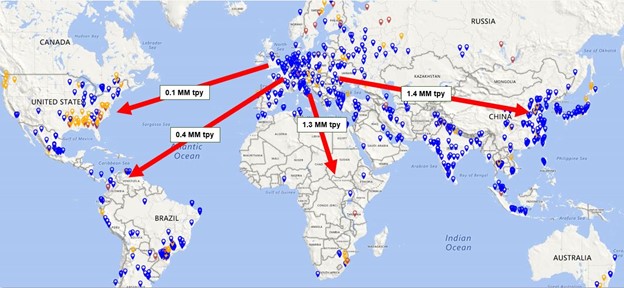 However, there has been a recent spike in global shipping costs. By October 8, the main bulk commodity shipping index had lifted 53% compared to the prior month, and the Baltic Dry Index (BDI) increased almost 1,700 points to 5,526 points. The freight rates are expected to remain above their pre-pandemic levels for quite some time and certain factors impacting this include continued global imbalances pushing prices higher, limited alternatives to ocean freight, an unbalanced and unreliable recovery post Covid-19, and port congestion and closures creating delays.
With the reliability of intraregional and trans-ocean trade to get linerboard to its destination, how do higher shipping costs impact landed linerboard costs?
From FisherSolve's cost benchmarking data, we can see that each mill's cash costs are driven by fiber, energy, labor, chemicals and other materials for each paper machine. However, the true costs of linerboard in global trade must also include logistics costs to export trade partner destinations.
Total Cash Cost by Mill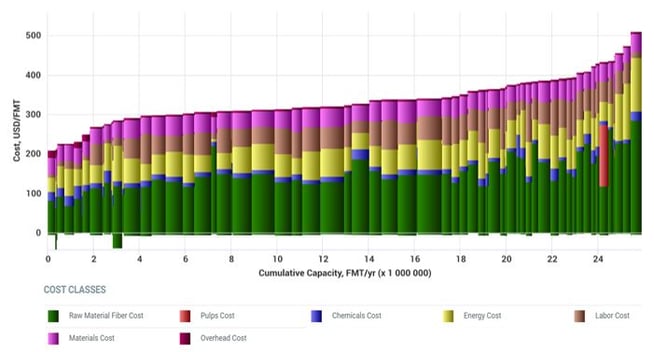 Source: FisherSolve™ Next
Interestingly, in 2Q2021, freight and logistic costs exceeded fiber costs in a number of instances. Not too long ago, ocean freight was relatively inexpensive. For example, the ocean freight cost to Shenzhen averaged anywhere from $30-$50 / mt in 4Q2019. However, the average global logistics cost of KLB to Shenzhen in 2Q2021 increased substantially, by $100 to $150 / mt.
2Q2021 KLB Global Cost Curve, Delivered to Shenzhen, China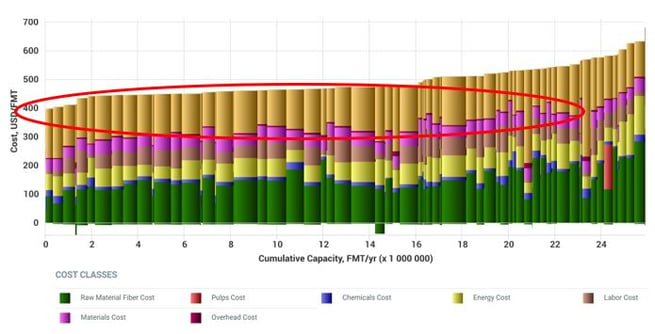 Source: FisherSolve™ Next
These global, dramatic changes in freights costs are impacting the cost curve everywhere and subsequently, changing the competitive structure for manufacturers. The graph below illustrates the KLB delivered costs by major port and as we can see, the cost has increased significantly over the past two years.
KLB Delivered Costs by Major Port 2019 to Present

Source: FisherSolve™ Next
This raises all sorts of questions, including: What are other implications of the current global supply chain crisis? Will higher costs of trans-ocean KLB drive an increase in the use of testliner? Is shipping OCC to Southeast Asia compared to recycled pulp to China a more feasible long-term solution for China's current fiber shortage? What sort of opportunities will there be for corrugated packaging (and paper in general) as countries seek onshore critical industries?
Performance in volatile markets is based on how good your decisions are and how frequently you make them. However, making good decisions consistently requires experience and high-quality business intelligence, two areas in which Fisher International lives and breathes to provide the best possible insight to our industry. For insight into some of the questions above, talk with an expert at Fisher today.