*This post originally appeared on TwoSides*
Since the invention of corrugated packaging, goods have been transported from producer to consumer in a safe and hygienic way, packaged in a sustainable material.
The corrugated form of paper packaging was invented almost 150 years ago, and over these many years about 70% of the world's products have been transported, from businesses to consumers, in this packaging. Due to its adaptable nature, it can be produced in any shape and size for optimal handling and distribution as it is the perfect packaging material for all goods. It also has interlocking stacking features to minimize movement in transport and is customizable to suit the brand's needs, such as easy opening and handling.
But did you know about corrugated packaging's sustainability benefits?
Corrugated packaging is 100% recyclable, bio-based, and biodegradable, making it a vital part of the circular economy. Once the fibers are sourced, they are manufactured into paper for corrugation and used by businesses and companies to package and dispatch goods accordingly. Once the product reaches the consumer and the packaging is recycled, the fibers of the corrugated board are recycled into new packaging. Corrugated packaging is collected and recycled all over Europe, therefore there is minimal transportation required within the recycling process for this region.
Paper packaging is actually one of the most recycled paper products on the market today with a well-established secondary raw material market. With 74% of paper and 83% of paper-based packaging being recycled into new products, it really is no wonder why so many companies are choosing to opt for paper-based packaging instead of plastic-based alternatives.
Recycled paper accounts for 89% of the raw material used to make new corrugated boxes, ensuring the fibers' long life while also contributing to our economy.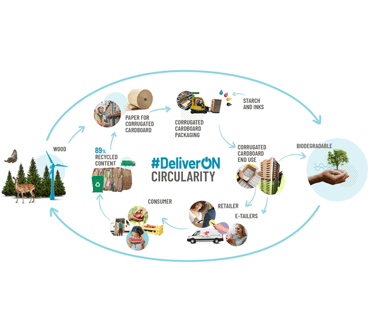 What Makes Corrugated 100% Circular?
It's bio-based and renewable: Corrugated paper-based packaging is almost entirely made of natural resources, and the wood used in production is sourced from sustainably managed forests.


It's recyclable:

The European Federation of Corrugated Board Manufacturers

(FEFCO) is constantly increasing their use of recycled fibers, which now accounts for 88% of new corrugated packaging raw material. The use of recycled paper as a raw material optimizes the use of resources and reduces the environmental impact – and corrugated packaging has an 89% recycling rate on average. Recycling packaging keeps valuable materials in the circle and prevents incineration and landfilling.



It prevents food waste: Corrugated packaging has unique hygiene levels that prevent cross-contamination and spoilage of fresh produce due to the production process that kills microbes.

It provides added value after use: The current market for recycled paper as a secondary raw material benefits all stakeholders throughout the supply chain.

It has a built-in eco-design: Corrugated packaging can be easily shaped for cost-effective logistics, storage, recycling, and saving time, energy and money – whilst also protecting the environment.
Corrugated board's efficient design creates a sequence of interlocking arches that have the capacity to withstand heavy loads, and the air moving through the flutes also acts as an insulator, providing good resistance to temperature changes. There are many distinct varieties of corrugated board, each with varied flute sizes and profiles, allowing for a wide range of combinations to construct packaging with various features and performances.
Since packaging must be efficient during transport and warehousing, it is crucial to note that using too little packaging might result in product damage, so finding the correct balance between under-packaging and over-packaging is critical.
Additionally, corrugated packaging increases the visibility of the supply chain. It allows for more affective product identification and reduced handling across the supply chain, which is just as vital as brand identification. Corrugated board carries all the information and data required for logistics, including signs, barcodes, matrix codes, and RFID (radio frequency identification) labels.
Because of this, corrugated packaging is an excellent marketing tool, as its use of eye-catching colors and shapes, when used, may capture and hold customers' attention long enough for them to make the best purchasing decision.
Thanks to its ability to display attractive printed graphics, corrugated packaging creates a very effective shelf impact on consumers. When used in a shelf or floor display, it can increase in-store sales and serve as a billboard for brands. These "silent salesmen" provide limitless opportunities to raise the value of products.
---
To learn more about the rapidly increasing demand for global containerboard capacity over the past two years and where the future of the segment is headed, click the link below.