Pulp and paper companies are making headlines as awards are received, new products are rolled out and initiatives are launched to meet ambitious sustainability goals. Each month, the industry continuously proves its dedication to creating a greener economy, and we've rounded up some of the top headlines over the last month.
Absolut Launches Paper Bottle in Tesco
Pernod Ricard-owned Absolut Vodka will sell its paper bottle in British supermarket chain Tesco as part of a three-month pilot test. The move marks the first time a paper-based bottle will have been sold commercially in-store by a global spirits company, the vodka producer said.
Absolut will test how the paper-based bottle transports and how consumers perceive it. Unlike previous pilots for the Absolut Mixt ready-to-drink product, which had a lower ABV of 5%, this 500ml bottle will be tested using Absolut's higher ABV of 40%. These first-generation single-mold bottles are made from 57% paper and recyclable plastic.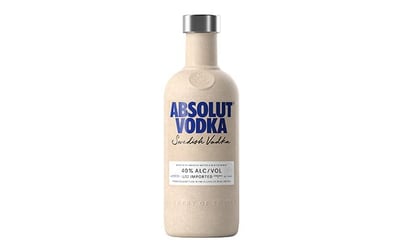 Stora Enso Introduces New Easily Recyclable Packaging Board Grade for Frozen and Chilled Food Packaging
Tambrite Aqua+ is a new circular packaging material for frozen and chilled food packaging that reduces the need for fossil-based plastics and improves recyclability after use. Tambrite Aqua+ utilizes a dispersion coating that helps reduce the use of plastic that is increasingly subject to costs incurred by packagers, such as extended producer responsibility (EPR) fees. Tambrite Aqua+ is fluorochemical-free, resistant to grease and moisture, and comes with the PAP21 logo that shows it is easily recyclable with normal paper and board waste streams.
"Consumers have been clear in their wishes to use more circular packaging in their day-to-day lives. In Tambrite Aqua+, we are proud to be offering a renewable fiber-based packaging material that is designed for easy recycling," says Sofia Hallbäck, Business Development Manager, Barrier Solutions at Stora Enso. "This solution proves that the requirements of packaging for frozen and chilled food, as well as the more demanding dry food, can be met using innovative new technology."
Suzano and Sofidel Join Forces for a Pilot Program to Protect Biodiversity and Support Local Communities in the Amazon Region
Suzano, the world's largest producer of hardwood pulp, and Sofidel, a leading tissue paper producer, announced its project "Together we plant the future - Developing biodiversity corridors towards a more sustainable future." This is a landmark three-year pilot project which will advance ecological conservation and restoration, alongside supporting socio-economic development in the Amazon region in Brazil.
Through the partnership, Sofidel's investment will scale up sustainable business models that can be adopted by communities living alongside the rainforest, in addition to improving their food security and nutritional quality.
Mars Bars Given Environmentally-Friendly New Look with Paper Packaging
Mars bars have been given a new look as the chocolate bar ditches its traditional plastic wrapper for a more environmentally-friendly paper packaging.
Mars Incorporated confirmed it has made the switch to recyclable paper packaging for a limited time, with the bars available in Tesco stores during a pilot to explore different packaging options. As part of the company's Sustainable in a Generation Plan, it is investing hundreds of millions of pounds to ensure it meets its goal of reducing use of virgin plastics by a third in the short-term, which includes using less plastic, recycled plastic and plastic alternatives.
Tetra Pak Recognized as a European Climate Leader 2023 by the Financial Times
Tetra Pak has been named as a European Climate Leader 2023 by the Financial Times, in recognition of the company's progress in reducing greenhouse gas (GHG) emissions and its robust commitments to climate action.
Each company on the list has been assigned an individual score, which is calculated using information on the company's volume of emissions, level of disclosure on these emissions and its reduction of emissions as a percentage. Tetra Pak was ranked amongst the top 20% of the 500 companies listed, achieving a 54.3% absolute reduction of the Scope 1 and 2 emissions over a five-year period.
Silbo Upgrades All Its Pallet Wrapping to Paper with Mondi
Mondi has collaborated with Silbo to upgrade its pallet wrapping from plastic stretch film to Mondi's kraft paper Advantage StretchWrap. Silbo has installed the first EW Technology PaperWrap machine at its plant in Żory, Poland and provides more sustainable flexible packaging for its broad range of customers, including those supplying fruits and vegetables.
Mondi's Advantage StretchWrap is made with responsibly sourced fibers and does not contain plastic or coating. Made from wood as a renewable resource, it is fully recyclable in existing paper waste streams, supporting the transition to a circular economy. Mondi commissioned an independent Life Cycle Assessment (LCA) which showed that Advantage StretchWrap performs better than standard plastic stretch film in several important environmental impact categories.
Metsä Board Collaborates with Industry Experts to Create Lightest Pizza Box
Metsä Board has collaborated with Futupack and Adara Pakkaus to create a food-safe packaging that would reduce both material and printing ink usage, benefitting the environment without compromising performance, function or print quality. The result is a high functioning pizza box that is possibly one of the lightest in the world with this kind of performance. The innovative solution was showcased to the global packaging industry during Interpack.
The visual outlook of the pizza box was designed by Futupack and the packaging was manufactured by Adara Pakkaus. The lightweight substrate was provided by Metsä Board to provide a better, safer, and more sustainable solution for food-grade applications. It is a fully bleached, uncoated white kraftliner suitable for flexo, offset, and digital inkjet printing and is available in a basis weight range of 70-160 gsm.

UPM Specialty Papers Introduces The "Linerlooptm Compatible" Label to Help Customers Choose Release Papers That Are Designed for Closed-Loop Recycling
Resonating with the ambitious EU regulatory targets for reducing waste, UPM Specialty Papers has introduced a new "LinerLoop compatible" label to promote closed loop recycling of release papers used in self-adhesive labels and tapes. Release papers carrying the label qualify for recycling in UPM LinerLoopTM, which is the first commercial-scale closed-loop recycling solution for silicone coated release papers.
Currently some 50% of used release papers and matrix materials are recycled in Europe, but it is estimated that only 15% are recycled back to release papers in a closed loop. As a member of CELAB-Europe and AFERA, UPM Specialty Papers works towards increasing the share of closed-loop recycling.
Visy's Upgraded Facility to Remove Extra 39,000 Tonnes of Waste
Packaging and recycling specialist Visy has unveiled a major $48 million upgrade to its recycling facility on Gibson Island in Brisbane.
The upgrade includes a new state-of-the-art paper optical sorting plant and an upgrade to the embedded energy facility onsite, which uses waste as a power source as opposed to going to landfill. This technology processes mixed paper from the hundreds of thousands of curbside bins across Queensland, recycling it back into 100% recycled packaging.