Lee & Man Paper recently placed an order with Andritz for a semi-chemical pulp production line for its mills in Dongguan, Guangdong Province and Jiujiang, Jiangxi Province, respectively — which are both scheduled to start up by the end of 2022. The two production lines will use eucalyptus as a raw material to produce semi-chemical pulp, which is a product between sulfate chemical pulp and mechanical pulp, that provides high-quality fiber for the production of industrial packaging paper, such as corrugating medium and other grades.
Mr. Li Wenbin, President of Lee & Man Paper, stated, "We have decided to focus on our own production of virgin pulp to replace import virgin pulp and recycled pulp. These two new production lines will make us more self-sufficient in pulp demand and less vulnerable to market fluctuations."
Since China issued a restriction on imported RCP in 2017 that has resulted in zero RCP imports in 2021, domestic containerboard manufacturers have been confronted with the shortage of RCF raw materials to varying degrees. Many enterprises have been seeking to import RCP substitutes, including conventional products like dry ground pulp, wet lap pulp, reel pulp and sheet pulp. However, different types of pulp products also carry additional challenges related to quality, tariffs, freight, etc. which are difficult to overcome in the near term (see China Insight April 2021 for details).
By employing a semi-chemical pulp production line utilizing raw materials in China, Lee & Man can better address market trends and provide high-quality end products. Currently, the company operates five paper mills in China. Except for the integrated bamboo pulp production line at its Chongqing mill, the other paper mills are RCF based (Figure 1). With these pulp lines, plus the semi-chemical pulp lines, Lee & Man basically covers all the main pulp grades, which allows the company to better handle market fluctuations.
Capacity Distribution of Lee & Man's Pulp Lines in China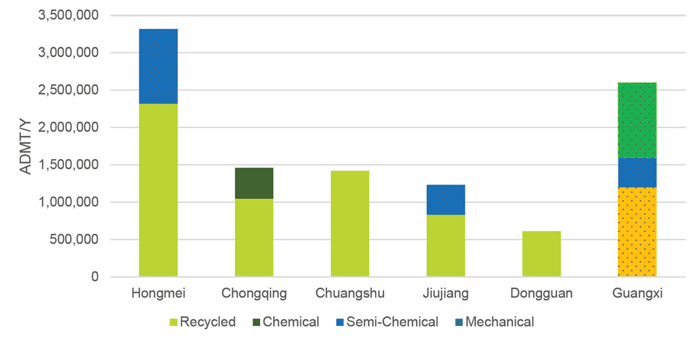 Figure 1
Source: FisherSolve™ Next