Over the course of the last two years, we have written extensively about the myriad ways in which the pandemic has impacted the pulp & paper industry — specifically the Tissue & Towel and Containerboard segments, which oftentimes were required to push aging equipment to near limits. Beyond the market-driven changes, the pandemic has also created near-term challenges for producers as mills face manpower shortages and supply chain issues.
As we begin yet another year mired in pandemic uncertainty, suppliers and service personnel continue to face obstacles as travel restrictions in many parts of the world are being enforced. Suppliers, in particular, are facing constraints when it comes to providing maintenance, engineering and installation services. This ongoing challenge prompted us to wonder what impact, if any, this dynamic has had on the industry's ability to reinvest in the essential equipment in mills across the world.
As indicated in Figure 1, total new global machine builds in 4Q2021 (including restarts and startups of secondhand machines) declined to their lowest point over the last several years. While we've just entered the first quarter of 2022, we can see in the image below that eight machines have come online to date, so there needs to be some acceleration in new builds in order to keep up with the pace 2021 set.
Figure 1: Machine Starts – New, Second-Hand and Restarts

Source: FisherSolve Next
With the exception of Latin America, machine upgrades in 2021 also declined markedly as seen in the image below, further indicating a slowing of investment in paper machines and pulp dryers. This was also on the heels of 2020, a year in which the industry witnessed numerous permanent and temporary mill closures that ranged anywhere from two weeks to several months. By August of that year, paper and market pulp production was reduced by roughly 2.5 MM tons due to the COVID-induced mill closures that occurred as a response to the decline in demand in various sectors, such as Printing and Writing.
Figure 2: Machine Upgrades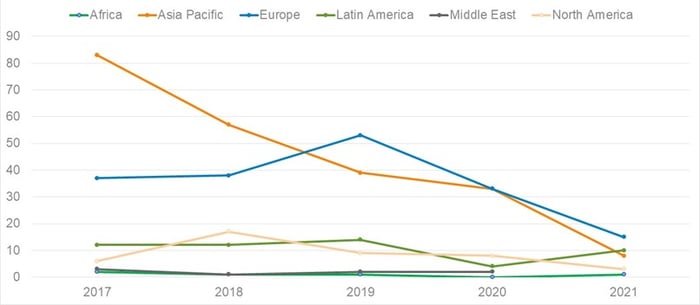 Source: FisherSolve Next
These trends are leading indicators of aging assets in the P&P industry and are particularly concerning considering continued demand growth in various segments. However, the majority of new machines that are being built and upgraded, while few, are focused within high-demand segments that are expected to continue to expand, as seen in the image below. While we've only looked at paper machines and pulp dryers here, the same trends can be seen in other areas of mills.
Figure 3: New Machine Starts (+Restarts and Second-Hand Machine Starts)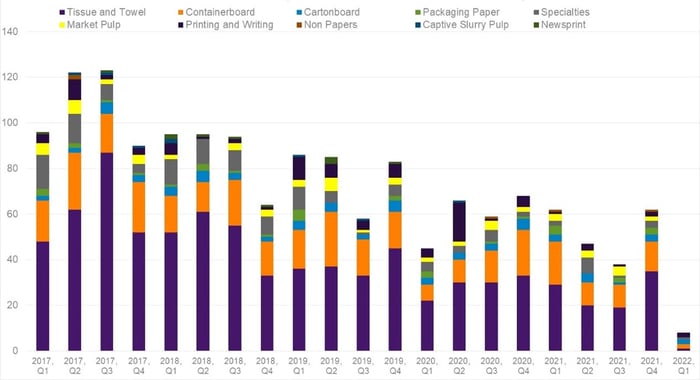 Source: FisherSolve Next
As economies begin to slowly reopen, we expect demand to pick up in certain segments, which will drive a need for machines that can efficiently produce high-quality products. And with many pulp and paper companies generating cash in 2021 due to tight markets that led to higher prices, pulp and paper suppliers could be at the precipice of some great opportunities.
Important questions for Pulp and Paper producers and suppliers to consider in light of these trends include:
Can these machine upgrades and sluggish new installations keep up with growing demand?

How will these aging assets affect the quality of products being produced?

As segments experience an increase in demand, what will this mean for mills with aged machines?

Who is best positioned to make these investments?
For a deeper analysis into these questions and what to expect as we enter another year of global uncertainty, talk with an expert at Fisher International who can help you formulate an actionable plan with a high degree of accuracy that will provide the reassurance and confidence needed to optimize your decision-making.