So far in Q4, we've seen numerous Pulp & Paper companies stay true to their commitments towards the environment. With a significant sweep in sustainability-related awards to even more paper-based packaging innovations than we've ever seen, the P&P industry is putting in hard work for a better environment. We've gathered up and listed below some of these top achievements within the last month.
APRIL Group Reaffirms Sustainability Commitments Ahead of COP26
The UN climate summit COP26 kicked off in Glasgow, Scotland, on October 31. The summit zeroed in on public policy and economic targets designed to mitigate impacts of climate change.
The recent Intergovernmental Panel on Climate Change (IPCC) report warned that the world would likely overshoot the 1.5 degrees Celsius threshold of warming in the next decades. This calls the need for large-scale reductions in greenhouse gas emissions.
The devastating climate crisis —as well as the massive investments needed to save the planet — have nudged the private sector to take action and set long-term sustainability goals. Among these climate-conscious private firms is pulp and paper giant APRIL Group.
WestRock Again Honored for Innovative Design Excellence by Paperboard Packaging Council
WestRock Company, a leading provider of differentiated paper and packaging solutions, was recognized for packaging design excellence at the 78th Annual North American Paperboard Packaging Competition. The company won a total of 14 awards, including Sustainability Award of the Year, reinforcing its commitment to imagining and delivering on the promise of a more sustainable future.
WestRock CanCollar®, with Coca-Cola Europacific Partners and LERVIG Brewing, received the Sustainability Award of the Year. CanCollar is an innovative family of fiber-based multipack solutions for canned beverages that enables brands to transition from single-use plastic rings and shrink film into recyclable paperboard solutions.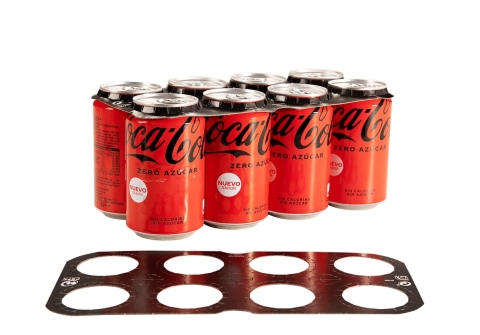 Stora Enso Introduces a Unique Carbon Neutral Cartonboard Offering
Performa Light CarbonZero is a carbon neutral, renewable and recyclable cartonboard offering that helps Stora Enso's customers to achieve carbon-related sustainability targets and show concrete and measurable actions on climate change through their packaging.
"Since sustainability is more and more a deciding factor in consumer purchases, we expect the demand for carbon neutral products to grow in the future. Carbon neutral Performa Light CarbonZero will help our customers to have a smaller climate impact and to differentiate on the market through their packaging" says Dmitry Panfilov, VP, Head of Business Line FBB and SBS.
Smurfit Kappa Develops Its First Paper-Based Child-Lock Box for Laundry Pods
Smurfit Kappa has developed an innovative new packaging solution for detergent together with McBride, the leading European manufacturer of private label products for the cleaning and hygiene market. The Click-to-Lock Pods Box is a 100% paper-based solution which provides a sustainable and safe alternative to the traditional plastic box for laundry pods.

The new packaging solution reduces CO2 emissions by 32% during production and is 100% recyclable and biodegradable. It is the latest example of how Smurfit Kappa utilizes its circular business model to identify the best packaging solution for each situation alongside reducing the environmental impact.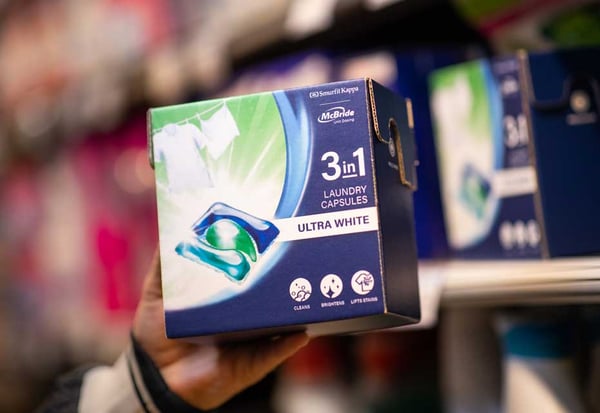 Sonoco Expanding Residential Recycling of Iconic Paper Containers in the US
Sonoco announced it is expanding post-consumer recovery and recycling opportunities for its iconic EnviroCan™ paper containers in the U.S. to be used as raw material at 10 of its paperboard mills to produce new paperboard. According to Elizabeth Rhue, staff vice president of sustainability, all of Sonoco's U.S. paper mills have validated that they can accept rigid paper cans in bales of mixed paper coming from residential Material Recovery Facilities (MRFs).
These mills, located in Menasha, Wis., Newport, Tenn., City of Industry, Calif., Hartsville, S.C., Holyoke, Mass., Richmond, Va., Sumner, Wash., Hutchinson, Kan., DePere, Wis., and Wisconsin Rapids, Wis., will use the mixed paper to produce 100 percent recycled paperboard, with up to 85 percent post-consumer fiber.
Rottneros and KAPSU to Jointly Develop a New, Innovative Plastic Free Beverage Solution
Rottneros is partnering with KAPSU, a startup company within the beverage industry, based in Karlstad, to develop and produce a new plastic-free beverage solution. The new container will be made of 100% fiber from local certified forests. The aim is to use their groundbreaking solution to transform the beverage industry through competitive plastic-free solutions, resolving an environmental challenge that people face every day, globally.
The solution features a three-part system; a stainless-steel bottle, a container made of 100 percent fiber containing the drink mixes and KAPSU´s own lid technology. The container will be manufactured by Rottneros Packaging. Main focus will be on healthy, functional drinks which are nutritious and low on sugar.
Essity Launches Green Hydrogen Pilot for CO2-Free Tissue Production
Essity is starting to use green hydrogen in its production processes. The Essity site in Mainz-Kostheim is testing to what extent green hydrogen can replace natural gas in the tissue production process without compromising on the high product quality.
Following the necessary installations and the re-build of the paper machine, Essity will gradually add green hydrogen to its energy supply. It is planned to run the drying hood of the paper machine on 100 percent green hydrogen by autumn 2022.
The European Pulp and Paper Industry Presents Its Contribution to the Three Billion Trees Initiative
The European pulp and paper industry fully supports the European Commission's initiative to plant three billion additional trees in the EU by 2030. Cepi is ready to contribute to the long-term sustainable growth of forests. They believe the right strategy is that forests need to be grown more, rather than limit their use.
Together with the forest owning and managing companies from our sector, they are committing to reinforce their efforts towards the objective of the initiative, from their own forests to those managed by suppliers.
Les Crudettes Salads Stay Fresh in Mondi's Recyclable Functional Barrier Paper
Mondi, a global leader in packaging and paper, has introduced its first recyclable functional barrier paper bag for salads in the Group LSDH's Les Crudettes range. The sustainable packaging is a fully integrated solution – Mondi operates across the value chain from sustainably managed forests, to producing pulp and kraft paper, applying the coating and printing the final material.
The French salad brand has replaced its transparent glossy polypropylene (PP) packaging with Mondi's recyclable functional barrier paper for a selection of its pre-washed, ready-to-eat salads. The new packaging is 95% paper with a functional barrier layer, meaning the salad remains fresh for up to 10 days - the same amount of time as with the previous plastic packaging.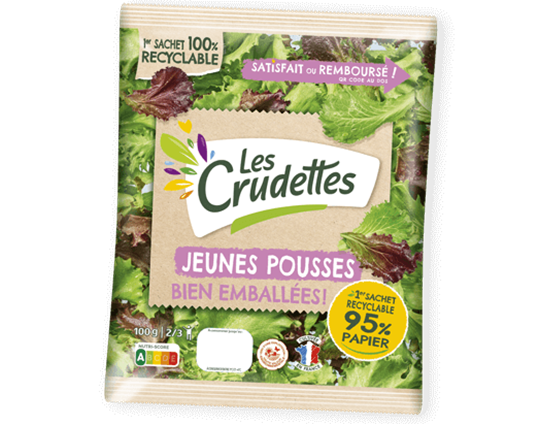 Love Paper Latin America Has Launched
Due to the success of Two Sides Latin America promoting the sustainable use of print, paper and paper-based packaging to consumers, Love Paper Latin America has now officially launched.
According to Fabio Arruda Mortara, CEO of Two Sides Latin America, there has never been such widespread concern, as of now, for the environmental credentials of the products and materials we use. Discussions about the use of plastics have driven a substantial change in the attitude of consumers and companies towards sustainability.