While the first quarter of 2023 may be coming to an end, the impressive sustainability initiatives and achievements accomplished by the Pulp and Paper industry certainly is not. We've gathered some of the top sustainability projects and achievements that have occurred throughout the industry over the last few weeks and included them below.
Jägermeister Opts for Corrugated Cases, Locally Sourced
German herbal liqueur manufacturer Jägermeister has reassessed its transit packaging, making a weight – and carbon – saving move by switching from solid board to corrugated cases, which it is now sourcing from four family businesses in the region where it is based.
The move to corrugated has made an average 38.4% weight saving, says the company. Helped by the fact that the proportion of recycled fiber in the board can now go over 90%, it calculates that "half the resources" are needed in production. Based on a figure of 19.4 million cases, Jägermeister believes it will be saving 249 tons of CO2 a year.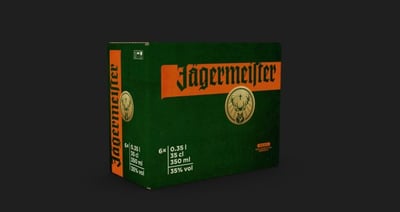 Oji Group's Paper Product Chosen by Yamasa Corporation for Their Noodle Sauce Packaging
Oji Holdings announced that Oji Group's paper was chosen by Yamasa Corporation for their "Yamasa Udon-kibun," a lineup of sauce for the Japanese udon noodle.
With the global movement to reduce plastic consumption, there has been a growing demand in adopting paper for packaging. Oji Group has been providing environmentally friendly packaging solutions to engage with the SDGs. The packaging is plastic-free, recyclable, and has improved the presentation of the product on supermarket shelves with the shape stability of the material.
Stora Enso Invests EUR 30 Million to Reduce CO2 Emissions in Fluting Production
Stora Enso will invest approximately EUR 30 million in its Heinola Fluting site in Finland to renew the energy set-up and process equipment. After the investment, the site will be able to replace the remaining fossil-based fuels with renewable bioenergy. This will reduce the site's fossil-based greenhouse gas emissions by more than 90%.
Stora Enso has set an ambitious environmental goal of halving greenhouse gas emissions from its operations by 2030. By replacing fossil energy sources with renewable energy sources, fossil-based greenhouse emissions at the Heinola Fluting site will be reduced by approximately 113,000 tons of carbon dioxide (CO2).
ProAmpac Launches Curbside Recyclable and Heat Sealable Paper Packaging
ProAmpac, a leader in flexible packaging and material science, announces the launch of ProActive Recyclable Paper-1000, the newest addition to the ProActive Recyclable® series of products. Recyclable Paper (RP)-1000 is the first product launched in a series of new curbside recyclable paper-based packaging solutions that are heat-sealable with good moisture barrier and excellent directional tear properties.
An ideal replacement for non-sustainable conventional multi-material laminates, RP-1000 is suited for frozen food applications such as ready-to-eat meals and vegetables. RP-1000 can also be used for some dry foods and secondary packaging applications such as confectionery. Pre-qualified for curbside recycling, RP-1000 can be recycled in both paper and mixed streams.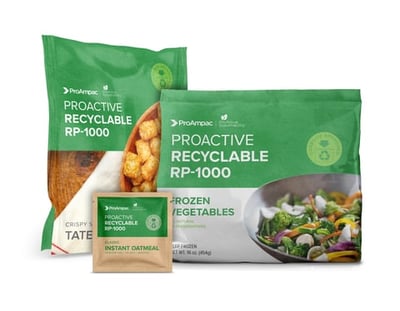 Lessebo Paper, Together with Bonnier Books and Livonia Print, Is Launching a Green Paper Quality for Printing - Livonia Zero Offset by Lessebo Paper
Lessebo Paper has been partnering with Bonnier Books and Livonia Print to develop a new paper quality for high quality printing that does not compromise with environmental performance of the product. The cooperation has so far resulted in the launch of Livonia Zero Offset by Lessebo Paper, a quality produced with minimal GHG emissions. In total, the production of the pulp and paper emits 25kg CO2 per ton finished paper, which is significantly lower than the European average. In addition, all CO2 emissions from the production process of pulp and paper are compensated through a Gold Standard project.
Sofidel Signs Supply Agreement with ACCIONA Energía to Reduce CO2 Emissions
Sofidel, one of the world's leading paper companies for hygienic and household paper, known in Italy and Europe for the Regina brand, has signed a long-term supply agreement in Spain with ACCIONA Energía, one of Spain's leading renewable energy operators.
The agreement, a ten-year PPA (Power Purchase Agreement), will guarantee the Buñuel plant, in the autonomous community of Navarre, 90 gigawatt hours per year of renewable electricity from ACCIONA Energía's renewable energy plants in Spain. This will allow the paper group to save 12,870 tons of CO emissions2 per year.
Fedrigoni Self-Adhesives, North America Unveils Recycled Paper Range
Fedrigoni Self-Adhesives, part of The Fedrigoni Group, is a global supplier in the production of premium labels and self-adhesive materials and has introduced a new line of premium self-adhesive papers featuring 100% recycled fibers.

The new line of paper materials combines 100% recycled fiber with high-performance adhesives and results in materials targeted for critical applications where wet strength technology is required and where products see changes in temperature and humidity, such as wine and beer bottle labels.

Not only do these new papers boast 100% recycled fiber, but the rPET liners are also made from 30% recycled PET, which reduces the amount of virgin PET used. This offers a carbon footprint reduction to those utilizing these new materials.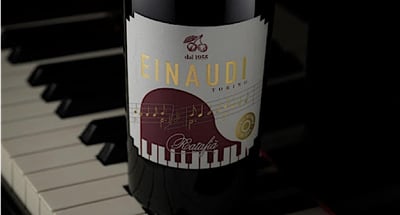 Stackpack: Schumacher Packaging Introduces Paper-Based Top-Seal Tray for Delicate Fruit and Vegetables
The Schumacher Packaging Group, one of Europe's largest manufacturers of customized packaging made of corrugated and solid board, is launching Stackpack, a new type of top-seal tray for food. Stackpack is made of 100% solid board, is recyclable, and can completely replace conventional plastic trays. The innovative, sustainable and exceptionally stable packaging solution can also be sealed with all standard sealing machines.

The new octagonal Top-Seal tray Stackpack is particularly suitable for packaging dry, moist and fatty products thanks to its optionally addable bio-based barrier protection. Depending on the contents, specially coated, plastic-free board qualities can be selected for the tray, for example for moisture-intensive products. The coatings are suitable for direct food contact and can be easily recycled with the tray. This makes Stackpack particularly suitable for sensitive products, such as soft fruits, mushrooms, tomatoes or herbs, and makes it an ideal replacement for plastic trays in the fruit and vegetable sector.