Despite major operational obstructions caused by the ongoing COVID-19 pandemic, HEINEKEN UK rolled out its innovative 100% plastic-free cardboard topper across thousands of UK retailers. The topper features on Heineken®, Foster's and Kronenbourg 1664 multi-pack cans and is slated to roll out across the company's entire beer and cider portfolio. Heineken UK's commitment to innovate sustainably during this unprecedented time has kept the business on track to eliminating this type of plastic from supermarket shelves by the end of 2021.
The new packaging not only removes plastic but minimizes the use of materials and reduces waste. The combination of the new topper, dubbed Green Grip, and the removal of shrink wrapping on consumer packs will eliminate over 517 tons of plastic annually – the equivalent of 94 million plastic bags.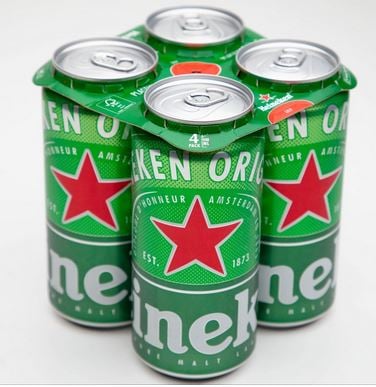 Photo: HEINEKEN, UK
Pernod Ricard-owned Absolut Vodka has partnered with The Paper Bottle Company (Paboco) to create a fully bio-based and recyclable paper bottle. The Absolut Company has joined Coca-Cola, Carlsberg and L'Oréal in partnering with Paboco, which was launched in 2015 to research the possibility of a commercially-available paper bottle.
The Absolut Company says they are rolling out 2,000 paper bottle prototypes, and the first production run will go into controlled testing in November. This latest prototype is constructed from 57% paper and 43% plastic, which is recyclable and itself made of 100% recycled content, a spokesperson for the Absolut Company said. The rollout is set to start in Sweden and the United Kingdom. Once the company receives initial feedback from consumers, they plan to launch a second pilot production run next spring.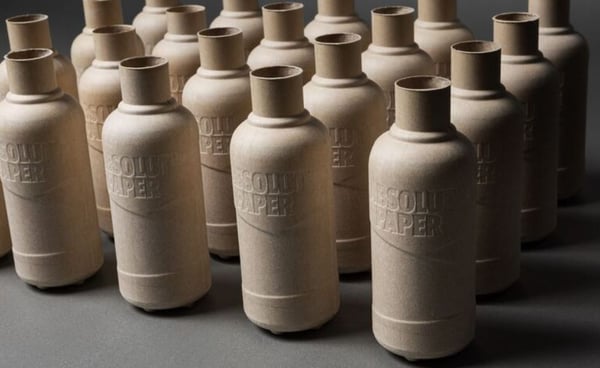 Photo: The Absolut Company
A new partnership between the National Forest Foundation (NFF) and REI Co-op (REI) will plant 1 million trees on National Forests across the U.S. over the next decade. Each project will prioritize immediate reforestation to restore ecosystems adversely impacted by severe wildfire, pests, diseases, blowdown, or other natural disturbances. These efforts will help protect the vital benefits that our National Forests provide, including carbon sequestration, clean air and water, and wildlife habitat.
Locations and types of projects that will be planted through the partnership include:
California, Pacific Northwest, Southwest, Northern, and Southern Rockies Regions, to address wildfire, insect, and disease recovery;
Western Great Lakes states for blowdown, insect, and disease recovery; and
Southeastern and Appalachian states, to restore critical wildlife habitat to support endangered species and highly biodiverse ecosystems.
HP Inc. has pledged to plant one million trees by the end of 2020 through a partnership with the Arbor Day Foundation that supports World Economic Forum's and American Forests' 1t.org U.S. initiative that serves as a global movement to conserve, restore and grow one trillion trees by 2030. The pledge reaffirms HP's ongoing commitment to restoring, protecting and improving the management of global forests as part of the company's vision for print sustainability. In addition, HP pledged to reduce potable water consumption in global operations by 35% by 2025, an industry-leading goal.
Wipak UK has unveiled plans for a major, multi-million pound strategic investment to significantly enhance its capabilities and sustainable product offering. The Welshpool-based manufacturing site is investing over £5million in state-of-the-art conversion equipment, which will produce flexible packaging solutions with significantly less plastic, a lower carbon footprint and which can be easier to recycle.
"The new machinery is set to be in operation by summer 2021 and will be a game-changer for Wipak UK, giving us a unique value proposition for our existing and new customers ," explained Managing Director, Andrew Newbold. The investment project is aligned with Wipak UK's ambitious growth plans over the coming years, with the new conversion machines expected to create more than 50 new jobs for the local area in the coming years.
Conagra Brands announced new products featuring bowls made from plant-based fibers for Healthy Choice Power Bowls, new Hungry-Man Double Meat Bowls and P.F. Chang's Ramen single-serve meals. By using plant-based fibers instead of plastic, the carbon footprint of manufacturing the bowls is reduced by 50 to 70 percent across select product lines. The expansion will help to decrease Conagra's carbon footprint by 34,117 metric tons, equivalent to avoiding the greenhouse gas emissions of driving around the planet 3,399 times or 84 million miles. This progress aligns with Conagra's January 2020 announcement that the company is striving to make 100 percent of its plastic packaging renewable, recyclable or compostable by 2025.
The plant-based fiber bowl is designed by Footprint, a sustainable materials science technology firm that designs alternative solutions to single-use plastic. Conagra initially partnered with Footprint in 2017 to develop packaging for its Healthy Choice Power Bowls product line, which included a first-of-its-kind bowl made from plant-based fibers that could replace plastic alternatives. The versatile material is microwave safe, non-stick and cooler to the touch than traditional plastic packaging. Since introducing the packaging in 2017, Conagra has avoided the use of more than 3.5 million pounds of plastic packaging.
Sappi has joined businesses around the world in calling for ambitious, collective action for nature. Covid-19 is causing societies, businesses and governments around the world to focus on ways to emerge more economically resilient from the crisis. With this in mind, Sappi Limited has signed up to Business for Nature's Call to Action, a global coalition of non-governmental organisations (NGOs) and business groups including the International Chamber of Commerce, WWF, We Mean Business, the World Business Council for Sustainable Development (WBCSD and the International Union for Conservation of Nature (IUCN).
A new survey conducted by global packaging leader Smurfit Kappa has revealed that consumers are making a statement by demanding more sustainable packaging from brands before making online fashion purchases. The survey, which was conducted with consumers across four European countries, found 41% of online fashion shoppers have become more eco-conscious when buying the latest fashion online since the onset of the Covid-19 pandemic.
The research, which surveyed consumers in Germany, Ireland, The Netherlands and the UK, found nearly half of consumers purchase fashion items online once a month or more, reflecting its increasing popularity among both female (44%) and male (43%) shoppers.
Consumers are making conscious choices when it comes to online fashion purchases with shoppers indicating they have taken steps in the past six months to ensure their purchases are as eco-conscious as possible. The research found:
25% of fashion consumers have researched a brand online to assess its level of sustainability
35% of fashion consumers stated they would not make an online purchase from a fashion company if they discovered its packaging wasn't eco-friendly
23% of those surveyed have re-purchased from a fashion brand based on its sustainability credentials