Bay Plenty's Whakatane mill is expected to shut down after nearly 80 years of operation, which unfortunately, is not surprising due to the mill's poor viability ranking. The New Zealand-based mill was built in 1939 and before being sold to Reynolds Group in 2010, it was part of International Paper. However, in 2014, Reynolds Group divested its SIG Combibloc business to the Canadian private-equity firm Onex — and the Whakatane mill was included in the sale.
Whakatane has been supplying SIG with paperboard, making up 80% of the mill's output volume. However, Whakatane's performance has been heavily impacted since SIG recently decided to source board directly from the market.
Whakatane has been producing 150,000 TPY of FBB, alternating between bleached and unbleached FBB. Due to the mill's shortage of energy and pulp, along with its high personnel cost, its competitiveness has fallen through the cracks. Additionally, when compared to other mills delivering to China and Indonesia, its bleached/LPB product cost was in the 4th quartile.
The mill's unbleached FBB/"CUK-like" was also relatively high in cost when it came to delivering to its natural market (APAC). Klabin, Stora Enso, and International Paper were all able to deliver at lower costs to main APAC destinations compared to Whakatane. Management has engaged consultants to carefully consider the potential mill closure, but a decision won't be made until March with the potential mill shutdown taking place in June 2021.
Could these competitive disadvantages have been identified and addressed earlier to head off a potential closure?
Each mill has unique assets, location, and input costs with little opportunity to make short term adjustments. They make specific paper grades and their assets require different amounts of capital to operate. Therefore, mills have natural variations in productivity determined by their asset size, age, speed, and automation level. Fisher International data includes all of these factors listed for each site.
From this data, we are able to analyze how any mill in the world ranks against its peer group mills producing similar products by utilizing FisherSolve Next's viability module. We refer to this resulting analysis as Viability Benchmarking and, depending on the performance criteria that are incorporated into a final ranking, a mill can be rated as "viable = low risk," "not viable at all = high risk" or anything in between.
This data is adjusted quarterly for all mills. Relative mill ranking changes if any input data change, electricity rates change, if the mill recently invested in new machinery, etc. The viability module is therefore a very predicative tool that delivers information and insight on mill risk, and it provides suppliers and competitors with powerful information that can be used for future planning.
Through the use of FisherSolve Next's viability module, we can see that the Whakatane mill had been an extremely high-risk mill for some time.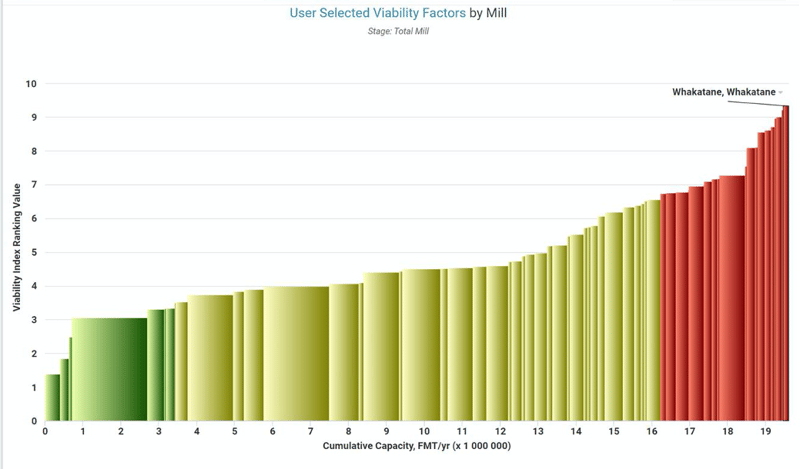 Utilizing FisherSolve Next's business intelligence tools allows companies to understand the market in ways that not many competitors can, and the platform provides powerful industry data that helps each company analyze their specific and unique situations. For more information on how Fisher's viability module or any other tools can add power to your business intelligence and improve your decision-making, or to add it to your FisherSolve Next subscription, contact us today.