The containerboard industry is currently the largest segment of the pulp and paper industry. Demand in this sector took the industry by storm in 2020 and 2021. Various factors fueled the need for mills to continuously up their containerboard capacity. This included everything from increased sustainability initiatives to a booming e-commerce sector thanks to pandemic lockdowns.
However, in 2022, the European and North American containerboard sector experienced its first decline in demand and capacity ever in Europe and since 2012 in North America.
So, what does the current state of the containerboard industry look like? And what can we expect in the upcoming years?
5 Interesting Facts About the Containerboard Sector
1. The global containerboard sector is a roughly 235 million ton market, about 38% of the global pulp and paper industry. As seen in the image below, Asia accounts for over half of the world's containerboard production.
Global Containerboard Production by Region

Source: FisherSolve
2. New investment in containerboard has been primarily driven by Asia, which accounts for about 79% of total new global machine capacity since 2010. The chart below illustrates new capacity by machine build year and provides an indication of where capital has been flowing.
New Investment in Containerboard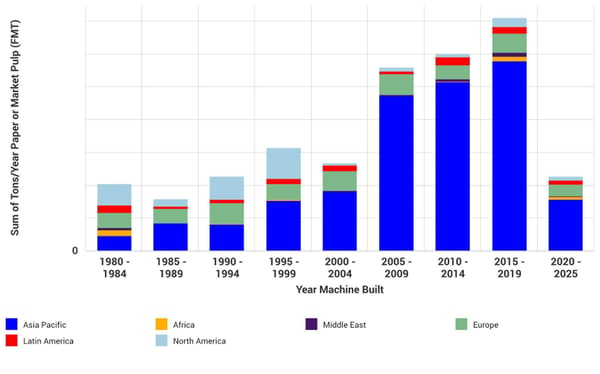 Source: FisherSolve
Asian investments have been mostly in China. However, these investments are reliant on China's growing middle class to continue purchasing consumer goods which consequently will up demand for containerboard. This will become more important as North American companies start moving the production of their products locally or to other countries besides China.
3. The containerboard sector will continue to lead the industry in demand and growth. As we can see in the image below, the containerboard sector is heads and tails above all the other major grades.
Global Capacity by Major Grade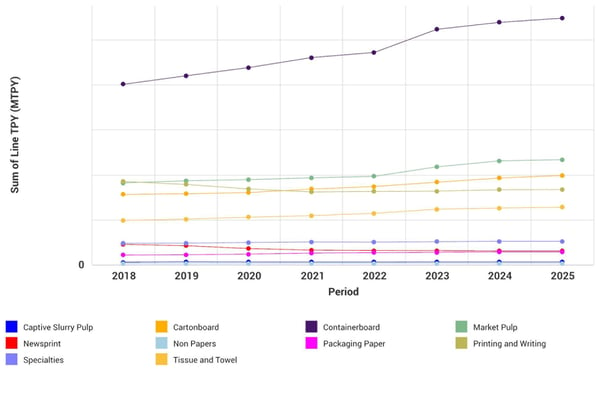 Source: FisherSolve
Despite declines in Europe and North America in 2022, containerboard had 140% more capacity produced than market pulp – the grade with the second largest amount of capacity. We are expecting roughly 38 million tons of more global capacity to be added to the market through 2025.
4. Some European containerboard mills are benefitting from on-site kraft pulp production as its contributing to efforts to decrease energy and carbon usage. Non-integrated containerboard companies are at an energy and carbon usage disadvantage. It's expected that some of the smaller, older non-integrated producers will not be cost competitive and ultimately shut down. Recycled containerboard mills will need to modernize their manufacturing sites in order to stay cost competitive.
European Containerboard Mills Carbon Emissions According to EU ETS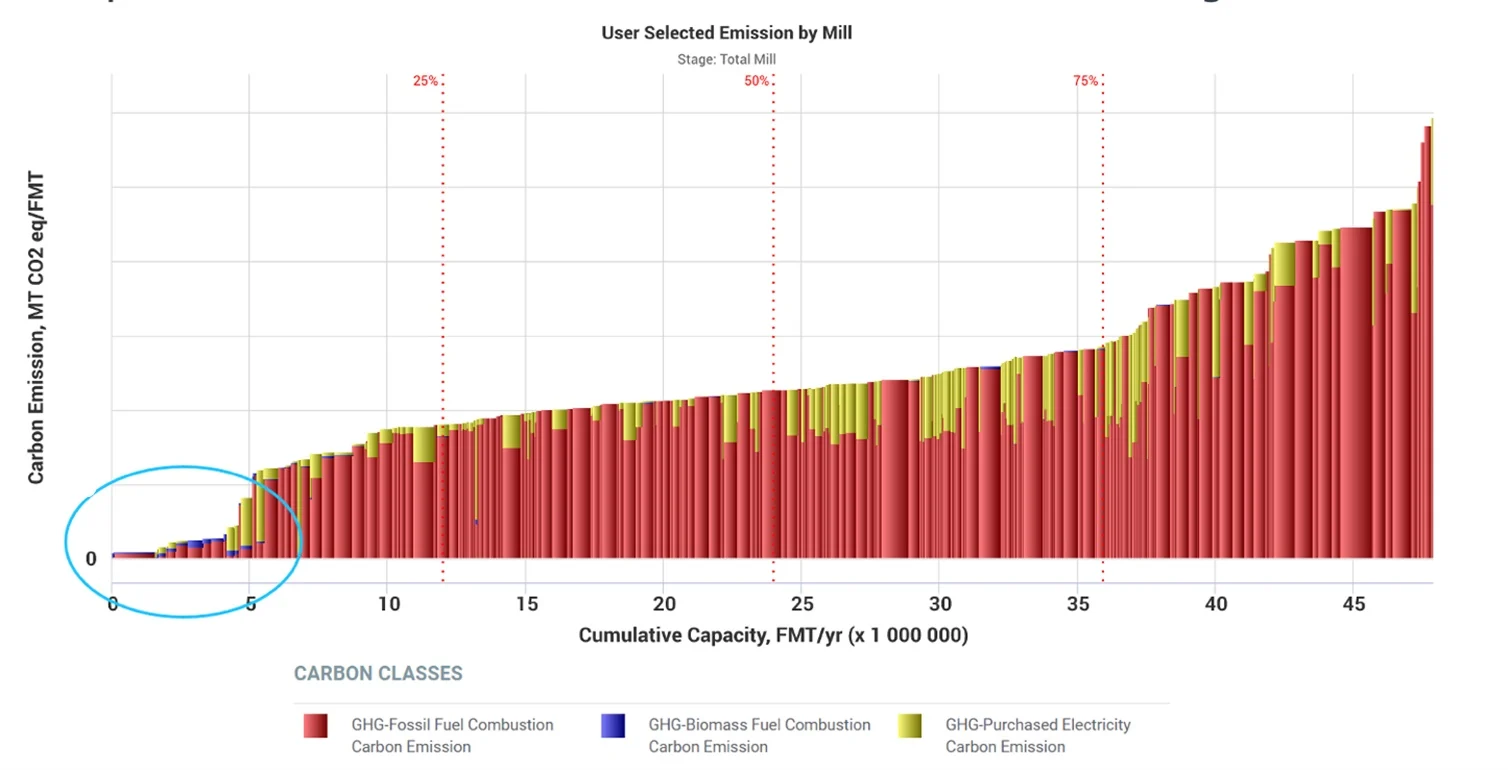 Source: FisherSolve
5. Retailers and packaging solution providers are working more closely together to optimize the 'recycling loop' – as pictured below – and minimize waste. Benefits of an efficient closed recycling loop include:
Optimized speed of fiber rotation
Less fiber consumed
Best recycled fiber quality and less sorting costs
Less volatile costs and customer prices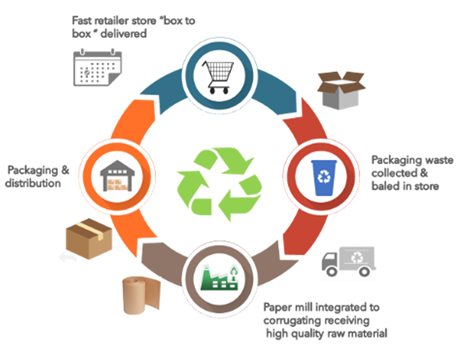 Forces that Will Shape the Upcoming Years
The immediate future of containerboard is dependent on increased popularity of the sustainability movement as well as the e-commerce sector. If the importance of this maintains focus, the applications for containerboard will continue to grow.
In 2018, Georgia Pacific introduced its EarthKraft Mailer series – a new line of curbside recyclable paper padded mailers manufactured specifically with protection and sustainability in mind. As a paper-based alternative to plastic or bubble-padded envelopes, the lightweight mailer provides superior strength and performance while remaining cost competitive for the e-commerce industry and curbside recyclable for consumers.
Due to the extremely favorable response to the functionality and recyclability from key customers like Amazon and from consumers, Georgia-Pacific opened two new locations in Jonestown, Pennsylvania and McDonough, Georgia in 2022.
There is no doubt that we are seeing increased support for a 'green transition.' As a result, we are expecting to see an uptick in virgin fiber containerboard production thanks to its alignment with sustainability targets.
We also expect to see the share of microflute continue to grow since it gives containerboard both fiber efficiency and shelf appeal. Those who can efficiently produce using this will be the frontrunners in the years to come.
Another factor that will shape the future of the containerboard sector is the trajectory of the global economy. One of the reasons why demand dropped in 2022 for Europe and North America is because consumer spending decreased.
Now that stimulus checks are a thing of previous years and factors such as inflation and rapidly rising interest rates have entered the picture, consumer spending has decreased. Fitch Ratings cut down its US growth forecasts for this year to 0.5% growth, a decrease from the 1.5% that was predicted in the June 2022 forecast.
This all being said, the demand and need for containerboard aren't going anywhere. But the crazed boom we saw in the sector in 2020 and 2021 is something we are not likely to experience in the short-term.
Some questions to consider include:
Will fiber availability create a near-term slowdown in Asia's containerboard sector?
Will we see a decline in containerboard capacity in other regions?
Would investments in containerboard machines in North America and Europe be high-risk?
For further insight into the containerboard sector, contact us today.